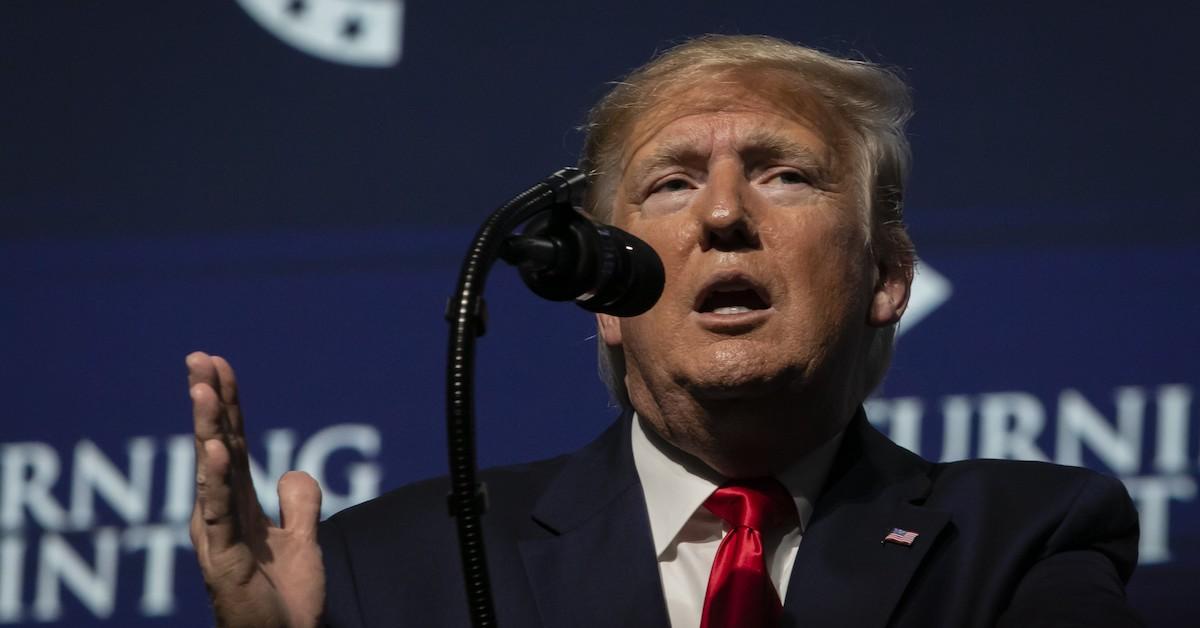 Trump rants about windmills instead of acknowledging the climate crisis
By Sophie Hirsh

Updated
Renewable energy is on the rise in the U.S., which is definitely a good thing for the planet. But our president is unsurprisingly still skeptical of clean energy — for all the wrong reasons. In a recent speech (rather, a nonsensical rant), Donald Trump criticized the windmills and wind turbines that generate wind energy.
Article continues below advertisement
On Saturday, Dec. 22, Trump spoke at a Student Action Summit hosted by Turning Point USA, a conservative nonprofit organization that works with colleges and high schools across the country, as reported by Mediaite. The conference was held at the Palm Beach County Convention Center, just an 11-minute drive from the Mar-a-Lago Club.
"I never understood wind," Trump said in his speech at the conference, as seen in C-SPAN footage shared by Mediaite. "I know windmills very much, I have studied it better than anybody. I know it is very expensive. They are made in China and Germany mostly, very few made here, almost none, but they are manufactured, tremendous — if you are into this — tremendous fumes, gases are spewing into the atmosphere."
Article continues below advertisement
He continued by spewing some thoughts about the world, the universe, and carbon footprints, which he may or may not believe in. "You know we have a world, right? So the world is tiny compared to the universe. So tremendous, tremendous amount of fumes and everything. You talk about the carbon footprint?" he continued, emphasizing the phrase "carbon footprint" as if he was saying "magical amulet." "Fumes are spewing into the air, right? Spewing, whether it's in China, Germany, it's going into the air, it's our air, their air, everything, right?"
Article continues below advertisement
Mr. President, if you want to talk about fumes "spewing into the air," you should probably address the fossil fuel industry. According to the EPA (which is a federal government agency and therefore part of the Trump administration), the largest source of human-caused greenhouse gas emissions in the U.S. is burning fossil fuels.
Trump then went onto address the issue of windmills killing birds. "They're noisy, they kill the birds. If you wanna see a bird graveyard, you just go, take a look, a bird graveyard. Go under a windmill someday. You'll see more birds than you've ever seen ever in your life," he said, to the tune of laughter and applause from the crowd.
Article continues below advertisement
"You know, in California, they were killing the bald eagle. If you shoot a bald eagle, they want to put you in jail for 10 years. A windmill will kill many bald eagles. It's true," he continued. "And you know what? After a certain number, they make you turn the windmill off. That's true, by the way. This is, they make you turn it off after you, and yet, if you killed one they put you in jail. That's OK. But why is it OK for these windmills to destroy the bird population?" (It's important to note that there is a difference between directly killing an animal and accidental animal deaths.)
This is not the first time Trump has criticized wind turbines for accidentally killing birds. In September 2014, long before he was elected president, he tweeted: "Windmills are the greatest threat in the US to both bald and golden eagles. Media claims fictional 'global warming' is worse."
Article continues below advertisement
Windmills are the greatest threat in the US to both bald and golden eagles. Media claims fictional 'global warming' is worse.

— Donald J. Trump (@realDonaldTrump) September 9, 2014
While it's true that wind turbines and windmills are responsible for some bird deaths, they are far from the primary source of accidental bird deaths in the U.S. A 2014 analysis of accidental bird fatalities conducted by West Inc. found that wind turbines kill between 214,000 and 368,000 birds annually, but collisions with cell and radio towers cause 6.8 million bird deaths annually, and cats cause 1.4 billion to 3.7 billion bird deaths annually, as reported by USA Today. Not to mention, a 2009 study found that fossil-fueled power stations are responsible for almost 15 times more fatalities than wind farms, as Phys.org reported.
It's safe to say that Trump's vendetta against wind energy is not actually because windmills sometimes kill birds. (Have you ever seen Trump advocate for bird protection independent of criticizing renewable energy? No — he'd rather eat them with a knife and fork.) Trump is a big supporter of the oil and gas industry — he has stated his intention to withdraw from the Paris Agreement, and he has signed executive orders to accelerate oil and gas pipeline construction — and the industry is also a big supporter of Trump. Major oil and gas companies are constantly donating money to Trump's campaign, so it is in Trump's best interest to bash renewable energy and champion fossil fuels. Unfortunately, that attitude is not in the best interest of the people or of the planet.