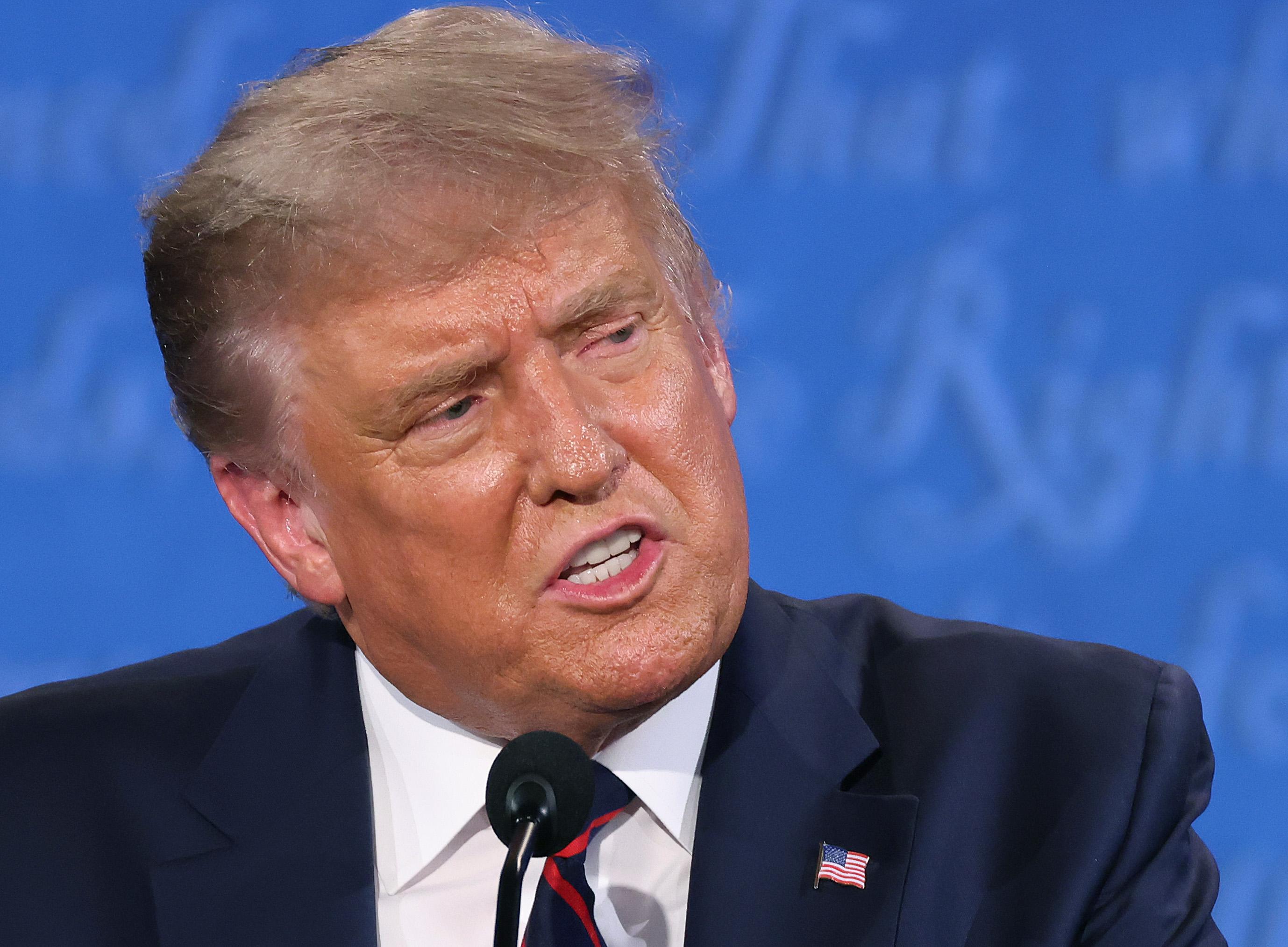 Trump refuses to condemn Proud Boys, tells them to 'stand back and stand by'
By Mark Pygas

Sep. 30 2020, Updated 9:08 a.m. ET
President Donald Trump seemingly refused to condemn the Proud Boys during Tuesday's presidential debate. Asked to condemn white supremacist groups by moderator Chris Wallace, President Trump instead told the Proud Boys to "stand back and stand by."
Article continues below advertisement
"Are you tonight willing to condemn white supremacist and militia groups, and to see they need to stand down and not add to the violence in a number of these cities as we saw in Kenosha, and as we've seen in Portland?" moderator Chris Wallace asked.
Article continues below advertisement
"I would say almost everything I see is from the left wing," Trump replied. "Not from the right wing… I want to see peace."
"Then do it, sir," Wallace replied.
"What do you want me to call it?" Trump asked.
"Proud Boys," Biden said.
"Proud Boys? Stand back and stand by," said Trump. "But I'll tell you what, somebody's gotta do something about antifa and the left, because this is not a right-wing problem; this is a left-wing problem."
Article continues below advertisement
The Proud Boys seem to be happy with Trump's call to "stand by." Deputy Chairman Joe Biggs wrote online: "Trump basically said to go fuck them up! This makes me so happy!"
Article continues below advertisement
The group has also included the statement in a new logo, according to reporters.
Article continues below advertisement
The FBI's director, Christopher Wray, also said that "racially motivated violent extremism," mostly from white supremacists, was the biggest domestic threat to the United States.
Trump's statement comes despite consensus from intelligence officials that white supremacists are the "most persistent and lethal" domestic threat.
"White supremacist extremists, from a lethality standpoint over the last two years, particularly when you look at 2018 and 2019, are certainly the most persistent and lethal threat when we talk about domestic violent extremists," Chad Wolf, the acting secretary of homeland security, told senators earlier this month.
Article continues below advertisement
Ken Cuccinelli, the acting deputy secretary of the Department of Homeland Security, also highlighted the threat in a Senate hearing. "When white supremacists act as terrorists, more people per incident are killed," Cuccinelli said. "It isn't a belief; it's just looking at the data."
Trump also claimed to have support from Portland law enforcement and made it a big point of his reply to that portion of the debate.
Article continues below advertisement
Portland has been at the center of the protests and is often a talking point for the President who apparently, completely fabricated his support from local Portland law enforcement.