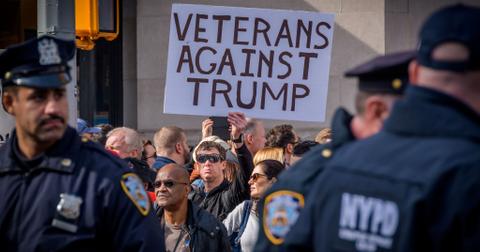 Trump met with boos and protest at Veterans Day Parade speech in NYC
By Robin Zlotnick

Updated
Donald Trump's detractors have become more and more vocal during the president's public appearances. He was booed by the World Series crowds when he attended a game at Nationals Park, and more recently, he faced "Headlock him up!" chants when he showed his face at a UFC match at Madison Square Garden in New York City. 
On Monday, November 11, Trump yet again appeared in public, this time at the annual Veterans Day Parade in NYC. He delivered a speech while standing behind bulletproof glass, which wasn't very effective in blocking out protesters' whistles and chants of "Lock him up!" and "Impeach and remove!"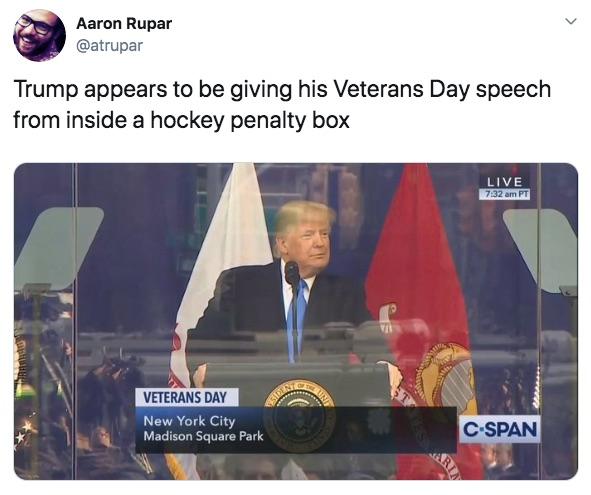 Protesters held signs that said things like "Commander Bone Spurs," "Racist in Chief," and "Trump is a criminal." A giant "IMPEACH" banner hung from a skyscraper overlooking Madison Square Park, where the parade took place. A man with a megaphone started a "Lock him up!" chant from an apartment window while Trump spoke about how "it is our duty to serve and protect" our veterans "every single day of our lives," according to the New York Daily News.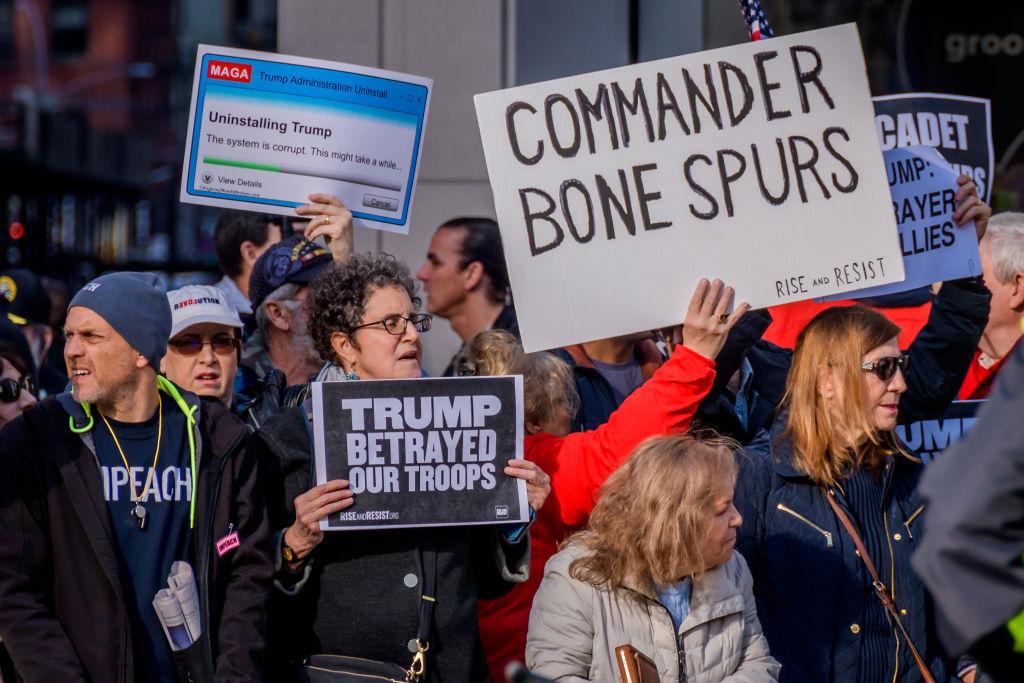 Many found the president's words disingenuous, especially considering a judge just recently fined him $2 million for misusing charitable funds from his own foundation that were meant to raise money for veterans. According to AP, "Among other things, Trump acknowledged in a legal filing that he allowed his presidential campaign staff to coordinate with the Trump Foundation in holding a fundraiser for veterans during the run-up to the 2016 Iowa caucuses. The event was designed 'to further Mr. Trump's political campaign.'" 
It should come as no surprise that Trump "suggested he was neither sorry nor in the wrong" for misappropriating funds for use in his presidential campaign. In a statement, he wrote, "I am the only person I know, perhaps the only person in history, who can give major money to charity (19M), charge no expense, and be attacked by the political hacks in New York state."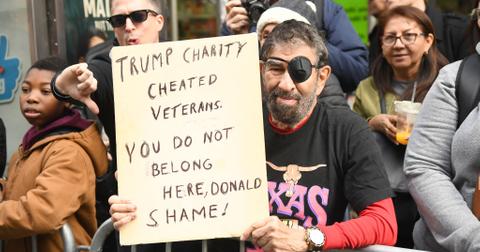 Trump was the first president ever to initiate the New York City Veterans Day Parade, according to the New York Daily News. Most presidents usually spend Veterans Day at Arlington National Cemetery in Virginia and participate in the ceremonial wreath laying. But Trump decided to come to New York instead, the state in which he very recently gave up his permanent residence in favor of Florida.
"It is truly an honor to come back to New York City, right here in Madison Square Park, to be the first president ever to attend," Trump said in his speech. New York Mayor Bill de Blasio and New York Senator Chuck Schumer, both of whom have had choice words for the president and been called names in return, were also in attendance. However, according to the New York Daily News, Trump kept it civil during his speech, and de Blasio shook hands with Eric Trump as he left the park. He was reportedly "glad the president kept it nonpolitical."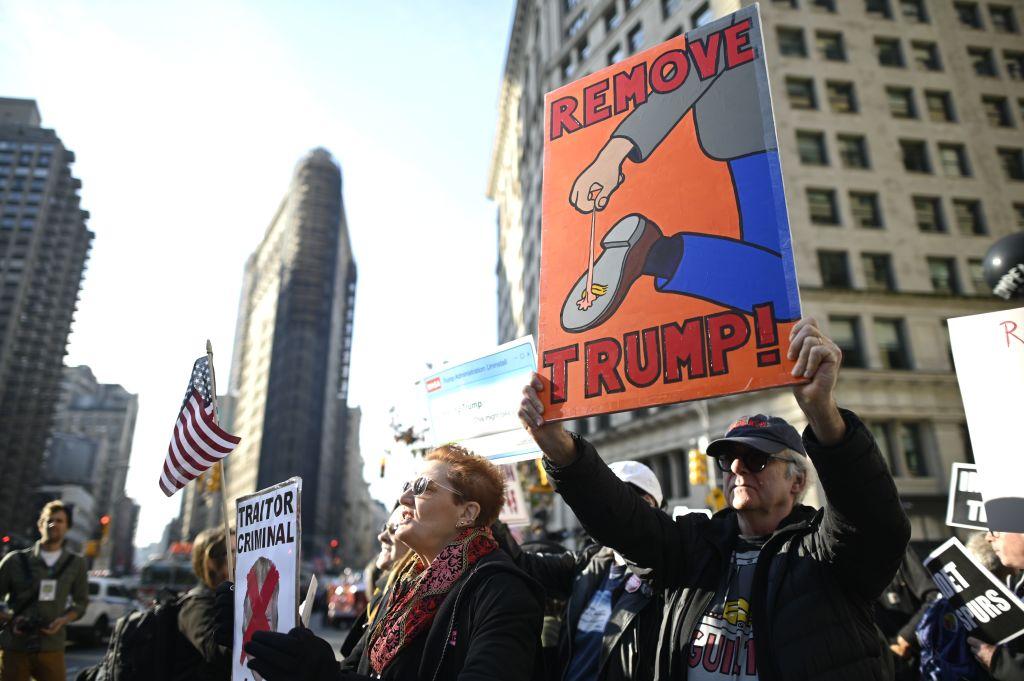 Approximately 25,000 people participated in the parade this year, including veterans, active-duty armed-forces members, and many others. The dozens of protesters made sure their voices were heard loud and clear. The New York Daily News spoke to Liz, a 52-year-old woman who protested in support of the veterans. "My grandfather fought in World War II, he was a colonel and an immigrant from Russia. He would be horrified at the corruption and hate in the White House right now," she said. "He was a Republican, but he was not a racist. He was completely committed to this country."
Esti, a 28-year-old transgender member of the U.S. Special Forces, also showed up to blast Trump for his attempt to ban gender-non-conforming people from the U.S. military. "We don't get hormone therapy anymore, we don't get any sort of surgical therapy," Esti told the New York Daily News.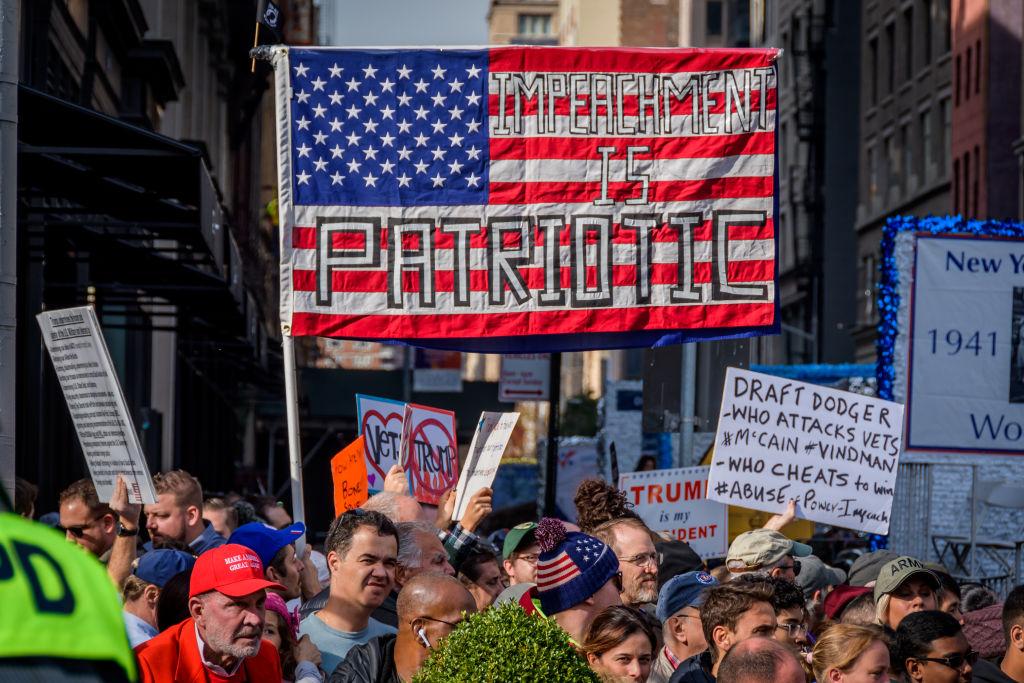 While many took to the streets in New York City to criticize Trump for his treatment of veterans, those who couldn't be there in person were still able to express their dismay and disappointment in the way Trump has treated veterans since he took office three years ago. U.S. veteran Charlotte Clymer wrote a comprehensive Twitter thread citing all the ways in which Trump has let down veterans and troops, from mocking war heroes to diverting funds from schools and daycares on military bases.
"Donald Trump does not care about our military," Charlotte wrote on Twitter. "He does not are about veterans. He does not care about our families. And he is a coward. On today of all days, the last Veterans Day before the 2020 presidential election, this needs to be recognized by all."