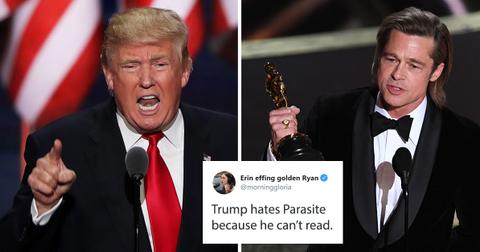 Trump says 'Parasite' shouldn't have won an Oscar and calls Brad Pitt a 'little wise guy'
By Mark Pygas
President Donald Trump held a campaign rally in Colorado Springs, Colorado, on Thursday. He used the opportunity to talk to his supporters about his disappointment in regards to this year's Academy Awards.
His main issue appeared to be with Best Picture winner Parasite as well as actor Brad Pitt's comments on the Senate's decision not to hear from witnesses during the impeachment trial of President Donald Trump.
When it came to Parasite, President Trump said: "And the winner is a movie from South Korea. What the hell was that all about? We've got enough problems with South Korea, with trade. And after all that they give them best movie of the year?"
He then went on to suggest that Gone with the Wind, a film released in 1939, should win the award.
Trump then went on to slam Brad Pitt using his time at the Oscars podium to condemn the US Senate for disallowing witnesses to testify in Trump's impeachment trial.
Trump said of Pitt: "He got up and said little wiseguy statements. He's a little wiseguy." He went on to add that he was "never a fan" of the actor.
Unsurprisingly, responses to the rant were mixed on social media.
One user wrote: "He thinks 'Gone with The Wind' and 'Sunset Boulevard' should be honored again. Because: America or something. Who wants to tell him Vivian Leigh, Olivia de Havilland, Leslie Howard were foreign workers; Billy Wilder an immigrant?"
While another pointed out: "GONE WITH THE WIND won Best Picture in 1940, eighty years ago. SUNSET BOULEVARD did not win Best Picture at all."
"Trump hates Parasite because he can't read," another user suggested.
While one commenter concluded: "Totally on brand for Trump to complain about the South Korean movie Parasite winning Best Picture at the Academy Awards over a 1939 film like Gone With The Wind. One is about the struggles of the Asian working class. The other is a Confederate sob story about a racist white lady."