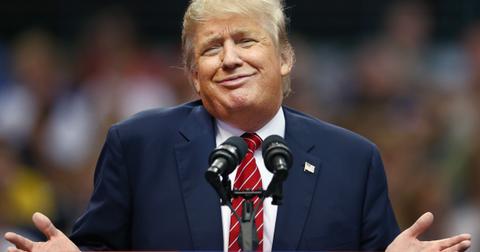 Trump caught pretending to conduct an orchestra during the national anthem
By Mark Pygas
President Donald Trump has been highly critical of "disrespecting" the national anthem in the past. Trump got involved in the backlash around Colin Kaepernick's decision to kneel during the national anthem at NFL games back in 2016 and 2017.
During the controversy, Trump praised team owners like Houston Texans owner Bob McNair, who said protesting players were like "inmates running the prison."
He also praised NFL Commissioner Roger Goodell, who said: "Like many of our fans, we believe that everyone should stand for the national anthem."
But now, President Trump appears to have landed himself in hot water after a video emerged appearing to show President Trump pretending to lead an orchestra during the national anthem.
According to the Miami Herald, the video was taken during Trump's Super Bowl party at the Trump International Golf Club in West Palm Beach, Florida. It was uploaded to the Instagram account of a "real estate agent for a Russian-American firm" who is known to visit Trump's properties regularly.
During the video, first lady Melania Trump and the president's teenage son Barron can be seen holding their hands over their hearts as the national anthem plays. President Donald Trump, on the other hand, can be seen fidgeting, pointing, and even pretending to conduct an orchestra.
The Herald asked the White House and the Trump Organization for comment, but both declined.
In a 2018 interview with Fox and Friends, President Trump said: "You have to stand, proudly, for the national anthem or you shouldn't be playing. You shouldn't be there. Maybe you shouldn't be in the country."
Unsurprisingly, the video has attracted a fair share of criticism. Rep. Eric Swalwell, a Democrat from California, wrote on Twitter: "Our troops are worthy of a commander-in-chief who respects them. Instead, they're being led by a self-centered man-child."
While Alyssa Milano added: "Trump has repeatedly said Americans should "stand proudly" during the national anthem, and publicly chastises those who don't as disrespectful of the troops. Well...this seems to be not standing proudly. Trump fidgets, points, pretend-conducts the band."
Another user added: "Beyonce & Jay Z sat during the National Anthem yesterday at the Super Bowl. What does that say about them? Why doesn't anyone report about them?"
Others were more supportive of President Trump, with one user writing: "Grasping at straws!!?? That's all you have left?"