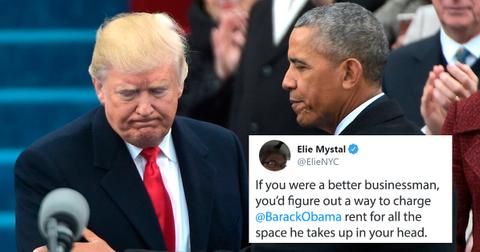 Trump slams Obama on Twitter and calls his economic recovery a 'con job'
By Mark Pygas
Former President Barack Obama took to Twitter on President's Day to share a post about what many consider to be the crowning achievement of his administration — the Recovery Act. The stimulus package, passed in 2009, injected $831 billion into the economy over a decade as the United States recovered from the Great Recession of 2008.
Most economists agree that the benefits of the package ended up exceeding the costs, and many of them credit it as being part of the reason the economy is doing so well in the present. This is something that President Obama seems to agree with, writing on Monday:
"Eleven years ago today, near the bottom of the worst recession in generations, I signed the Recovery Act, paving the way for more than a decade of economic growth and the longest streak of job creation in American history."
Following President Obama's tweet, President Donald Trump also took to Twitter to call Obama's claims a "con job."
"Did you hear the latest con job," Trump wrote. "President Obama is now trying to take credit for the Economic Boom taking place under the Trump Administration. He had the WEAKEST recovery since the Great Depression, despite Zero Fed Rate & MASSIVE quantitative easing. NOW, best jobs numbers ever."
"Had to rebuild our military, which was totally depleted. Fed Rate UP, taxes and regulations WAY DOWN. If Dems won in 2016, the USA would be in big economic (Depression?) & military trouble right now. THE BEST IS YET TO COME. KEEP AMERICA GREAT!"
Economists tend to credit both Obama and Trump in different ways for the success of the economy. Obama created 250,000 jobs each month in 2014 and 227,000 a month in 2015, numbers that Trump has not yet been able to beat.
And while Trump's tax cuts have been criticized for raising the deficit, they also increased wage raises to 3.2%, a level not seen since before the Great Recession.
Trump's claims that Obama led the weakest economic recovery since The Great Depression also don't seem to make much sense when Obama left the White House with one of the best gains for the Dow Jones industrial average of any president in modern history.
Unsurprisingly, responses to the feud were divided down party lines. One commenter criticized President Obama by writing: "Hmmmm... great men don't have to remind people of their accomplishments... feeling a little forgotten maybe??"
Others criticized President Trump, writing: "If you were a better businessman, you'd figure out a way to charge @BarackObama rent for all the space he takes up in your head."