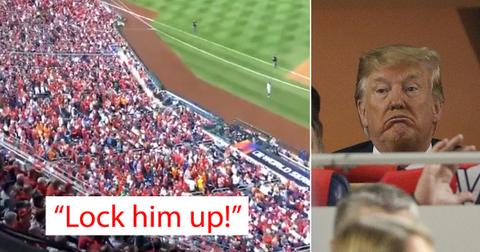 A World Series crowd chanted 'lock him up' when President Trump was shown on the big screen
By Mark Pygas

Updated
President Donald Trump attended Nationals Park on Sunday to see the Washington Nationals take on the Houston Astros as part of the World Series. He attended the event alongside First Lady Melania Trump and loyal allies Rep. Matt Gaetz and Senator Lindsey Graham. 
During the traditional salute to veterans during a break in play, the big screen moved over to show President Trump and his entourage. That's when shouts of "lock him up" took over the stadium, as can be seen in a video posted by journalist Adam Longo. 
Other journalists also took to social media to share videos of the moment, which is a play on the "lock her up" chants heard at Trump's rallies while he was campaigning for president. 
An investigation into Hillary Clinton's use of a private email server, while she was Secretary of State, found "no persuasive evidence of systemic, deliberate mishandling of classified information".  
Investigators did, however, find violations by 38 people in 91 cases of sending classified information that ended up in Clinton's personal email. 
At a rally in 2017, Trump said: "We're running against a person that was just accused of being negligent, of being others, and of lying, lying. How do you lie to the FBI and now you're running for president?"  
This prompted cheers of "lock her up" from the audience. To which Trump responded: 
"I've been saying 'Let's just beat her on November 8th,' but you know what, I'm starting to agree with you." 
The chants at the World Series game were most likely the result of impeachment investigations by House Democrats. 
The process began after two whistleblowers filed complaints against President Donald Trump after a phone call during which President Trump pushed Ukranian President Volodymyr Zelensky to investigate Joe Biden.   
Democrats allege that President Trump delayed nearly $400 million in US support to Ukraine to force President Volodymyr Zelensky to investigate his political rival. The payment had been approved in the 2019 federal budget, but despite the White House saying it would be released in February, it was held back until September. 
Republicans defended the delay by saying it was withheld while the White House assessed whether newly-elected President Zelensky was aligned with the US and NATO over Russia. Combating Russia and ending the war in Eastern Ukraine was one of Zelensky's main campaign platforms. 
Unsurprisingly, there were plenty of reactions to the moment on social media. Walter Shaub, the former Director of the U.S. Office of Government Ethics, wrote: "I have a shiny new red Nats cap that I bought in 2016 and have never worn because of the whole middle-aged white guy in a red cap thing. These Nats fans may have just taken red caps back."

Another user joked: "Trump soon to announce that everyone who booed him at the game last night is treasonous while simultaneously claiming no one was booing at him."