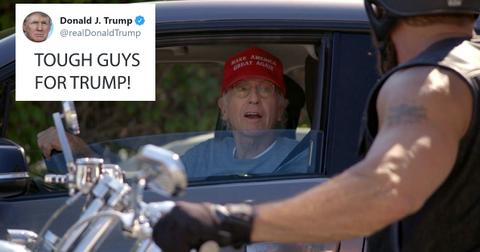 Trump shared a clip of Larry David in a MAGA hat, not realizing it was an insult
By Mark Pygas
On Monday, President Donald Trump tweeted a clip from the HBO series Curb Your Enthusiasm, but seemed to miss that he was the punchline. President Trump posted the short clip from the first episode of the show's new season, which shows Larry David driving down a freeway when he accidentally cuts off a motorcycle.
The angry man starts cursing at David and pulls alongside him. To avoid a confrontation, David puts on one of Trump's Make America Great Again hats.
"I'm sorry I didn't see you," David tells the angry motorcyclist.
Seeing the MAGA hat, the man changed his tone and replies: "Just be more careful next time, okay?"
Trump posted the clip on Monday, seemingly missing the punchline, along with the caption: "TOUGH GUYS FOR TRUMP!"
David's blunt character on the show has garnered comparisons to President Trump, though David dismissed those claims in 2017.
The episode that the clip was taken from seems to play into this. In "Happy New Year," David, who plays a fictionalized version of himself, gets the idea to sabotage an unwanted lunch in Los Angeles by donning a MAGA hat. He gets the idea after his friend Jeff Greene (played by Jeff Garlin) goes on a rant about a friend they know who supports President Trump.
"See him around town with that hat, 'Make America Great Again,' " Greene says. "I don't need that crap. He makes me want to not be anywhere near him."
When David arrives at the lunch, the plan works as he gets dirty looks from other diners, and his companion leaves the restaurant. He then uses the hat to stop a couple from sitting next to him at a sushi bar.
Twitter users were quick to point out that the clip wasn't a compliment, and that shortly after that skit, David calls the MAGA hat "a great people repellent."
David also responded to criticism that the skit could alienate fans of his who support President Donald Trump by telling them to alienate themselves.
"Go and alienate, you have my blessing. I couldn't give a f**k," the comedian said during an interview.
Curb Your Enthusiasm executive producer Jeff Schaffer also stated that the skit was supposed to be a jab at Trump supporters last month. He told The Hollywood Reporter:
"Larry in the hat is such a dissonant image. You realized when he put it on that you just never see a person in a MAGA hat in Los Angeles. It's like spotting a double rainbow of intolerance."
As you can probably imagine, Twitter was quick to roast President Trump for posting the clip.
One user wrote: "This scene from #CurbYourEnthusiasm is about how Larry David wears a #MAGA hat to avoid decent people (who stay away from him as a result), and get sympathy from rage-obsessed morons like the one in this clip. By cluelessly tweeting this, Trump just made LD's point."
While another added: "Nobody told the president that in the show, Larry David wears the hat as a people repellent."