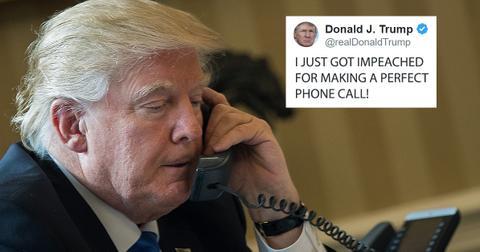 Trump said he got 'impeached for a perfect phone call' and it's already a meme
By Mark Pygas
Just after impeachment proceedings began in the Senate on Thursday, President Donald Trump took to Twitter to tweet in all caps: "I JUST GOT IMPEACHED FOR MAKING A PERFECT PHONE CALL!"
Trump was impeached in the House for abuse of power after allegedly holding back aid to Ukraine in order to prompt an investigation into Joe Biden and for obstruction of Congress after refusing to testify and telling other officials to do the same.
The phone call President Trump is referring to is a July conversation with Ukrainian President Volodymyr Zelensky. During the phone call, Trump prompted Zelensky to launch investigations into former Vice President Joe Biden and his son Hunter Biden.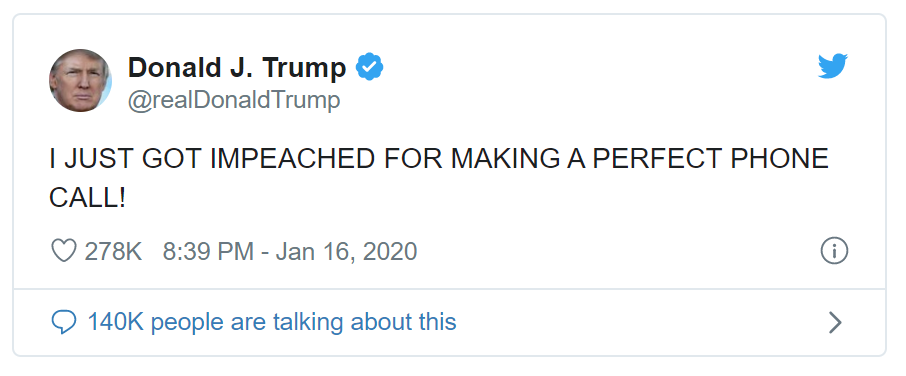 Unsurprisingly, the all caps tweet prompted quite the response from people on social media. One user created a parody of Carly Rae Jepsen's 'Call Me Maybe' based on the tweet.
"I JUST GOT IMPEACHED AND I CAN'T GET UP," another tweeted alongside an image of Trump attempting to scale a hill during a golf session.
Another joked: "Also, talk about missing the point. Trump saying 'I JUST GOT IMPEACHED FOR MAKING A PERFECT PHONE CALL' is like Jeffery Dahmer saying 'I JUST GOT ARRESTED FOR KEEPING MY FRIDGE FULLY STOCKED.'"
And that wasn't the only serial killer comparison.
Another user took a guess at why President Donald Trump may have used all caps in his tweet.
People are really going all-in on this meme.
"I JUST GOT IMPEACHED AND I CAN'T GET UP!!!"
Yesterday, the Government Accountability Office concluded that President Donald Trump violated the law when he withheld $400 million in military aid for Ukraine.
The aid is one of the Democrat's main arguments for impeachment proceedings, which began when Democrats accused President Trump of using his office to ask for a personal favor from Ukrainian President Zelensky to investigate Joe Biden's son in a phone call.
Democrats also allege that Trump postponed nearly $400 million in military aid to Ukraine to force Zelensky to launch the investigations.
While Republicans defended the decision by saying the money was being withed while they determined whether the newly-elected Zelensky could be trusted, the watchdog concluded this week that the appropriation was a violation of the law.