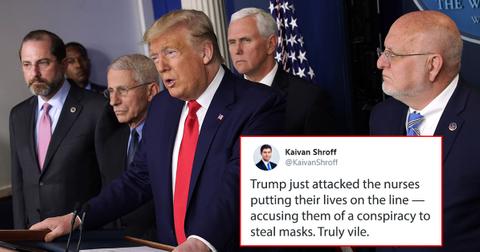 Trump blames healthcare workers for equipment shortage, suggests they're stealing masks
By Mark Pygas

Updated
Hospitals around the United States have been warning that they're running dangerously low on the protective gear needed to treat coronavirus patients. Some hospitals have even reported that healthcare workers are reusing equipment, raising the risk of getting infected themselves.
But in a press briefing on Sunday, President Donald Trump seemed to blame healthcare workers for the shortage. Trump told reporters that "something was going on" with the supplies of medical masks.
"How do you go from 10 to 20 to 30,000, to 300,000 -- even though this is different. Something is going on. And you ought to look into it as reporters. Where are the masks going?" -- Trump suggests that there is some sort of New York nurse conspiracy to steal masks pic.twitter.com/6vubm89vgQ

— Aaron Rupar (@atrupar) March 29, 2020
"They've been delivering — for years — 10 to 20,000 masks, ok. It's a New York hospital, it's packed all the time," Trump said. "How do you go from 10 to 20 to 300,000? 10 to 20,000 masks, to 300,000 — even though this is different? Something is going on, and you ought to look into it as reporters. Are they going out the back door?"
When asked to explain what he meant by his comments, Trump added: "I don't think it's hoarding, I think it's maybe worse than hoarding but check it out. I want the people in New York to check, Governor Cuomo, Mayor de Blasio, that when a hospital that's getting 10,000 masks goes to 300,000 masks during the same period, people should check that because there's something going on."
New York Mayor Bill de Blasio responded to Trump's comments, saying: "It's insulting, it's outrageous, it's incredibly insensitive to people right now who are giving their all. Our healthcare workers are suffering — they're literally watching some of their own lost to this disease. They're fighting with all they got."
De Blasio continued by stating that he doesn't "know what the president's talking about."
"It's not true," he said. "And it's the wrong thing for him to do and he should just get back to work, be the commander-in-chief and get us help."
Unsurprisingly, people weren't happy about the implication that people who are putting their lives at risk every day are stealing masks. "New York Health Care Workers are putting their lives at risk," one user wrote. "But The US President calling them thieves who steal masks is atrocious! Not a single world leader would say so, except this one shameless guy! UNFIT!"
While another added: "This narcissistic lunatic is suggesting doctors, nurses, and first responders are stealing masks. He should walk into one of these hospitals, and see for himself what is happening. Show up tomorrow. These hospitals are war zones being staffed by heroes. F--k you!!!"
In a press conference, New York Gov. Andrew Cuomo explained where all the equipment is going, saying: "The burn rate on this equipment is very, very high. I can't find any more equipment. It's not a question of money. I don't care what you're willing to pay."
Mary-Lynn Boyts, a nurse at Westchester Medical Center, told USA Today that healthcare workers are putting their lives on the line by reusing medical equipment. "They're being asked to do things that jeopardize their health and make it hard to take care of their patients," she said. "You wouldn't ask police to go into a gun battle without a gun, but we're being asked to put our lives on the line each day without the equipment that we need to do it."
The best way to prevent contracting or spreading coronavirus is with thorough hand washing and social distancing. If you feel you may be experiencing symptoms of coronavirus, which include persistent cough (usually dry), fever, shortness of breath, and fatigue, please call your doctor before going to get tested. For comprehensive resources and updates, visit the CDC website. If you are experiencing anxiety about the virus, seek out mental health support from your provider or visit NAMI.org.