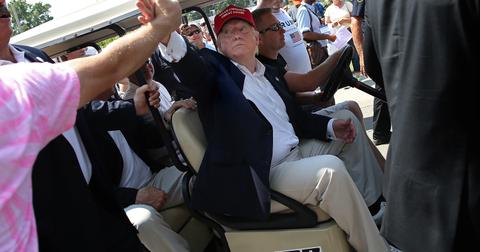 Trump golf cart rentals have cost taxpayers over $550,000
By Mark Pygas

Updated
It's no secret that President Donald Trump likes to golf. At the end of October, the president made his 224th visit to one of his 17 golf courses since he assumed office. But President Trump's hobby is costing taxpayers a fair bit of money. 
Article continues below advertisement
The Secret Service needs to book golf carts in advance since they need to be modified to go at least 19 mph, around 5 mph faster than an unmodified cart. 
And to cover President Trump's planned visits to Florida between now and May 2020, the Secret Service has rented 84 golf carts at a cost of more than $50,000 according to Yahoo News. 

Article continues below advertisement
These golf carts for the winter season will be supplied by a company called Maddox Joines Inc, which does business as "Sunshine Golf Car." The company is based just a 24-mile drive away from Trump International Golf Club in West Palm Beach. 
Yahoo News does note that the 2019 winter season comes in slightly cheaper than the 2019 summer season, during which the Secret Service spent $95,000 on golf cart rentals for the Trump International Golf Club in Bedminster, New Jersey. Throughout 2018, the Secret Service spent nearly $120,000 on cart rentals for the New Jersey course. Since becoming President, golf cart costs have exceeded $550,000.
Article continues below advertisement
Trump Golf Count estimated that President Trump's golf trips have cost the U.S. taxpayer around $110 million. Their estimate of $60 million for trips to Mar-a-Lago as of February is very close to a $64 million made by Washington Post journalist Philip Bump.  
President Trump's golf trips have earned him criticism from many, especially because he was so critical of President Obama's trips to golf clubs before and during his presidential campaign. 
In October 2014, Trump wrote:"Can you believe that,with all of the problems and difficulties facing the U.S., President Obama spent the day playing golf. Worse than Carter."
Article continues below advertisement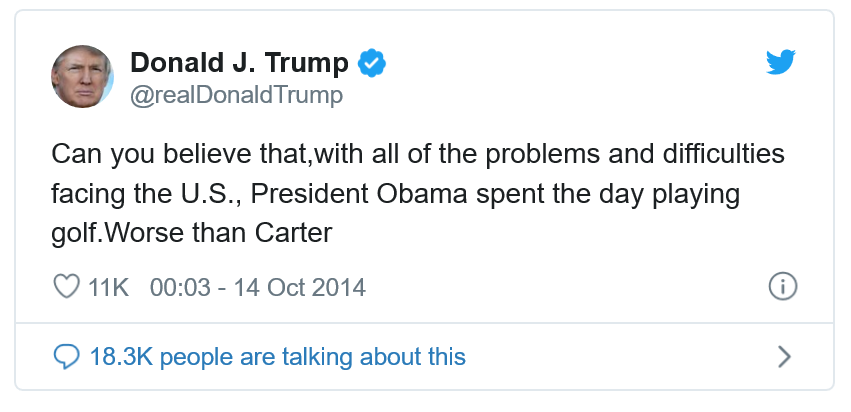 And back in December 2011, he stated: "I play golf to relax. My company is in great shape. @BarackObama plays golf to escape work while America goes down the drain."
Article continues below advertisement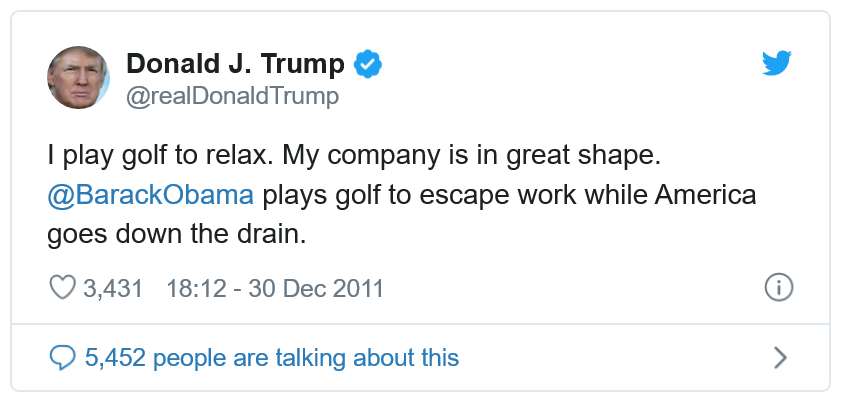 According to Yahoo News, President Obama spent about 3% of his total time in office playing golf, while President Trump has so far spent roughly 20% of his time in office golfing.