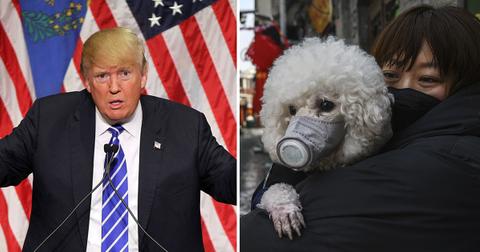 Trump criticized over 'going to work with coronavirus' comments
By Mark Pygas
Confirmed coronavirus cases in the United States have jumped to 162, along with 11 deaths as of Thursday. In response, California joined several other states in declaring an emergency as cases there jumped.
And on Wednesday evening, President Donald Trump spoke to Fox News about efforts to stop the spread of the virus. But some social media users are criticizing Trump over the interview and suggesting that he encouraged people with the virus to go to work.
In the interview, President Trump said: "A lot of people will have this and it's very mild. They'll get better very rapidly. They don't even see a doctor. They don't even call a doctor. You never hear about those people. So you can't put them down in the category of the overall population in terms of this corona flu and/or virus."
"So you just can't do that. So, if you know, we have thousands or hundreds of thousands of people that get better just by, you know, sitting around and even going to work. Some of them go to work, but they get better."
People were quick to criticize the interview, with Chris Hayes of MSNBC saying: "Not a doctor or a virologist or anything but DEFINITELY DO NOT GO TO WORK IF YOU HAVE CORONAVIRUS PLEASE AND THANK YOU."
Another user, Dr. Kathie Allen, added: "Am a doctor. Don't go to work with Coronavirus. Don't listen to Stupid."
While Brian Klaas, a Washington Post columnist, added: "It's difficult to wrap your head around the fact that the president called into a TV show & made a series of statements during a pandemic directly contradicting public health advice. The mind boggles at how reckless & dangerous that is. People who follow his bad advice could die."
On Thursday morning, President Trump took to Twitter himself to defend the interview.
"I NEVER said people that are feeling sick should go to work," he wrote. "This is just more Fake News and disinformation put out by the Democrats, in particular MSDNC. Comcast covers the CoronaVirus situation horribly, only looking to do harm to the incredible & successful effort being made!"
He later went on to add: "With approximately 100,000 CoronaVirus cases worldwide, and 3,280 deaths, the United States, because of quick action on closing our borders, has, as of now, only 129 cases (40 Americans brought in) and 11 deaths. We are working very hard to keep these numbers as low as possible!"
President Trump has faced criticism over his handling of the coronavirus outbreak. The outcry began when Trump appointed Vice President Mike Pence as head of a force to deal with the virus. Pence has no medical history, defended smoking and downplayed its health risks, and was accused of enabling an HIV outbreak in Indiana by cutting health funding and refusing to implement needle exchange programs.
One of the first steps that Pence took was to introduce measures to coordinate messaging, which would require officials from agencies involved in the response to seek clearance before making public statements.
"Vice President Mike Pence's office is in charge of all novel coronavirus messaging after several aides blamed negative coverage about the response on too many mixed messages from senior members of the administration," CNN reported last week.