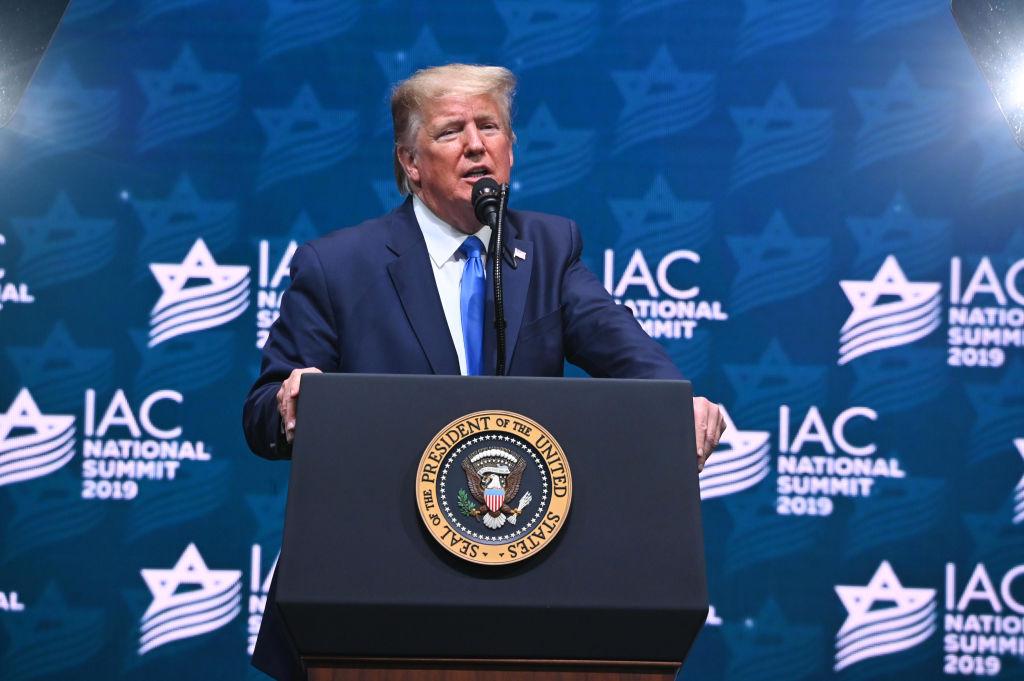 Trump executive order categorizing Judaism as a nationality sparks outrage among American Jews
By Robin Zlotnick

Dec. 11 2019, Updated 3:05 p.m. ET
The New York Times reports that President Donald Trump plans to sign an executive order on Wednesday, December 11 that, on the surface, is designed to target what he sees as anti-Semitism on college campuses. The order threatens to "withhold federal money from educational institutions that fail to combat discrimination," according to administration officials. 
Article continues below advertisement
But the order will "effectively interpret Judaism as a race or nationality, not just a religion," in order to prompt an existing federal law to take effect, a law that punishes colleges and universities "deemed to be shirking their responsibility to foster an open climate for minority students." While anti-Semitism is no doubt something that should be fought against, many critics of the order have argued that it is in and of itself totally anti-Semitic and that it targets Palestinian-Americans as well by stifling any anti-Israel free speech on campuses. 
First, broadly, to categorize Judaism as a nationality rather than a religion is to declare Jews from America not American. 
Article continues below advertisement
We have heard before that history repeats itself, and this executive order, for many American Jews, is a scary symbol of what's to come if nothing is done to combat it. Defining Jews as part of a "nation" separate from the countries in which they lived and were citizens is exactly a central idea purported by anti-Semites throughout history, and many people took to Twitter to explain this. 
Article continues below advertisement
The Nuremberg Laws of Nazi Germany "excluded German Jews from Reich citizenship." That is essentially what this executive order does — it makes American Jews' heritage the basis for their national identity, not the country in which they were born or the country of which they are citizens. It is beyond frightening. 
Article continues below advertisement
But that's not all. Twitter user @amaditalks explains, "Let me make this really explicitly clear. Right now federal courts have affirmed that this president has the right to ban people from this country based on their nationality. If he can just declare that a religion is now a nationality, then guess what he can do next?" 
She continues, "This is being framed as a response to BDS, which is problematic in itself because attacking BDS is attacking free speech and free association. But it's much bigger and much worse. This is literally a redux of the Nuremberg Laws." 
BDS is a Palestinian-led campaign that promotes that boycott of Israel in multiple forms. Trump's executive order effectively forbids BDS gatherings and rallies on college campuses, even though they should be protected under free speech and free association.
Article continues below advertisement
With this order, Trump claims to be protecting Jews from anti-Semitism when in reality, it targets Palestinian-Americans and anyone else who has anything negative to say about Israel at all — Jews included. Not to mention, the order seemingly strips American Jews of their American identities. It is an utter disaster.
Article continues below advertisement
The Israel-Palestinian conflict is a wildly complicated topic that should be able to be discussed and argued and fought about. Palestinian-Americans are routinely attacked in this country because of the country's generally pro-Israel stance. Read this thread from Twitter user @siinjiim for more information about that. This executive order is an attack on free speech and does nothing to stifle anti-Semitism. In fact, it does the complete opposite. 
Article continues below advertisement
Trump's executive order is scary for American Jews, and it's scary for Palestinian-Americans. Free speech is a pillar of American life, and this order is an attack on it. It is clear that Trump has no understanding of the nuances of the Israeli-Palestinian conflict and the discussions surrounding it. Anti-Israel speech is not by definition anti-Semitic speech. 
Trump has stayed silent while anti-Semitic hate crimes — largely perpetrated by white supremacists — are on the rise. He purports to support Jewish Americans because he supports Israel, but that is not one and the same. Trump has Jewish members of his family, yet continues to push anti-Semitic stereotypes. And now, Donald Trump has categorized Judaism as a nationality instead of a religion, opening the floodgates for further discrimination. 
Update: Jewish Insider obtained a draft of the executive order, which it reports "makes no such reference" to defining Judaism as a "national origin" or to Israel specifically. The order states that it will use the "non-legally binding working definition of anti-Semitism...adopted by the International Holocaust Remembrance Alliance (IHRA)." 
On Twitter, people are concerned that The New York Times exaggerated the language of the executive order in their reporting. Others are suspicious that the newspaper was misled and that the text of the executive order may have been changed since it was reported one day ago. Many point out that the executive order still constitutes an attack on free speech when it comes to anti-Zionist rhetoric.