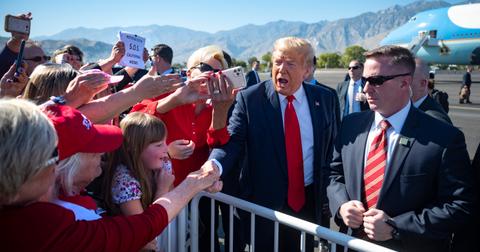 Trump criticized for continuing to shake hands amidst coronavirus outbreak
By Mark Pygas

Updated
A global coronavirus outbreak has led to more than 100,000 infections around the world. The spread of the virus has prompted governments to suspend large events and to encourage alternate forms of greetings other than handshakes and kissing.
"Health authorities are asking people to avoid kisses and handshakes to prevent the spread of COVID-19," a French publication reported. The ban on kissing is "for an undetermined period of time," said Health Minister, Olivier Véran.
And after announcing a new no handshake policy in the Netherlands, Dutch Prime Minister Mark Rutte accidentally shook hands with a member of the country's health team. Some habits may be hard to break.
The Centers for Disease Control and Prevention (CDC) has also recommended that people in the United States avoid shaking hands. "To the extent possible, avoid touching high-touch surfaces in public places — elevator buttons, door handles, handrails, handshaking with people, etc. Use a tissue to cover your hand or finger if you must touch something," the CDC said.
According to Snopes, many government agencies have taken steps to comply with this recommendation. At the Pentagon, staff members have begun "social distancing" to avoid spreading the virus. And at the Capitol, legislators are flashing the Star Trek Vulcan greeting instead of shaking hands.
But President Trump and Vice President Pence are forgoing the advice. Asked whether Trump would stop shaking hands, Pence said: "Look, as the president has said, in our line of work, you shake hands when someone wants to shake your hand. And I expect the president will continue to do that. I'll continue to do it."
In a Fox News town hall last week, Trump addressed the issue himself by saying that "you can't be a politician and not shake hands."
"I always felt the concept wasn't good," he started by saying. "You read a lot of medical reports — it's not good now. If there was ever a time that you could convince people not to shake hands, this would be it."
Trump went on to add, however: "I love the people of this country, and you can't be a politician and not shake hands. And I'll be shaking hands with people — and they want to say hello and hug you and kiss you — I don't care."
Trump has since been seen shaking hands with supporters. He was also exposed to two members of Congress who had direct contact with an individual who has tested positive for COVID-19. One of them has since tested negative.
Asked whether he would be tested for coronavirus following the potential exposure, Trump said: "I don't think it's a big deal, I would do it, I don't feel any reason -- I feel extremely good." He went on to add that he has "no symptoms, no anything."
Trump's decision to keep shaking hands has led to criticism from many health officials. Dr. Jason Farley, a nurse epidemiologist and professor at the Johns Hopkins School of Nursing, told Snopes:
"I think it's beholden upon our leaders to follow the public health recommendations that the CDC, the government, public health are recommending and to emulate those practices." He added that continuing to shake hands sends "mixed messaging to the public"
Farley said of Trump: "There's nothing special about being the president of the United States that protects you from a virus like this unless you're following the practices recommended for every 70-year-old."