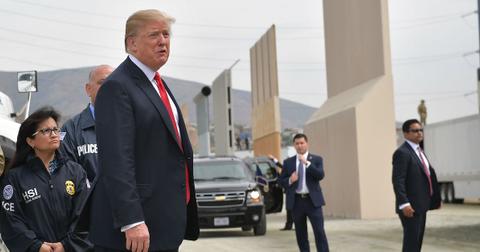 Trump's border wall construction is underway in Arizona, and could make 8 species go extinct
By Sophie Hirsh

Updated
President Trump's border wall has caused endless controversy over the past three years, primarily because the xenophobic project discriminates against Mexicans entering the U.S. But now that production is actually underway (with 98 miles built so far), it's becoming clear that the wall also threatens wildlife. According to experts, the wall puts eight endangered and threatened species in Arizona at risk of extinction.
Article continues below advertisement
Construction on this 20-mile stretch of the wall began in October. The wall is 30 feet tall, and located along the San Bernardino national wildlife refuge in southeastern Arizona, according to The Guardian. Thanks to various effects of the climate crisis, such as increasing temperatures and long droughts, the reserve's springs and streams are already starting to dry up. 
The wall further threatens the springs and streams located throughout the refuge, because of all the groundwater being used in construction. Those springs and streams in the refuge provide habitats for four variations of the native Río Yaqui fish: the Yaqui topminnow, Yaqui chub, the beautiful shiner, and the Yaqui catfish. If they continue to dry up, those fish species could go extinct.
Article continues below advertisement
"There's good reason to believe that the Yaqui fish's only U.S. habitat is drying up as a result of tens or hundreds of thousands of gallons of groundwater being pumped to build the border wall," Laiken Jordahl of the Center for Biological Diversity told The Guardian. Jordahl recently visited the site, and concluded that "This wall is an unjustifiable project," as he told the news outlet.
Article continues below advertisement
The other four species who may not be able to survive the wall are Chiricahua leopard frogs, Huachuca water umbel, Mexican garter snakes, and Aplomado falcon, who are all federally protected. Two other species that are also threatened by construction of the wall in Arizona are San Bernardino springsnails and a rare, wild jaguar named Sombra.
However, these are not the only animals that are threatened by the wall. In 2017, the Center for Biological Diversity published a report called A Wall in the Wild: The Disastrous Impacts of Trump's Border Wall on Wildlife. The report found that the wall could potentially affect 93 threatened, endangered, and candidate species; and that the wall would destroy critical habitat for 25 species, spanning a total of 2,134,792 acres of land within 50 miles of the border.
Article continues below advertisement
Unfortunately, the Trump administration seems to be prioritizing construction of wall above all of its potentially disastrous side effects. It's no surprise that wildlife conservation would not be of concern to the team behind the wall, considering that earlier this year, the Trump administration announced a few controversial changes to the Endangered Species Act. The changes will make it more difficult for animals who need protection to actually gain protection under the act.