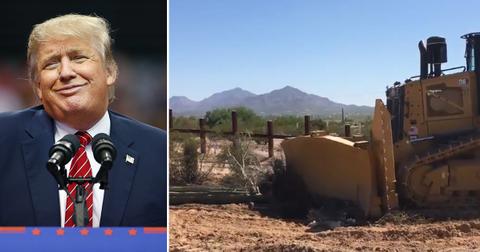 Video of Trump border wall construction crew destroying protected cacti in national park causes outrage
By Mark Pygas

Updated
When you think of the Wild West, you're probably thinking of somewhere like Organ Pipe Cactus National Monument. The National Park, located in the Sonoran Desert, is home to an incredibly rich variety of flora and fauna.
One of its more iconic inhabitants is the saguaro cacti. If you've ever seen a massive cactus in a movie, chances are it was one of these. Saguaros have a relatively long lifespan, often exceeding 150 years, and can grow over 40 feet tall.
Thanks to strict rules in Arizona, harming or vandalizing a saguaro in any manner is a class four felony and punishable with a possible 3 years and 9 months maximum sentence.
So when a construction crew was filmed demolishing cacti to make way for President Donald Trump's border wall, people were rightly concerned.
The National Parks Conservation Association (NPCA), with the goal of "protecting and enhancing America's National Park System for present and future generations," recently took to Twitter to share a video of the destruction taken by Kevin Dahl, NPCA Arizona Senior Program Manager.
This is what it looks like when national parks are sacrificed for a #borderwall. Footage at Organ Pipe Cactus National Monument via Kevin Dahl, NPCA Arizona Senior Program Manager pic.twitter.com/VE9UKziPzl

— National Parks Conservation Association (@NPCA) October 4, 2019
According to the NPCA, President Trump's proposed border wall could cause major issues in six National Parks. Those parks affected would be:
Amistad National Recreation Area
Big Bend National Park
Chamizal National Monument
Coronado National Memorial
Organ Pipe Cactus National Monument
Rio Grande Wild and Scenic River
The NPCA explains:
"Some 25 million acres of protected U.S. public lands lie within 100 miles of the U.S.-Mexico border, including six national park sites. These parks include delicate desert landscapes, a wide range of specially adapted plant and animal species, the Rio Grande Wild and Scenic River, and sensitive cultural sites."
"The federal government has already constructed 650 miles of walls and fencing along the U.S.-Mexico border, all of it designed and built without any environmental reviews. These current border walls not only divide communities and neighborhoods, they also block wildlife migration, destroy delicate park ecosystems, disrupt the flow of water and limit access to important cultural heritage sites."
"Additional border wall construction could devastate some of our country's most treasured landscapes and hurt local communities that rely on these places for their livelihoods."
Unsurprisingly, people weren't too happy about the video.
One Twitter user wrote: "Trump's reckless border hysteria is destroying our environment and killing the very species this national monument was designated to protect."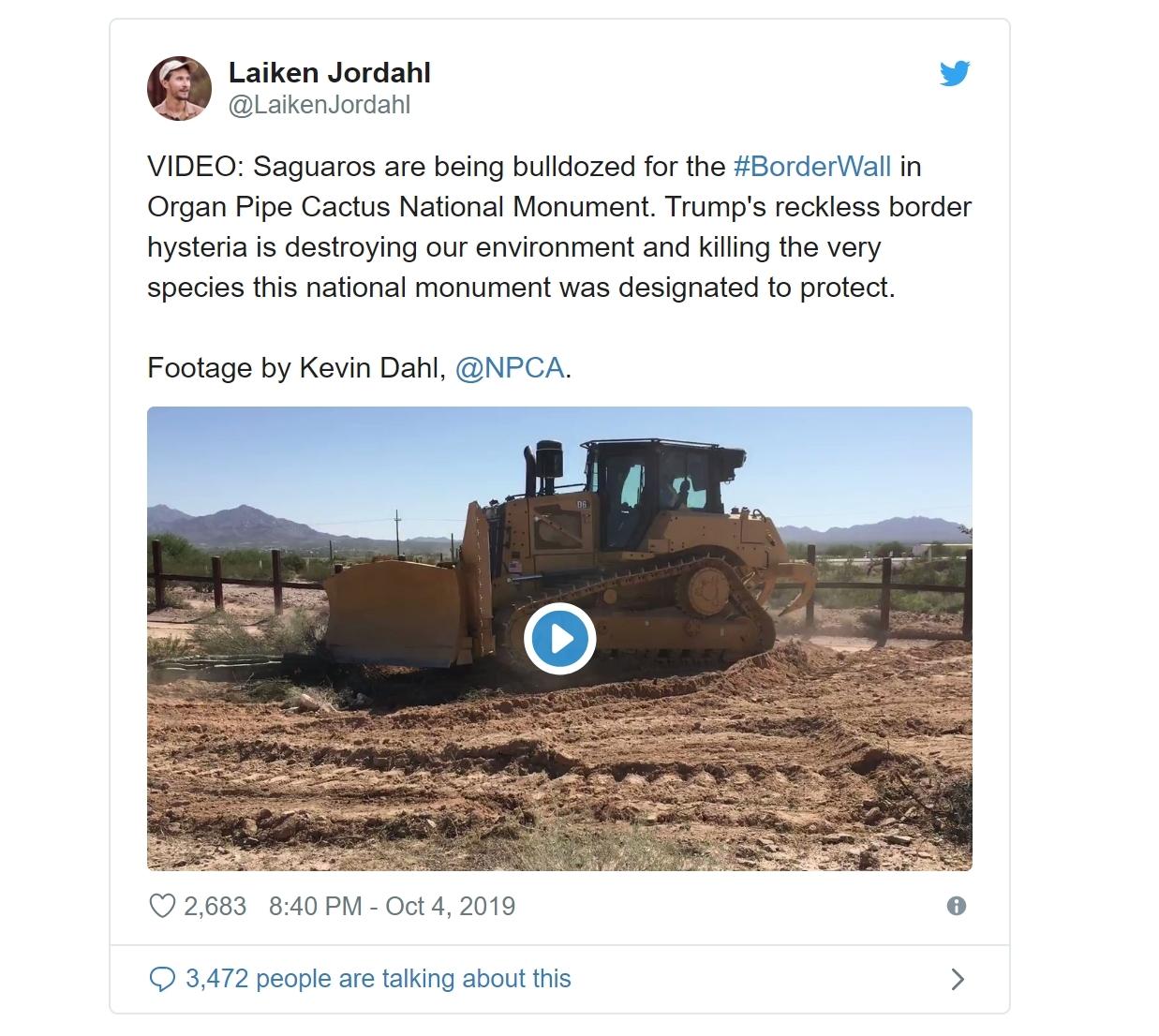 According to Dahl, the cacti are also considered sacred by the Tohono O'odham Nation whose remaining tribal lands lie just east of the national monument.
Hon'mana Seukteoma, an Indigenous activist, said: "In O'odham stories, ha:sañ (saguaro cactus) are our people. They give us so many blessings & we respect them so deeply. Seeing this ha:sañ ripped out of the ground for this border wall construction breaks my heart."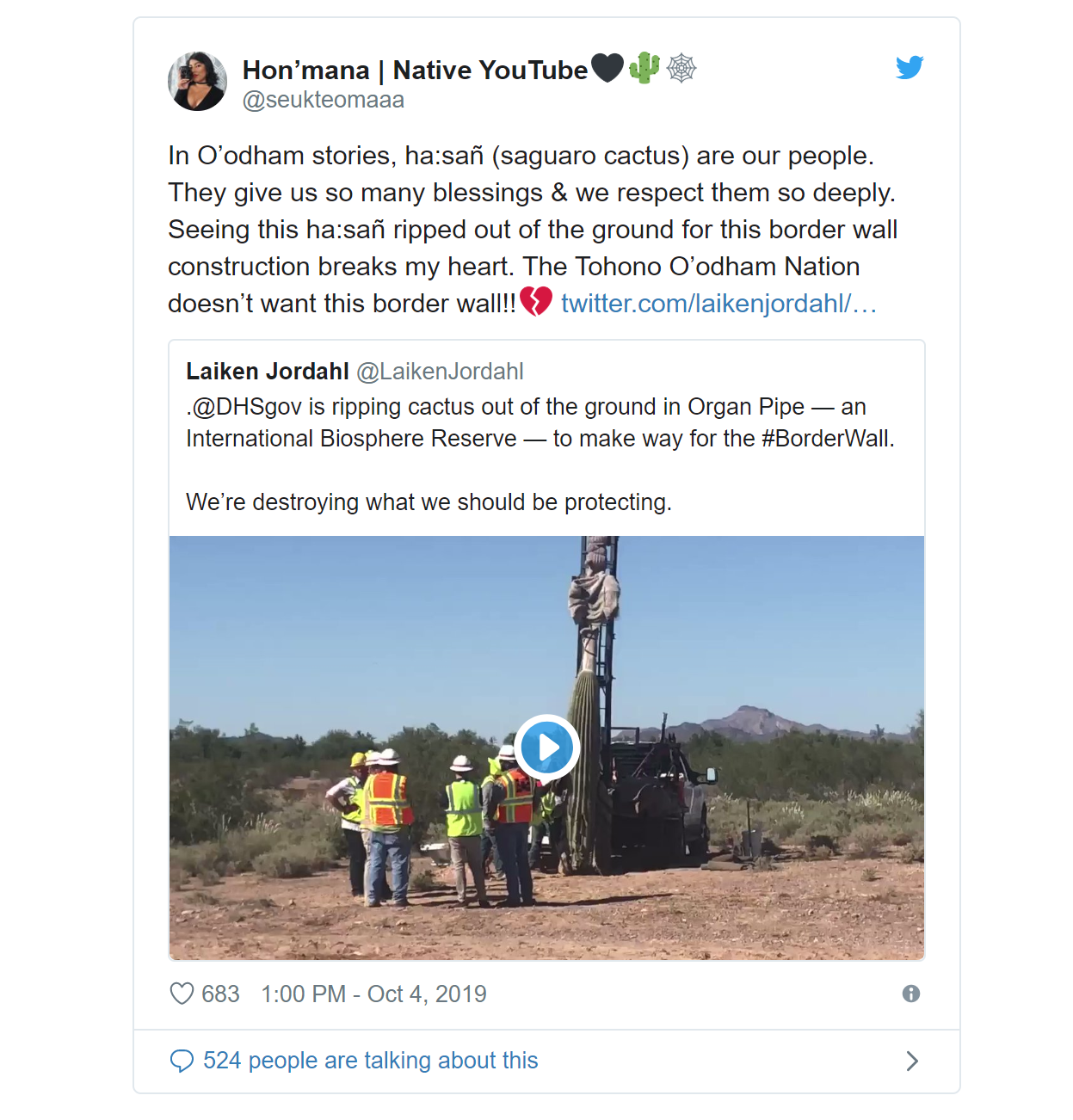 Seukteoma continued: "We don't want this border wall for the destruction and desecration of the land it will bring to us. I feel like a broken record continuing to speak on this ever since Trump came into office But a wall will never be built on the Tohono O'odham Nation, we won't let it happen."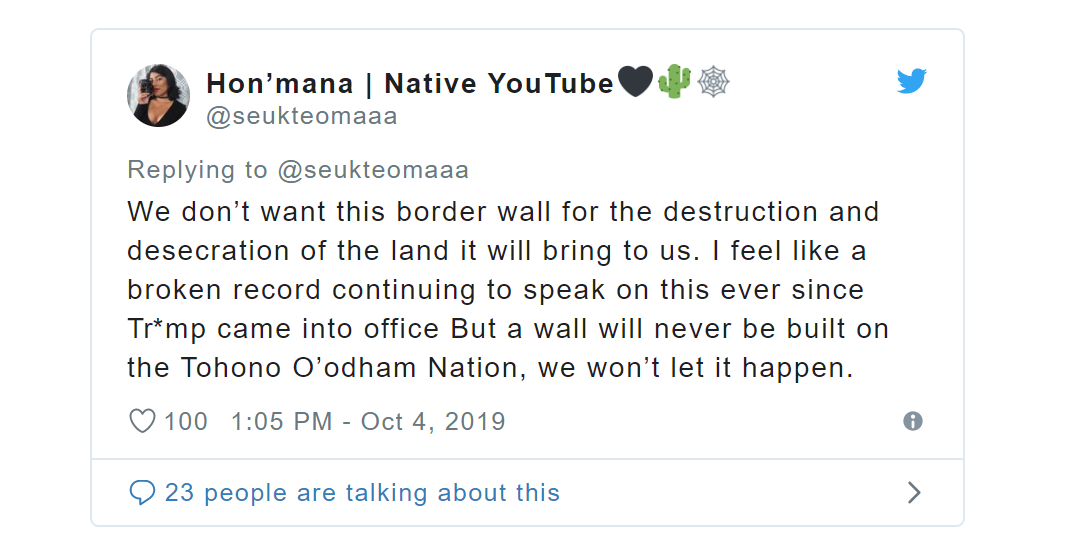 Another user added: "Saguaros grow exactly one place on Earth. This is sickening."

While one concluded: "So sad this is happening to your community and our planet. All because of hate and fear."