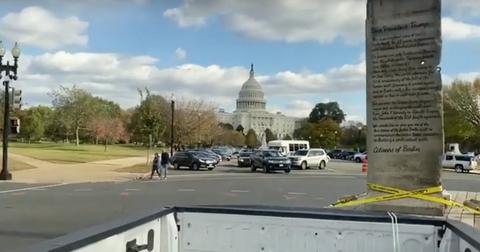 Germans sent Trump a piece of the Berlin Wall with an important message on it
By Mark Pygas

Updated
Germans celebrated the 30th anniversary of the fall of the Berlin Wall over the weekend. And to celebrate, Berliners attempted to send President Donald Trump a section of the wall, to remind him that "no wall lasts forever." 
The 2.7-ton section of the wall was sent to Washington D.C. by nonprofit Die Offene Gesellschaft who financed the stunt through private donations according to Insider. 
Video and photos posted online showed the slab travelling towards the White House, though Secret Service reportedly turned it away. 
The wall was inscribed with the following message, signed the "citizens of Berlin":
This is an original piece of the Berlin Wall. For 28 years, it separated east and west, families, and friends."
"It divided not only Berlin and Germany, but the whole world. Too many people died trying to cross it - their only crime being their desire to be free. Today, the world celebrated the 30th anniversary of the fall of the Berlin Wall. Germany is united again and in Berlin only a few scattered pieces remind us that no wall lasts forever." 
"For decades the United States played a major role in bringing this wall down. From John F. Kennedy to Ronald Reagan the Presidents of the USA fought against it."
"We would like to give you one of the last pieces of the failed Berlin Wall to commemorate the Unites States' dedication to building a would without walls." 
One of the last remaining pieces of the Berlin Wall being transported to the White House today, from the Initiative for an Open Society in Germany. Shipped from Berlin and paid for by private donors with a letter for @realDonaldTrump pic.twitter.com/ZraTm3lTrn

— Katie Kyros (@KatieKyros) November 9, 2019
Die Offene Gesellschaft director Philip Husemann said it had cost "in the low five-figure range to purchase the piece of the Wall and transport it overseas." 
Joerg Waschescio added: "Society is in great danger that new walls will be built, both physical walls, but also walls in people's heads." 
"Originally, it's meant to be a letter, so it's not just a piece of the wall, but a letter to the president," Waschescio says. "A thank you letter to the president and the American people." 
Since the segment of the wall was rejected by the White House, it will now head south and be transported to a location near the border. 
After promising that Mexico would pay for the wall along the United State's southern border, President Donald Trump ended up declaring a national emergency to redirect $3.6 billion from military construction projects. A further $601 million has been redirected from the Treasury Department's forfeiture fund, while the Pentagon provided a further $2.5 billion from other priorities.   
The declaration came after President Trump was unable to secure $13.3 billion from Congress to begin building the wall he promised during his campaign.