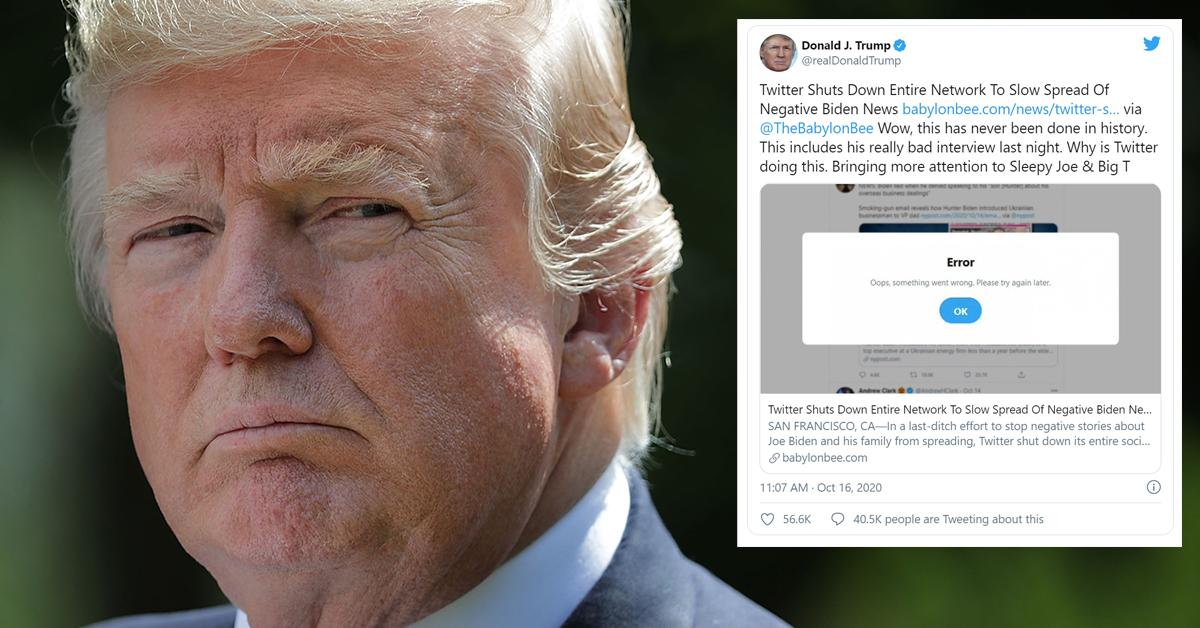 Trump shares satirical article claiming Twitter crashed to cover up negative Biden stories
By Mark Pygas

Oct. 16 2020, Updated 9:36 a.m. ET
We all have that one relative who continually shares articles from The Onion, thinking they're real. Now, even President Donald Trump has fallen for the trick. In the early hours of Friday morning, President Trump shared an article claiming that Twitter's outage on Thursday evening was an attempt by the social media giant to cover up negative stories about former Vice President Joe Biden.
Article continues below advertisement
"Wow, this has never been done in history," President Trump wrote on Twitter. "This includes his really bad interview last night. Why is Twitter doing this. Bringing more attention to Sleepy Joe & Big T."
The problem? The article is from the Babylon Bee, a site that has the tagline "fake news you can trust."
Article continues below advertisement
The article seems to have been inspired by Twitter and Facebook's response to a New York Post article about Hunter Biden, Joe Biden's son. The article contained screenshots of emails allegedly sent and received by Hunter Biden and personal photos of Hunter Biden that were allegedly taken from a laptop computer given to a repair shop.
Twitter prevented people from posting the article and gave a warning to those clicking it because the article exposed private information such as email addresses and contained material obtained by "hacking." Facebook also took action to reduce the reach of the article.
Article continues below advertisement
After backlash, however, Twitter reversed course and said that they would only block content posted directly by hackers or those acting in concert with them. Under the new rules, Twitter will no longer block hacked materials shared by journalists and whistleblowers.
Following the debate over that article, Twitter suffered a massive outage on Thursday night. According to Twitter, the outage was the result of a technical issue and not a security breach or hack.
This series of events inspired a satirical article from The Babylon Bee titled, "Twitter Shuts Down Entire Network To Slow Spread Of Negative Biden News."
Article continues below advertisement
"In a last-ditch effort to stop negative stories about Joe Biden and his family from spreading, Twitter shut down its entire social network Thursday," the article joked. "After seeing account after account tweet out one particularly bad story, CEO Jack Dorsey realized he had to take action. Dorsey smashed a glass box in his office reading 'Break In Case Of Bad Publicity For Democrats.' Inside the case was a sledgehammer for smashing Twitter's servers."
"Dorsey ran downstairs and started smashing as many computers as he could, but he did need to ask for some help, as the hammer was pretty heavy. None of the programmers could lift the hammer, either. Eventually, they managed to program a robot to pick up the sledgehammer and smash the servers. After hearing the Twitter employees talk about critical theory, the robot got woke and began attacking all the cis white males."
Article continues below advertisement
While the article is clearly satirical, it didn't stop President Donald Trump from sharing it on Friday morning. In response, The Babylon Bee released a story titled, "President Trump Declares The Babylon Bee His Most-Trusted News Source."
"In the wake of his much-anticipated 'Fake News Awards,' President Donald Trump confirmed Friday that while most news sources are 'totally fake,' there is one that he trusts more than any other—The Babylon Bee," the article joked.