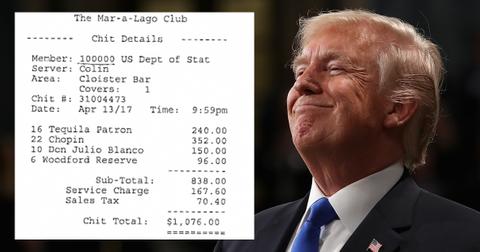 Trump staffers spent $1,000 on drinks at Mar-a-Lago in one night and taxpayers flipped the bill
By Mark Pygas

Updated
Last week, a report by Washington Post journalists revealed that the Secret Service was paying Trump's resorts as much as $650 a night for rooms. And in some cases, even as much as $17,000 a month for one three-bedroom cottage.
David Fahrenthold used the Freedom of Information Act (FOIA) to obtain those documents. And yesterday, he took to Twitter to share even more documents he had received, showing that the Secret Service isn't the only one spending big at Trump properties.
The documents, initially reported on by Derek Kravitz of ProPublica in 2019, were obtained in the same way and show that the White House paid Mar-a-Lago more than $1,000 for Trump's White House staffers to enjoy over 50 drinks in one night.
The drinks were bought in April 2017, when Chinese President Xi Jinping visited Mar-a-Lago for a two-day summit. Xi and his delegation stayed at another hotel, but President Trump and his staffers stayed at Trump's property.
After a dinner between Xi and Trump, several of President Trump's staffers made their way to Mar-a-Lago's Library Bar. According to ProPublica, which obtained an email written by Mar-a-Lago's catering director at the time, the group asked the bartender to leave the room so they "could speak confidentially," and members of the party began pouring themselves drinks.
No one picked up the bill, so six days later, Mar-a-Lago charged the State Department $838 plus a 20% service charge. In total, the invoice lists 54 drinks at an average price of $18.62 each.
According to the email, the group included then-strategist Steve Bannon and then-deputy chief of staff, Joe Hagin. Bannon told ProPublica that he doesn't recall the episode, while Hagin didn't respond to a request for comment.
The bill was initially sent to the State Department, who refused to pay it. It was then sent to the White House and paid in full.
The discovery follows news that the Secret Service is paying as much as $650 a night for rooms at President Trump's resorts despite claims by Eric Trump that they're staying for "free."
As recently as last year, Eric Trump claimed that the Secret Service was being charged as little as $50 a night.
"If my father travels, they stay at our properties for free," Eric Trump told Yahoo Finance. "So everywhere that he goes, if he stays at one of his places, the government actually spends, meaning it saves a fortune because if they were to go to a hotel across the street, they'd be charging them $500 a night, whereas, you know we charge them, like $50."
But records obtained by the Washington Post show that the Secret Service spent more than $471,000 in 103 payments at Trump resorts between January 2017 and April 2018 alone. Factoring in all of President Trump's travel across his entire term, the actual number is probably far higher.
The records show that at some of Trump's properties, the Secret Service is being charged as much as $650 per night for a room. The Post states that this rate was for rooms at Mar-a-Lago and that they were more than triple the normal limit on federal spending for a hotel room in that area. The Secret Service does not have to abide by these limits.
Regular payments of $396.15 were also made dozens of times for rooms at different resorts.
Payments also showed that the Secret Service is renting a three-bedroom cottage at Trump National Golf Club Bedminster for $17,000 a month. The Post states that the rate is "unusually high" for the area.
While we've known that President Trump' is profiting from staying at his resorts when he travels, we haven't known how much the Secret Service is being charged by Trump's business until now. The Secret Service has not been listing the costs in a public database as is required got payments over $10,000.