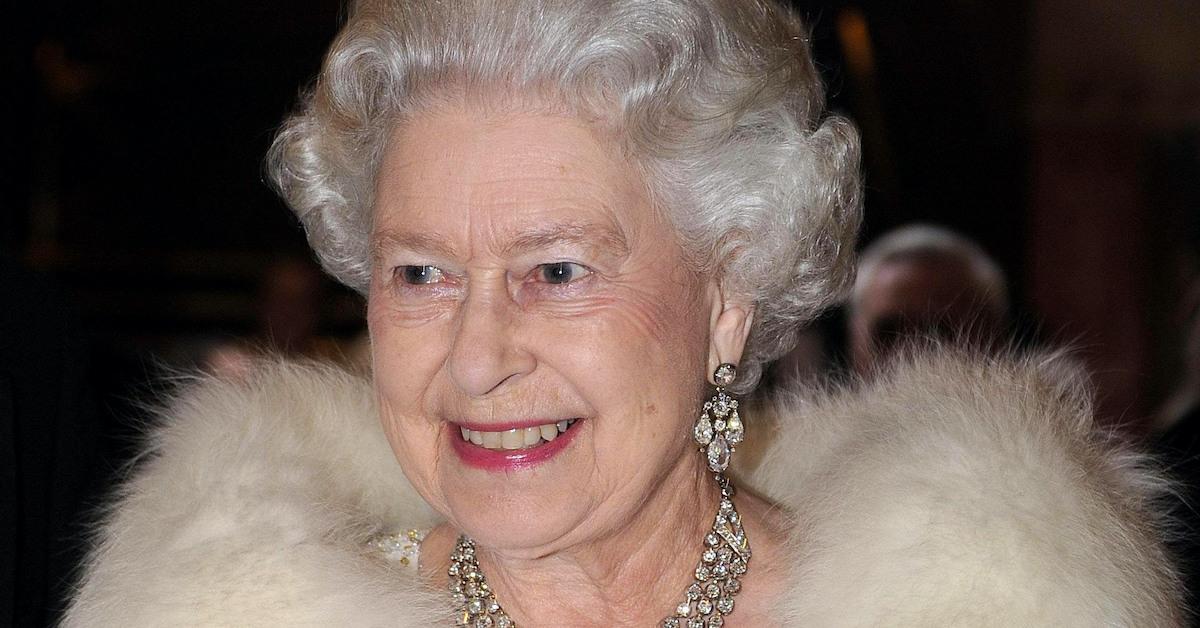 The Queen is ditching fur for animal-friendly fashion
By Sophie Hirsh

Updated
The Kardashians are sometimes called the royal family of America... and in a move not unlike Kim Kardashian, Queen Elizabeth II is officially ditching fur. Some reports state that the Queen will still wear fur she already owns, while other reports indicate that she is having her favorite fur garments remade with cruelty-free faux fur — but either way, the Queen is making a pretty awesome statement.
The Queen's dressmaker of many years Angela Kelly recently published a book about her career titled The Other Side Of The Coin: The Queen, The Dresser And The Wardrobe. As reported by The Telegraph, in the book, Kelly writes: "If Her Majesty is due to attend an engagement in particularly cold weather, from 2019 onwards fake fur will be used to make sure she stays warm."
A spokesperson for Buckingham Palace confirmed the news in a statement for The Telegraph: "As new outfits are designed for the Queen, any fur used will be fake." 
This is no small declaration, as the Queen has been wearing fur coats for decades. As noted by Vogue, the Queen wore an purple velvet robe trimmed with ermine (stoat) fur to her 1953 coronation; she's been spotted in a variety of coats and wraps made from white fur; and then there's a floor-length brown fur coat that's been a mainstay of the Queen's wardrobe since the 1950s.
As mentioned above, what's unclear is whether the Queen is removing and updating the furs she already has in her closet, or if she will continue to wear them, and just stop acquiring new ones. According to The Telegraph, Kelly wrote in her book that some of the Queen's favorite fur pieces have already been altered — for example, she wrote that a mink-trimmed coat the Queen wore in 2008 in Slovakia has been updated with a fake fur trim. Not to bring up Kim Kardashian for the second time in a story about the Queen, but when the reality star decided to give up fur, she had all of her favorite fur coats remade with synthetic materials — not a bad idea, Liz!
Animal rights groups are unsurprisingly excited about the Queen's choice to ditch fur. "Queen Elizabeth's decision to 'go faux' is the perfect reflection of the mood of the British public, the vast majority of whom detest cruel fur, and want nothing to do with it," Claire Bass, executive director of animal charity Humane Society International, said in statement for the UK's PA Media, as reported by CNN.
BIG NEWS: Queen Elizabeth II has gone #FurFree!

After decades of famously wearing fur, Her Majesty is now setting a compassionate example for Britain and the rest of world.

It's never too late to do the right thing. https://t.co/AzCBbPScz7

— PETA (@peta) November 5, 2019
The Queen is not the only member of the royal family to sport an animal-friendly wardrobe. Her granddaughter-in-law Meghan Markle, Duchess of Sussex refuses to wear fur, her former talent agent Gina Nelthorpe-Cowne told Plant Based News. The Duchess is also a big fan of vegan leather pants, she said in an interview with Good Housekeeping a few years ago.
Fur is growing more and more out-of-date in the fashion world, with many major fashion houses banning the material. But on top of that, fur farming is detrimental to the environment. As Fur Free Alliance explains, fur farms pollute the surrounding soil and waterways; the process of dyeing pelts puts toxic chemicals into the environment (and is a health hazard to the workers); and fur factories produce significant greenhouse gas emissions. Not to mention, live-trapping wild animals for their fur can decrease biodiversity and put endangered species at further risk.
Furthermore, fur is an extremely cruel industry, responsible for the deaths of more than 100 million animals each year, according to Fur Free Alliance. The group also notes that about 95 percent of fur comes from fur farms, which are not unlike factory farms — dark, cramped, and disease-ridden. Fur is far from a necessary fabric in our wardrobes — and if the Queen is choosing to go fur-free, we all can.