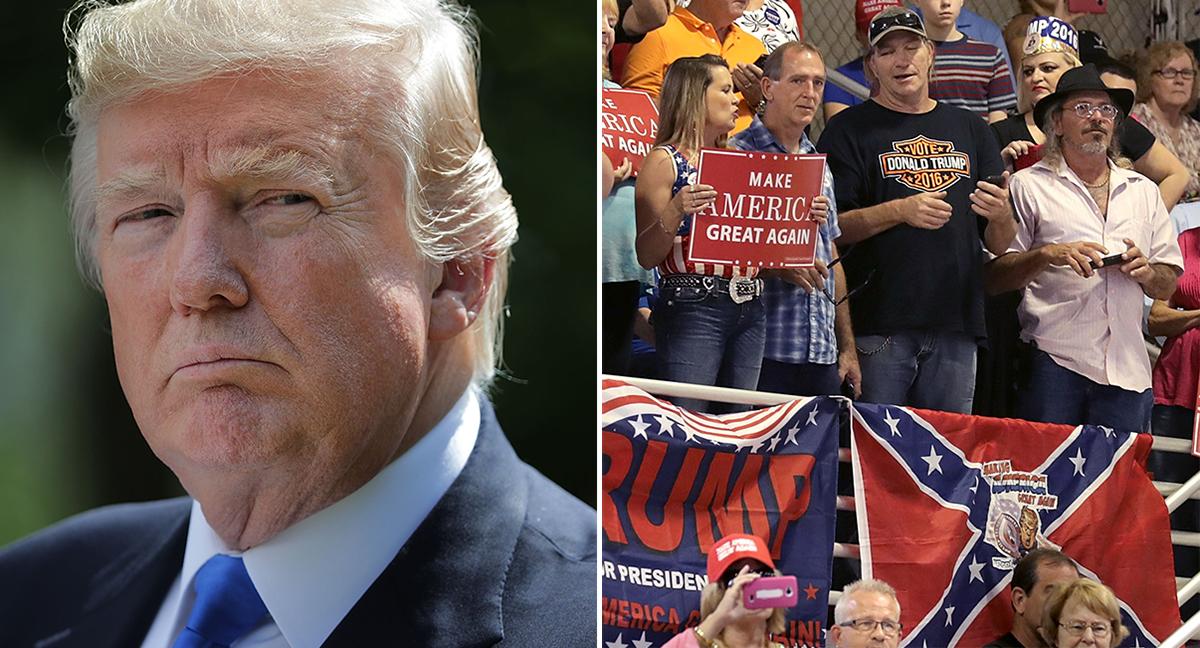 Republican group release ad slamming Trump for support of Confederate flag
By Mark Pygas

Jun. 12 2020, Updated 9:24 a.m. ET
Following the death of George Floyd at the hands of police, the nation is having yet another debate about its past. Statues of Confederate generals and politicians are being taken down in cities across the United States, and the U.S. Navy and NASCAR recently banned the display of the flag.
Article continues below advertisement
But President Donald Trump seems to be defending the Confederacy. After reports that US Army Secretary Ryan McCarthy and Defense Secretary Mark Esper were open to renaming a dozen military bases and installations named after Confederate military commanders, Trump vehemently opposed the idea on Twitter.
"These Monumental and very Powerful Bases have become part of a Great American Heritage, and a... ....history of Winning, Victory, and Freedom," President Trump wrote. "The United States of America trained and deployed our HEROES on these Hallowed Grounds, and won two World Wars. Therefore, my Administration will not even consider the renaming of these Magnificent and Fabled Military Installations."
Article continues below advertisement
Article continues below advertisement
Now the Lincoln Group, a political action committee of prominent Republicans and former Republicans, has released an advert slamming President Trump for defending the Confederate flag. The group includes George Conway, the husband of Trump advisor Kellyanne Conway.
The goal of the committee is to prevent the reelection of President Donald Trump, and they've already endorsed former Vice President Joe Biden.
Their new ad, titled 'Flag of Treason', "laments American citizens who fly the confederate flag as a veil of 'patriotism' when it is nothing more than a symbol of a treasonous, and failed uprising against the United States."
Article continues below advertisement
The Lincoln Project went on to explain: "President Trump's co-opting of the Confederate Flag and relationships with known white nationalists like Stephen Miller, Steve Bannon and David Duke shows his true beliefs. His blatant racism, dog whistles and disinterest in unifying the country, particularly in recent days following the death of George Floyd, show just how far he is willing to go to stoke fear, incite violence, and ensure the country descends into further chaos up to the election."
Article continues below advertisement
In a press release, Reed Galen, co-founder of The Lincoln Project said: "The Confederate flag is a symbol of slavery and disunion. Its history is one of sowing division and oppression. Those who fly it proudly are celebrating the legacy of American slavery, the wrongful, and violent insurrection that followed, and the oppressive Jim Crow regime that came into power in many states."
"No patriotic American should brandish or proudly celebrate the iconography of a rebellion that resulted in tremendous devastation, the loss of more than 620,000 American lives, and the continued subjugation of Black America," Galen continued. "Our namesake, Abraham Lincoln fought to preserve the Union. The Lincoln Project will do the same during the course of this campaign."
Article continues below advertisement
John Weaver, another member of the group, added: "Come this November, we'll make sure Donald Trump and MAGA join the Confederacy as another group of failures history never forgets."
Unsurprisingly, the video led to some strong opinions. One user wrote: "There's some terrible racists in America and always has been. It's time to stand up to them and end the racism once and for all."

Article continues below advertisement
While another added: "How could a president from Lincoln's party call confederate flag followers 'very good people.'"