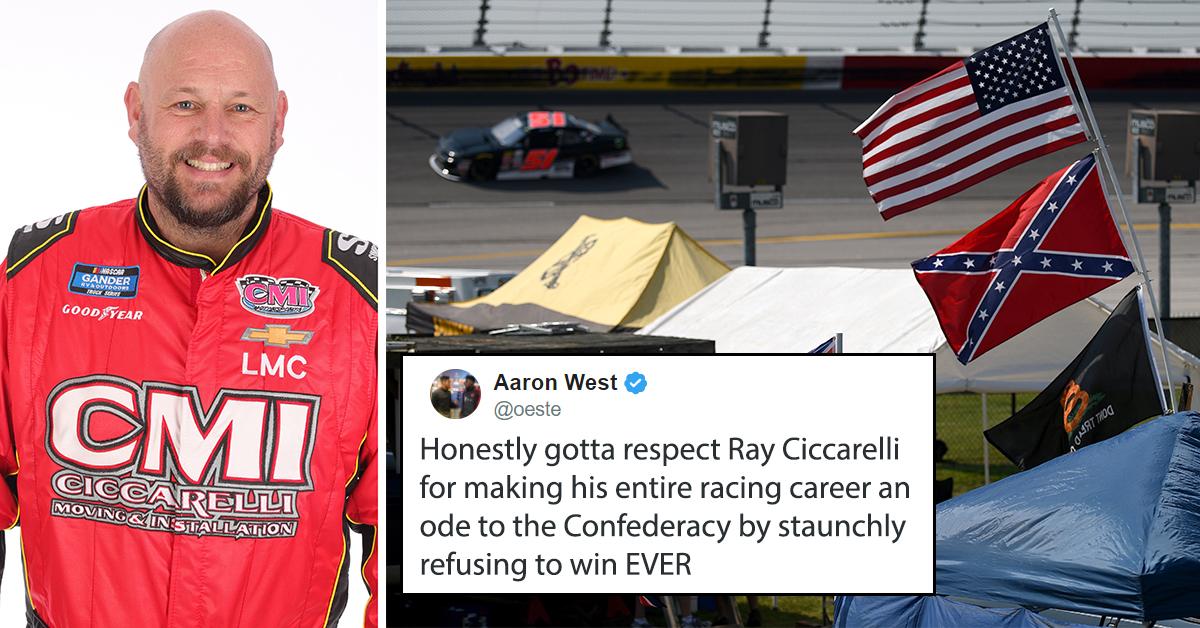 NASCAR racer Ray Ciccarelli says he'll quit after they banned Confederate flags at races
By Mark Pygas

Jun. 11 2020, Updated 12:31 p.m. ET
Following the death of George Floyd at the hands of police, the nation is once again dealing with its past. Statues of Confederate generals and politicians are being taken down in cities across the United States, and the U.S. Navy recently banned the display of the flag.
Article continues below advertisement
NASCAR is the latest organization to ban the flag their events. On Monday, Bubba Wallace, the only full-time African American driver in NASCAR's Cup Series, called on NASCAR to ban the display of the flag.
"No one should feel uncomfortable when they come to a NASCAR race. It starts with Confederate flags," Wallace told CNN's Don Lemon. "Get them out of here. They have no place for them."
And on Wednesday, NASCAR announced that they would be banning the flag.
"The presence of the Confederate flag at NASCAR events runs contrary to our commitment to providing a welcoming and inclusive environment for all fans, our competitors and our industry," the organization said in a statement.
Article continues below advertisement
In an earlier statement reacting to George Floyd's death, NASCAR said: "For us to heal and move forward as a nation, we all need to listen more and be united in the stand against racism, hatred and senseless violence and loss of life. And we must all hold ourselves accountable to driving positive change."
"Bringing people together around a love for racing and the community that it creates is what makes our fans and sport special. The display of the Confederate flag will be prohibited from all NASCAR events and properties."
Before a race on Wednesday, Wallace told Fox Sports: "Bravo. Props to NASCAR and everybody involved. ... There's a lot of emotions on the racetrack and off the racetrack that are riding with us. Tonight is something special. Today has been special. Hats off to NASCAR."
Article continues below advertisement
"There's going to be a lot of angry people that carry those flags proudly but it's time for change," he added.
One of those people appears to be NASCAR driver Ray Ciccarelli, who announced that he would quit the sport over the decision, according to MSN.
Ciccarelli, 50, currently participates in the NASCAR Gander RV & Outdoors Truck Series. In a post on his Facebook page on Wednesday, Ciccarelli said:
"Well its been a fun ride and dream come true but if this is the direction Nascar is headed we will not participate after 2020 season is over, i don't believe in kneeling during Anthem nor taken ppl right to fly what ever flag they love."
Article continues below advertisement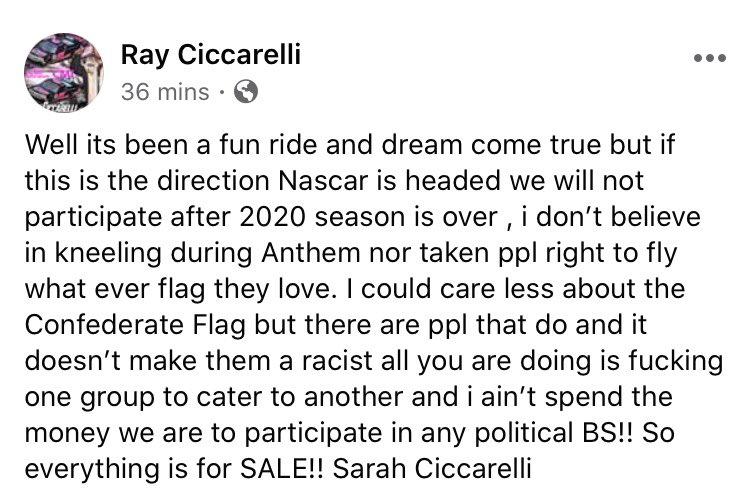 "I could care less about the Confederate Flag but there are ppl that do and it doesn't make them a racist all you are doing is f****** one group to cater to another and i ain't spend the money we are to participate in any political BS!! So everything is for SALE!! Sarah Ciccarelli."
MSN notes that out of 18 races in this particular series, Ciccarelli has only placed in the top 10 once.
Article continues below advertisement
Unsurprisingly, Ciccarelli's decision led to a strong reaction on social media.
"Honestly gotta respect Ray Ciccarelli for making his entire racing career an ode to the Confederacy by staunchly refusing to win EVER," one user wrote.
Article continues below advertisement
While another user added: "NASCAR truck driver Ray Ciccarelli has never even won a race. Like the confederacy, he knows how to quit while he's behind."
Article continues below advertisement
And other concluded: "NASCAR Truck series is going to have to find someone else to finish 28th each week because Ray Ciccarelli is done with this racial equality BS."