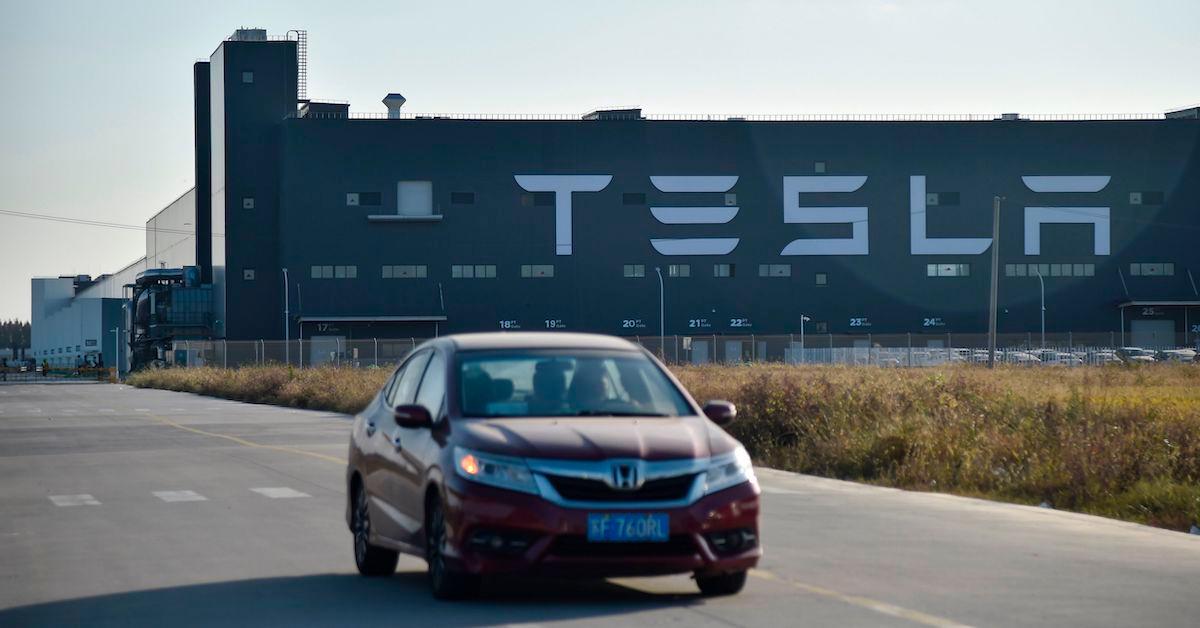 Tesla is cutting down 92 hectares of trees to build a new factory in Berlin
By Sophie Hirsh

Feb. 21 2020, Updated 2:52 p.m. ET
After protests from environmental groups, electric car company Tesla has been granted absolute permission to complete its latest project: clearing trees to build a new factory in Germany. But don't get too worked up — the trees are actually from a pine tree farm.
Article continues below advertisement
As reported by German media organization DW, on Thursday, Feb. 20, a high court of Berlin-Brandenburg approved Tesla to continue clear-cutting a 92-hectare stretch of Germany's Grünheide forest to build its Gigafactory, aka Giga Berlin or GF4.
Tesla had already been in the process of clearing the forested area for at least a month, after first announcing the project in November — but things were temporarily halted earlier this week. After taking into account the environmental activists who had been protesting at the site, the high court ordered Tesla to stop cutting down trees, Reuters reported a few days ago.
Article continues below advertisement
Two environmental organizations — Grüne Liga Brandenburg (Green League of Brandenburg) and the Association for Landscape Management and Species Protection in Bavaria — protested the project because they believed it would negatively impact the wildlife and water supply, DW reported. Hundreds of environmentalists have protested at the site, which caused the high court to take pause and consider their point of view. 
Article continues below advertisement
"It should not be assumed that the motion seeking legal protection brought by the Green League lacks any chance of succeeding," the court said in a statement earlier this week, as per The Verge.
Elon Musk, CEO of Tesla, responded to environmental concerns on Twitter last month, after an article circulated that the factory would be using 238 cubic meters of water per hour. "Tesla won't use this much net water on a daily basis. It's possibly a rare peak usage case, but not an everyday event," Musk tweeted.
Article continues below advertisement
He also noted that the forest being cleared is not a natural forest — it was a pine tree plantation, and all the trees were originally planted to be cut down and made into cardboard. "Also, this is not a natural forest — it was planted for use as cardboard & only a small part will be used for GF4," Musk continued on Twitter. "GF4 will absolutely be designed with sustainability and the environment in mind."
Article continues below advertisement
Additionally, Musk added that Tesla will be planting three trees for every tree cut down. It's unclear where these trees will be planted and whether Tesla will make sure they are maintained. 
Article continues below advertisement
So if Musk posted those tweets nearly a month ago, why did the two environmental groups still try to stop the project this week?
As the Green League argues on its website, the local Strausberg-Erkner water association already has water supply problems, and the association believes that Giga Berlin would "[endanger] the public drinking water supply."
Whether or not that is true, the high court of Berlin has given Tesla definitive permission to continue cutting down the forest, and the project is underway. The good news is, Giga Berlin is expected to produce at least 500,000 electric cars each year, as per DW, meaning it could help get up to 500,000 gas-powered cars off the roads. Transitioning to an electric car economy can make a major difference in lowering emissions, and hopefully Giga Berlin will make cutting down these trees worth it by majorly lowering Germany's emissions in the long term.