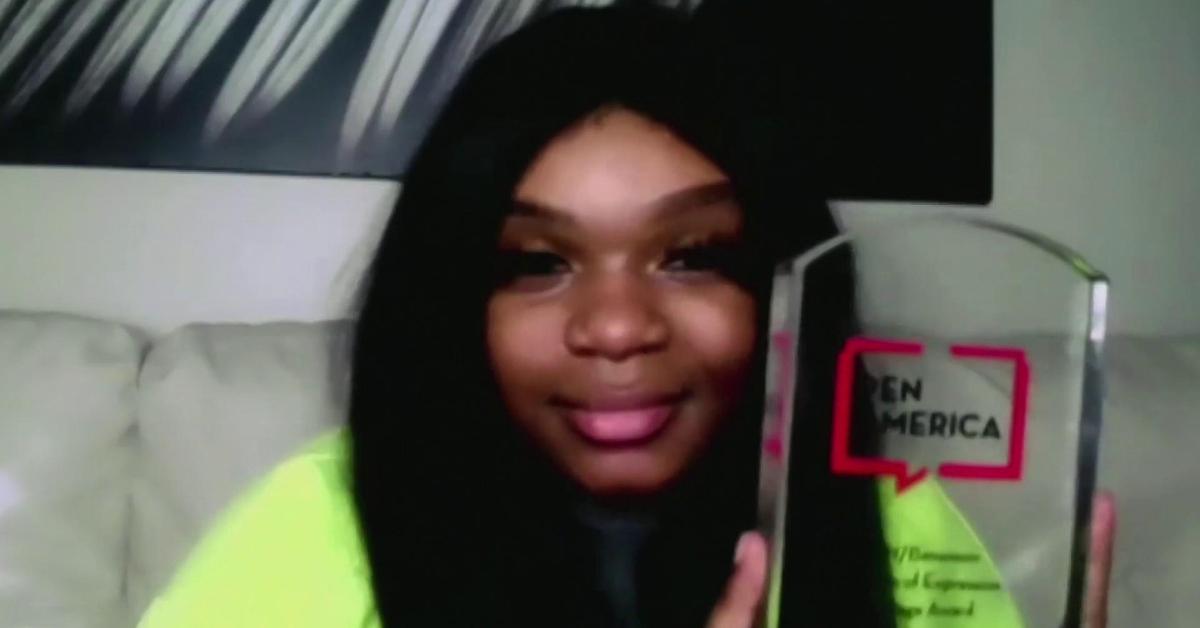 Teen receives Courage Award for recording George Floyd's arrest, sparking change
By Mustafa Gatollari

Dec. 14 2020, Updated 1:33 p.m. ET
On May 25, 2020 teen Darnella Frazier witnessed police officer Derek Chauvin placing his knee on the back of George Floyd's neck at the intersection of Chicago Avenue South and East 38th Street in Minneapolis, Minnesota. In the video, Floyd can be seen pleading for the officer to remove his knee and mentioned several times that he could not breathe. The clip also shows bystanders imploring Chauvin to allow Floyd to stand up.
Article continues below advertisement
While the footage was widely disseminated all over the internet, not everyone is necessarily familiar with the individual behind the camera who recorded the viral video. In the tragic case of George Floyd, it was teenager Darnella Frazier who decided to stand her ground and film the entire incident.
The nonprofit literary organization, PEN America has officially recognized the young woman with an Award for capturing the horrific event.
The distinction was given to her as recognition of her courage and perseverance in such a pressurized situation: "With nothing more than a cell phone and sheer guts, Darnella changed the course of history in this country, sparking a bold movement demanding an end to systemic anti-Black racism and violence at the hands of police," Suzanne Nossel, CEO of PEN America said.
Article continues below advertisement
Nossel continued, "With remarkable steadiness, Darnella carried out the expressive act of bearing witness, and allowing hundreds of millions around the world to see what she saw. We are proud to recognize her exceptional courage with this award."
Frazier will share her award with Maria Yovanovitch, former US Ambassador to Ukraine who was at the center of Trump's impeachment investigation regarding allegations he was guilty of colluding with foreign powers in an attempt to win the Presidential election.
Article continues below advertisement
Previous Courage Award recipients are Anita Hill, the staff of Charlie Hebdo, the Women's March, students at Majory Stoneman Douglas High School, and water whistleblowers from Flint, Michigan.
Frazier's video was largely attributed for sparking national outrage and being the impetus behind large protests, notably ones held by the Black Lives Matter movement.
Article continues below advertisement
Celebrated American film direction Spike Lee awarded Darnella the prize in a Virtual Gala. Upon receiving the prize, the 17-year-old said, "I would like to say thank you for honoring me with this PEN/Benenson Courage Award. I never would imagine out of my whole 17 years of living that this will be me. It's just a lot to take in, but I couldn't say thank you enough for everything that's been coming towards me. Thanks to Mr. Lee for presenting this, and I appreciate that. Thank you for the PEN/Benenson Courage Award, and this is the award."
Also present to thank Darnella were Gabrielle Union, Meryl Streep, Anita Hill, Cory Booker, and others. You can see the young woman accept her award below, Pen uploaded the on-camera ceremony on its YouTube page.
Article continues below advertisement
According to The Guardian, Derek Chauvin is facing a second degree murder charge, and the three other officers involved, Tou Thao, Thomas Lane, and Alexander Kueng will all be charged with aiding and abetting.