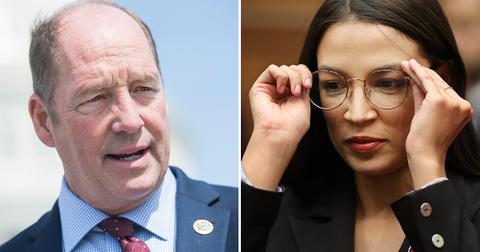 Christian charity drops Congressman who reportedly used sexist slur against AOC
By Mark Pygas

Updated
Rep. Ted Yoho, a Republican from Florida, made headlines last week after he reportedly used a sexist slur during an argument with Rep. Alexandria Ocasio-Cortez, a Democrat from New York. Yoho was walking down the steps of the Capitol after a vote when he reportedly approached Ocasio-Cortez.
According to a reporter for The Hill who overheard the exchange, Yoho told Ocasio-Cortez she was "disgusting" for suggesting that poverty and unemployment are driving a spike in crime in New York City amid the coronavirus pandemic.
"You are out of your freaking mind," Yoho said, according to Ocasio-Cortez. "Do you really believe that people are shooting and killing each other because they're hungry? You know, You're unbelievable. You're disgusting."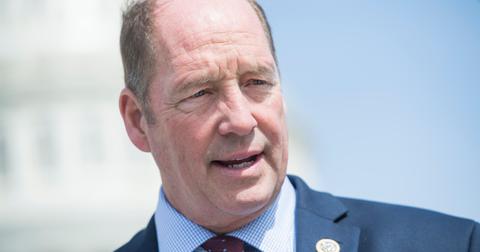 Ocasio-Cortez responded to Yoho by saying that he was "rude."
According to Ocasio-Cortez, Rep. Roger Williams, a Republican from Texas, then got involved in the argument.
"He started talking about throwing urine," she said. "I don't know what he was talking about. I think he was maybe talking about an incident at some protest somewhere that I don't know about. But he started talking about throwing urine and at that point, I was so bewildered. I was like, these folks are out of their minds."
After the three parted ways, Yoho was heard calling Ocasio-Cortez a "f**king b**ch" by the reporter.
Yoho dismissed the claims, stating: "I asked her, I said, 'Hey, do you have a minute?' She goes, 'Yes.' And we've never had a conversation before, and I wanted to ask her about this policy that she was telling people it was OK to shoplift if you're hungry. And it went backwards from there."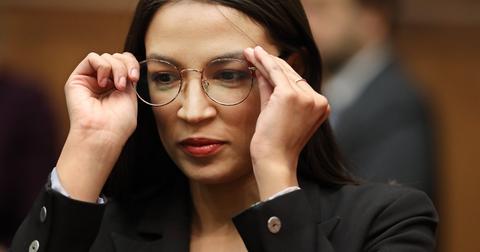 In a statement, Williams added: "The Congressman did not participate in the exchange between Congressman Yoho and Congresswoman Ocasio-Cortez, nor did he hear what was said in their conversation. Any comments overheard or attributed to Congressman Williams were part of a separate conversation that he and Congressman Yoho were having. Congressman Williams would have immediately condemned that type of language towards any colleague."
"That kind of confrontation hasn't ever happened to me — ever," Ocasio-Cortez said after the exchange became public. "I've never had that kind of abrupt, disgusting kind of disrespect levied at me."
In a statement to the House, Yoho denied using the slur and made an "apology" over the confrontation.
Ocasio-Cortez rejected the apology, telling the House: "Rep Yoho put his finger in my face. He called me disgusting, he called me crazy, he called me out of my mind. And he called me dangerous. And then he took a few more steps, and after I had recognized his comments as rude he walked away and said, 'I'm rude? You're calling me rude?'"
"I took a few steps ahead and I walked inside and cast my vote because my constituents send me here each and every day to fight for them, and to make sure that they are able to keep a roof over their head, that they're able to feed their family, and that they're able to carry their lives with dignity. I walked back out and there were reporters in the front of the Capitol, and in front of reporters, Rep. Yoho called me—and I quote—'a f**king b**ch.'"
Bread for the World, a nonpartisan Christian organization, seeking to end hunger, has now decided to cut ties with Yoho after what is called a "verbal attack" on Ocasio-Cortez.
The charity said its board met Friday with Yoho, a board member, and sought his resignation "as an action that reaffirms our commitment to coming alongside women and people of color, nationally and globally, as they continue to lead us to a more racially inclusive and equitable world."
"As a bipartisan Christian organization committed to alleviating hunger and poverty through sound public policies, Bread for the World upholds the values of respect, dignity, and compassion that Jesus calls us to when engaging decision-makers from across the political spectrum," the charity said in a statement.
"We believe that Rep. Ted Yoho's recent actions and words as reported in the media are not reflective of the ethical standards expected of members of our Board of Directors."
Rev. Eugene Cho, president and CEO of Bread for the World, said that Yoho's reported words did not reflect with the group's Christian values.
"We did feel that his comments were inappropriate, not reflective of the ethical standards and Christian values that we seek to uphold as an organization and for our leaders," Cho told NPR. "And for that reason, we had that conversation with Congressman Yoho."