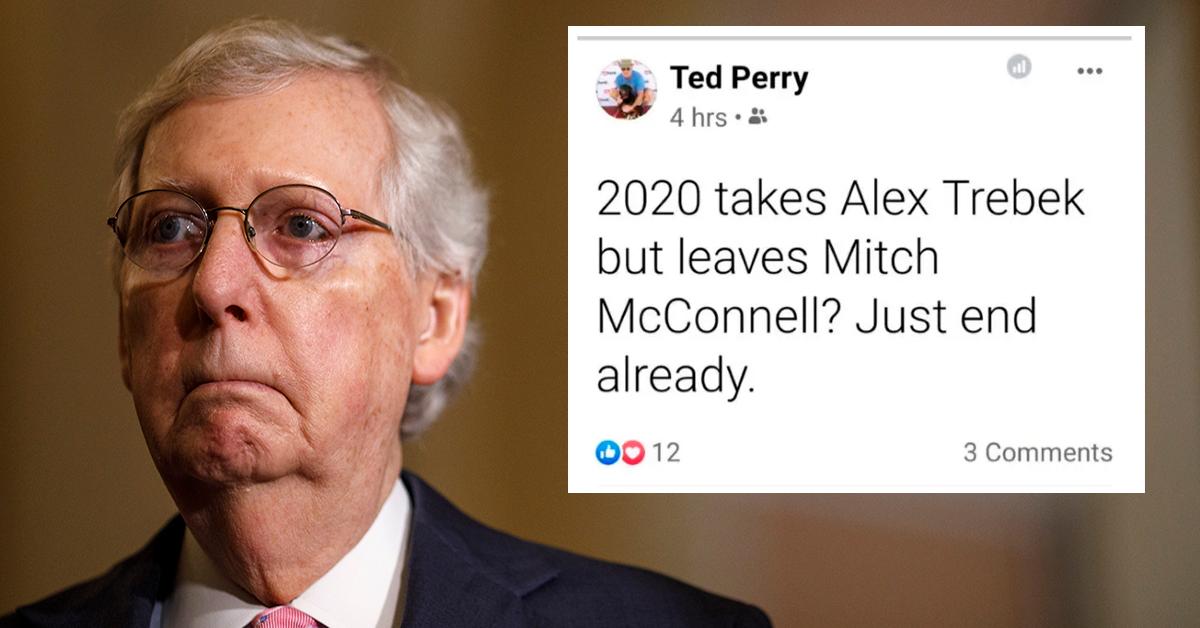 News anchor suspended after asking why 2020 took Alex Trebek but not Mitch McConnell
By Mark Pygas

Nov. 16 2020, Updated 9:06 a.m. ET
Ted Perry, a local news anchor at WITI-TV in Milwaukee, Wisconsin, has been suspended from the station after joking about the death of Senate Majority Leader Mitch McConnell. In a post made to his personal Facebook page, Perry asked why 2020 had taken Alex Trebek but spared Mitch McConnell.
Article continues below advertisement
In a screenshot shared by the Milwaukee Journal Sentinel, Perry wrote: "2020 takes Alex Trebek but leaves Mitch McConnell? Just end already."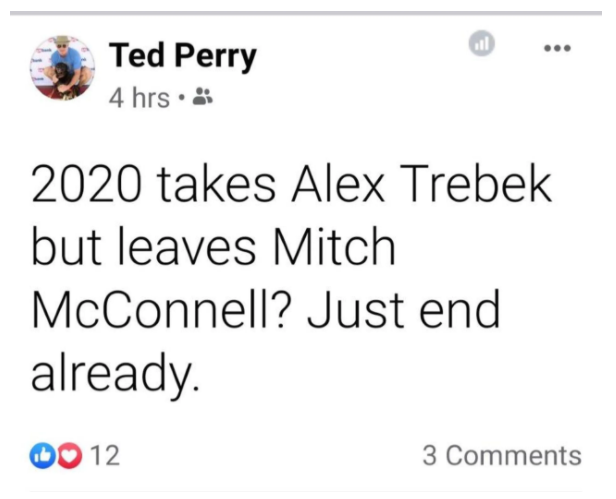 Article continues below advertisement
Perry faced backlash over the comment, with talkshow host Dan O'Donnell writing: "He wished the Republican Senate Majority Leader was dead, in case anyone was wondering."
Article continues below advertisement
"I made a statement on my personal Facebook page that was insensitive and does not reflect my journalist values and I was not speaking on behalf of my employer," Perry wrote on Facebook amid the backlash. "I deeply apologize for my inappropriate and outrageous comments and have deleted them accordingly."
Article continues below advertisement
According to the Journal Sentinel, Perry has now been suspended over the comment. The anchor was not on the air last week for the 5 p.m. and 10 p.m. newscasts that he usually hosted. It's unclear when Perry will return, but he has shut down his Twitter account and personal Facebook page since the incident.
James Wigderson of Right Wisconsin, a conservative blog, criticized the suspension in a post, writing: "Republicans trying to make a big deal out of this should ask themselves, 'Do we believe in ending 'cancel culture' or not?' Because if conservatives are going to embrace 'cancel culture,' anyone who has made a joke about President-Elect Joe Biden's possible death before the end of his term should delete their Facebook account right now."