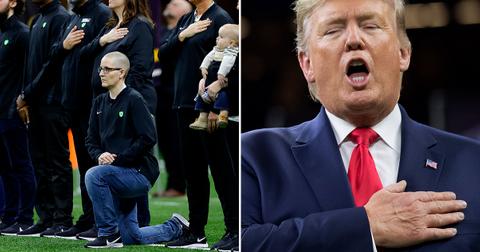 'Teacher of the Year' kneels for national anthem at event attended by Trump
By Mark Pygas

Updated
A teacher is being praised and criticized online for deciding to kneel for the national anthem at a ceremony honoring the 2019 "Teachers of the Year." The ceremony took place at the NCAA football championship game on Monday, which was being attended by President Donald Trump.
The honoree from Minnesota, Kelly Holstine—the first openly LGBTQ teacher to receive the honor—knelt for the national anthem, and later took to Twitter to explain why:
"Honored as State Teachers of the Year at NCAA Champ FB Game," she explained. "Given platform to stand up for marginalized and oppressed people. Like many before, I respectfully kneeled during Nat'l Anthem because, 'No one is free until we are all free' (MLK)."
Holstine included the hashtag #imwithkap in her tweet. Former San Francisco 49ers quarterback Colin Kaepernick protested police brutality by kneeling for the national anthem at games throughout 2016. He inspired many other players to do the same thing, sparking a national conversation that lasted for two years.
President Donald Trump was highly critical of the protests, praising team owners like Houston Texans owner Bob McNair, who said protesting players were like "inmates running the prison."
He also praised NFL Commissioner Roger Goodell, who said: "Like many of our fans, we believe that everyone should stand for the national anthem."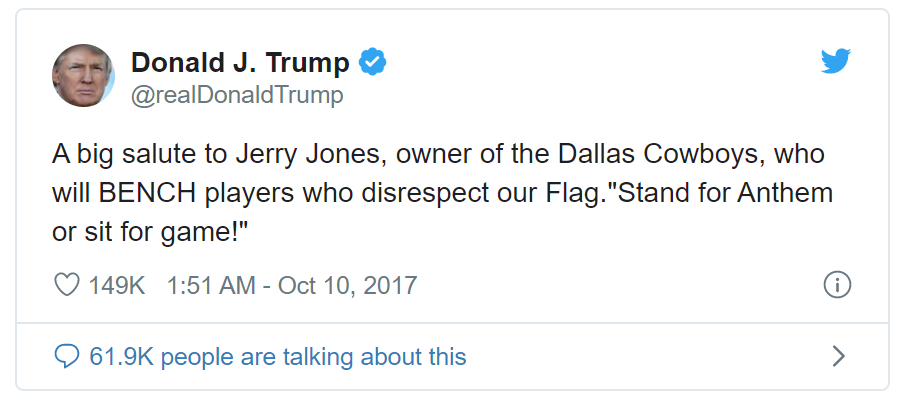 Colin Kaepernick hasn't played a professional football game since 2017, with the quarterback saying he's being "denied" work, but he has become a powerful symbol of protest and the face of Nike's "Just Do It" campaign in 2018.
The tagline for that campaign was: "Believe in something. Even if it means losing everything."
President Donald Trump seemed to bury the hatchet somewhat last year, when he said that he'd "love" to see Kaepernick come back to the NFL.
"Only if he's good enough," Trump said. "If he's good enough. ... And I think if he was good enough, I know the owners, I know (New England Patriots owner) Bob Kraft, I know so many of the owners. If he's good enough, they'd sign him. So if he's good enough – I know these people – they would sign him in a heartbeat. They will do anything they can to win games."
"So I'd like to see it. Frankly, I'd love to see Kaepernick come in, if he's good enough. But I don't want to see him come in because somebody thinks it's a good PR move. If he's good enough, he will be in."
Holstine led a TED Talk in 2019 in which she said teachers must be willing to "stand up for all of the human beings who are being marginalized or oppressed."
"Allies are wonderful and we need them, but it is not enough for educators to just be allies," she said. "We need them to be advocates too."
In 2019, she was one of two "Teachers of the Year" who skipped the White House ceremony.
"The words and practices and policies of this administration have been filled with a lot of hate toward the LGBTQ community, so I didn't feel comfortable in that environment," Holstine told The Hill.
Unsurprisingly, the protest sparked mixed reactions from those on social media.
One user wrote that Holstine was "a role model of worthiness: honor, courage, committed to our natural duty to support/defend others; confirmed w/o fanfare."
While another added: "Real 'bravery' doesn't seem attention. You didn't get attention from the network, so you put it on here. Kneeling does nothing but hurt the people that fought for you and your family. There's so many more ways to protest."