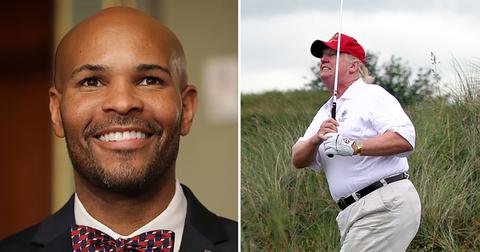 Surgeon General says Trump is 'healthier than I am' and people are having a hard time believing it
By Mark Pygas

Updated
Surgeon General Jerome Adams was on CNN's State of the Union over the weekend to talk about the coronavirus outbreak, which has claimed 22 lives in the United States as of Monday morning.
When asked about how the elderly should prepare for the outbreak, Adams warned that they should be "extra cautious and wash their hands frequently." But then, Adams made a comment that people are having a hard time believing.
Adams said: "But speaking of being at risk, the president sleeps less than I do and he's healthier than what I am. So that's the other reason that this messaging is hard because there are 70 -year-olds who run marathons and are healthier than some 30-year-olds."
Here's Surgeon General Jerome Adams telling Jake Tapper that President Trump "sleeps less than I do and he's healthier than what I am." 😳 pic.twitter.com/bDpQWWAgUU

— Aaron Rupar (@atrupar) March 8, 2020
President Donald Trump has a notoriously bad diet. According to Corey Lewandowski, his former campaign manager, the president would go 14 to 16 hours without eating and then gorge on a McDonald's dinner of two Big Macs, two Filet-O-Fish sandwiches, and a small chocolate shake.
During a 2018 health check-up, Trump was found to be just one pound below obesity levels. The president was put on a strict diet as a result.
"The exercise stuff never took off as much as I wanted it to," former White House physician Rear Admiral Ronny Jackson told the New York Times. "But we were working on his diet. We were making the ice cream less accessible; we were putting cauliflower into the mashed potatoes."
People are having a hard time believing Adams' claims.
"Adams is 45 years old and looks healthy Trump is 73, overweight, supposedly doesn't sleep and everyone can plainly see he looks and acts unwell," one user wrote. "There's truly not one honest person in this administration."
While another added: "What a disappointment coming from this guy. Such shame he has brought to our community. These people are all the same."
And another concluded: "No reason to say stupid stuff just because you work for a stupid president."
Later in the interview, Adams wouldn't provide a number on how many people had been tested for coronavirus after the Centers for Disease Control and Prevention (CDC) removed the figure from their website.
The White House has been criticized for failing to meet its goal of sending out a million tests by the end of last week. In a press conference, Trump tried to pin the blame on Obama by saying: "The Obama administration made a decision on testing that turned out to be very detrimental to what we're doing, and we undid that decision a few days ago so that testing can take place in a much more accurate & rapid fashion."
Pence later clarified the remarks, stating: "The last administration asserted Food and Drug Administration (FDA) jurisdiction over-testing and the development of tests like this. The president changed that on Saturday."
According to the Washington Post, this statement is false. Glenn Kessler explains that "there was no Obama rule, simply 'guidance' that was never acted on."
When asked what rule Trump and Pence could be referring to, Peter Kyriacopolous, chief policy officer at the Association of Public Health Laboratories, told CNN: "We aren't sure what rule is being referenced."
He added: "There was an intense interest from FDA to pursue regulation of lab-developed tests during the Obama administration, but it never occurred. FDA did a lot of work on this, but there never was a final rule that came out of all that work."
Instead, many have attributed the delay in test kits to mistakes made by the CDC. Neel Patel of MIT Technology Review explains: "On February 5 the CDC began to send out coronavirus test kits, but many of the kits were soon found to have faulty negative controls (what shows up when coronavirus is absent), caused by contaminated reagents."
As a result, the kits couldn't be used, and the CDC has only been able to test 1,235 patients as of Thursday. This shortage meant that until recently, tests were reserved for people who had been outside the country in the last two weeks and those who had come into contact with a confirmed case of coronavirus.