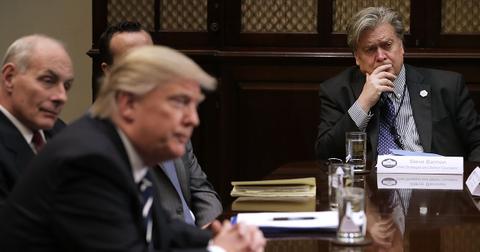 Steve Bannon arrested for fraud and money laundering over 'We Build the Wall' fundraising campaign
By Mark Pygas

Updated
Steve Bannon, former political adviser to President Donald Trump, has been arrested and charged with fraud and money laundering by federal prosecutors.
Audrey Strauss, the Acting US Attorney for the Southern District of New York (SDNY), said that Bannon, Brian Kolfage, Andrew Badolato and Timothy Shea had "defrauded hundreds of thousands of donors, capitalizing on their interest in funding a border wall to raise millions of dollars, under the false pretense that all of that money would be spent on construction."
Bannon received more than $1m through a non-profit organization he controlled and used some to cover "hundreds of thousands of dollars in Bannon's personal expenses.
Kolfage, founder of We Build the Wall, took $350,000 for his personal use according to the indictment. "While repeatedly assuring donors that Brian Kolfage, the founder and public face of We Build the Wall, would not be paid a cent, the defendants secretly schemed to pass hundreds of thousands of dollars to Kolfage, which he used to fund his lavish lifestyle," Strauss said.
SDNY Inspector-in-Charge Philip R Bartlett said that the group created "sham invoices and accounts to launder donations and cover up their crimes, showing no regard for the law or the truth."
"This case should serve as a warning to other fraudsters that no one is above the law, not even a disabled war veteran or a millionaire political strategist," he added.
We Build The Wall, which was launched in 2018, promised to help fund efforts to build a border wall with Mexico. Kolfage said that all money donated would go to the wall, while Bannon publicly said, "We're a volunteer organisation."
All four are now charged with one count of conspiracy to commit wire fraud and one count of conspiracy to commit money laundering. Each charge carries a maximum penalty of 20 years in prison.
The White House refereed journalists to the Department of Justice for comment.
The White House is distancing itself from the Steve Bannon indictment.

WH spokesperson Alyssa Farah: "I refer you to DOJ, this is not a White House matter."

— Geoff Bennett (@GeoffRBennett) August 20, 2020