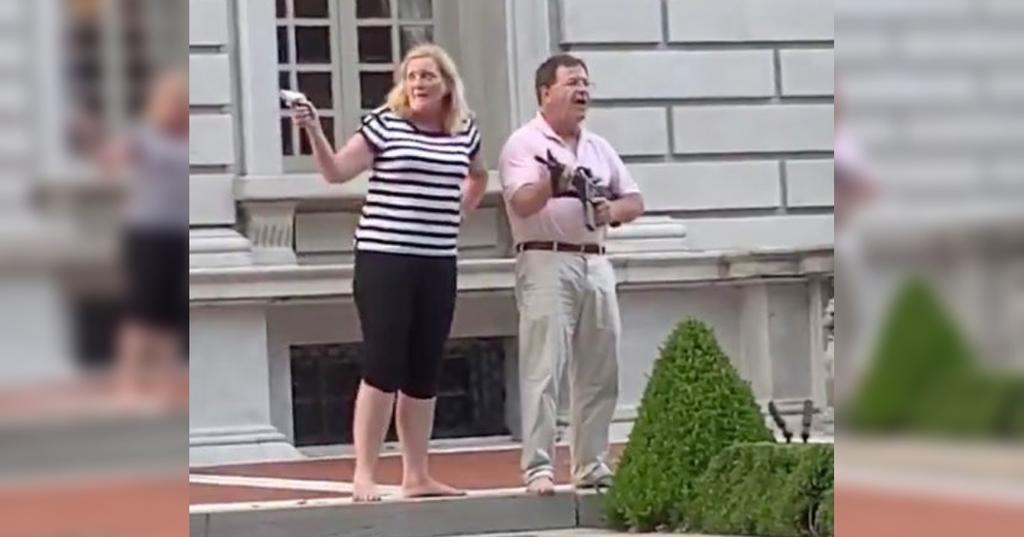 Couple points guns at Black Lives Matter protesters outside their mansion
By Robin Zlotnick

Jul. 21 2020, Updated 7:10 a.m. ET
Although Black Lives Matter protests have largely left the media cycle, they're still taking place in cities around the United States. And recently, in St. Louis, the protest went viral when an older white couple stepped out of their mansion with guns and pointed them at protesters walking past.
Article continues below advertisement
The video shows the couple yelling and pointing what appears to be a handgun and a semi-automatic rifle at protesters as they walked through the neighborhood. Protesters were on their way to St. Louis Mayor Lyda Krewson's house in the couple's gated community to hold her accountable for effectively doxxing constituents who wrote letters calling to defund the police when she read their names and addresses out loud on Facebook Live.
Article continues below advertisement
According to The Riverfront Times, the couple are personal injury lawyers Mark and Patricia McCloskey. Many people stopped to film the couple, and videos from several angles went viral on Twitter.
"At one point, a barefoot Patricia, whose law firm bio says she is a member of the Missouri Bar Association ethical review panel, crosses the lawn and stumbles briefly while she has her gun aimed at protesters," The Riverfront Times reports. "It's not clear if the guns were loaded."
Article continues below advertisement
The protest took place on Sunday, June 28. On Monday, June 29, The Hill reports that President Donald Trump shared a video of the couple pointing their firearms at protesters with no added caption. This move comes just a day after he was criticized for retweeting a video in which one of his supporters yells the words "white power."
Article continues below advertisement
According to journalist Jonathan Myerson Katz, the couple might have been breaking the law and committing a felony by pointing their guns at protesters walking by. He shares a line in Missouri law that states, "A person commits the offense of unlawful use of weapons...if he or she knowingly exhibits, in the presence of one or more persons, any weapon readily capable of lethal use in an angry or threatening manner."
Additionally, Insider reports that Mark McCloskey is representing a Black man who was kicked by a St. Louis police officer in 2019 when he was trying to surrender to the cop. Even so, it doesn't appear that McCloskey is too keen on the movement against police violence.
Article continues below advertisement
The couple quickly went viral and became a meme for what many viewed as their ridiculous behavior. It's safe to say the images of Patricia and Mark McCloskey waving guns at Black Lives Matter protesters have been plastered all over the internet at this point.
Article continues below advertisement
It's unclear at this point if they will face consequences for their possibly felonious behavior. But as of now, the McCloskeys' faces are all over Twitter. They've been deemed the "Ken and Karen" of the internet, at least for the moment.
The fact that they, a wealthy white couple who live in a gated community, felt entitled to point deadly weapons at protesters marching for equality and justice, hasn't escaped the attention of anybody. This incident is such a potent microcosm of the bigger issues of racism and privilege at play here.