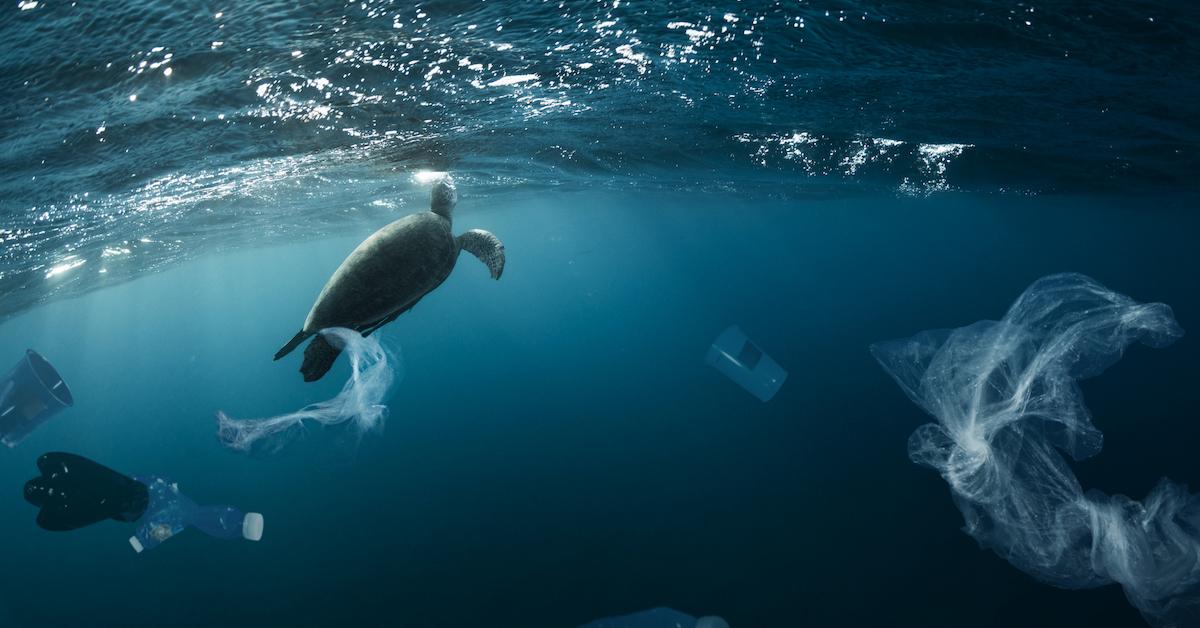 Turtles who eat 14 pieces of plastic have a 50 percent chance of dying, study finds
By Sophie Hirsh

Mar. 11 2020, Updated 3:08 p.m. ET
If you've seen that video of a sea turtle with a plastic straw being pulled out of his nose, you probably know that single-use plastic is hurting sea turtles and other marine life. And if you know anything about the commercial fishing industry, you know that trawlers often accidentally capture and kill sea turtles and other "bycatch" when fishing. But what about all the plastic that sea turtles accidentally eat? Is that killing them?
Article continues below advertisement
Well, according to one study out of Australia, ingesting just one piece of plastic gives sea turtles a 20 percent chance of dying, as Business Insider reported. The study found that turtles with 14 or more pieces of plastic in their gut had at least a 50 percent chance of dying.
The qualitative analysis study, published on Scientific Reports in late 2018, was the first conclusive evidence that ingesting plastic kills sea turtles. For the study, researchers looked the necropsy records of 951 sea turtles. The team found that the turtles who had died of known causes (that were not plastic ingestion-related) had less plastic in their bodies than the turtles who died of either plastic ingestion or undetermined causes.
Article continues below advertisement
"We knew that turtles were consuming a lot of plastic, but we didn't know for certain whether that plastic actually caused the turtles' deaths, or whether the turtles just happened to have plastic in them when they died," Dr. Chris Wilcox, Principal Research Scientist with CSIRO Oceans and Atmosphere, told Business Insider when the study was first released. "In other words, we wanted to know 'How much plastic is too much plastic?' for sea turtles."                                     
Article continues below advertisement
The study also noted that about 52 percent of all sea turtles on Earth have ingested plastic — but the statistic is much higher in various regions. For example, 100 percent of turtles surveyed in coastal Brazil had plastic in their systems.
Why are so many turtles eating plastic?
Various plastic items that are often found in the sea resemble food to turtles. As explained by WWF, to the average turtle, plastic bags look a lot like jellyfish, and fishing nets resemble seaweed. New research finds that plastic smells like food to some turtles and other marine animals, as reported by CNBC.
Additionally, the ocean is full of microplastics, which are tiny pieces of plastic that form when larger plastic items break down. Marine animals also accidentally ingest these, either because they mistake microplastics for food, or because the smaller sea animals that turtles eat have mistaken microplastics for food, in turn poisoning the sea turtles.
Article continues below advertisement
Why does eating plastic kill sea turtles?
Eating plastic can cause sea turtles to choke or develop internal injuries, which can lead to death. Most interestingly, sea turtles can starve to death after eating plastic — that's because they think they have eaten enough, when in reality, the plastic is not being digested or providing them with any nutrients. 
The 2018 study was the first to prove that eating plastic kills sea turtles — but ingestion is not the only way that plastic kills sea turtles. According to the WWF, hundreds of thousands of sea turtles are accidentally caught in fishing lets or hooks every year, making fishing gear the No. 1 threat to sea turtles.