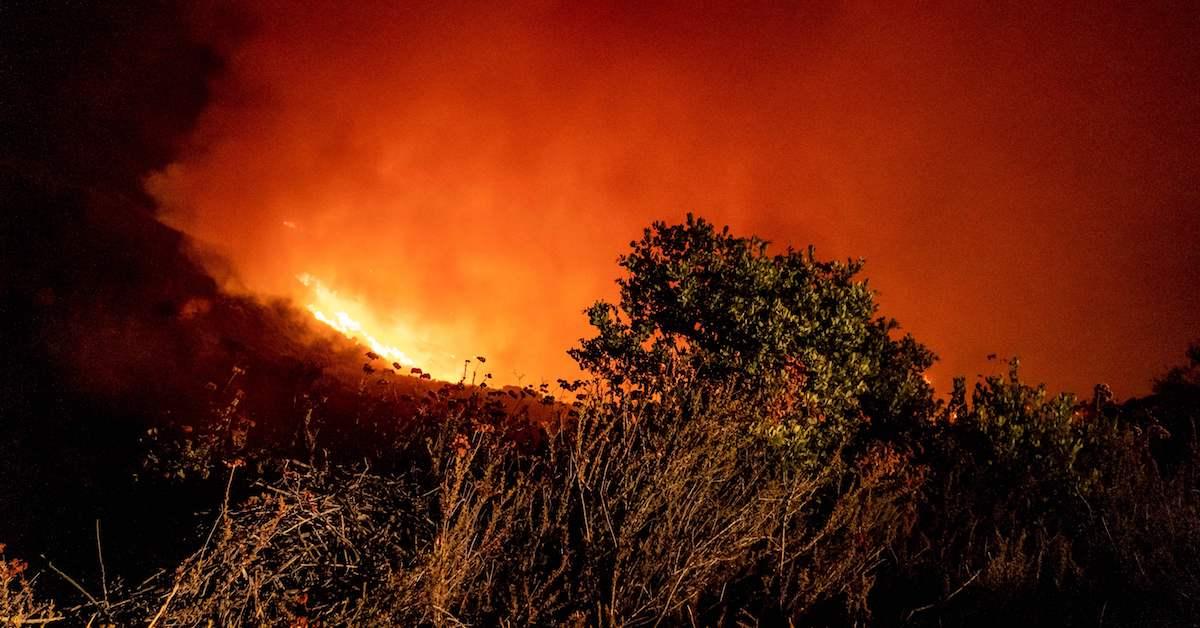 Santa Barbara wildfire has burned 4,300 acres and is still not contained
By Sophie Hirsh

Updated
Last November, a series of destructive wildfires burned through Southern California, causing deaths, evacuations, destruction of homes, and more. Now, one year later, Santa Barbara is being ravaged by a wildfire, known as the Cave Fire. Despite struggles to contain the fire, no injuries or deaths have been reported, and no homes have been destroyed.
Article continues below advertisement
According to a press release shared by Santa Barbara County, a brush fire started in the Santa Ynez Mountains on Monday afternoon at about 4:15 p.m. It's unclear exactly what started the fire. By 9 p.m., the Cave Fire had burned approximately 3,000 acres of land, with 0 percent containment. At 10:30 p.m. Monday night, authorities declared an emergency.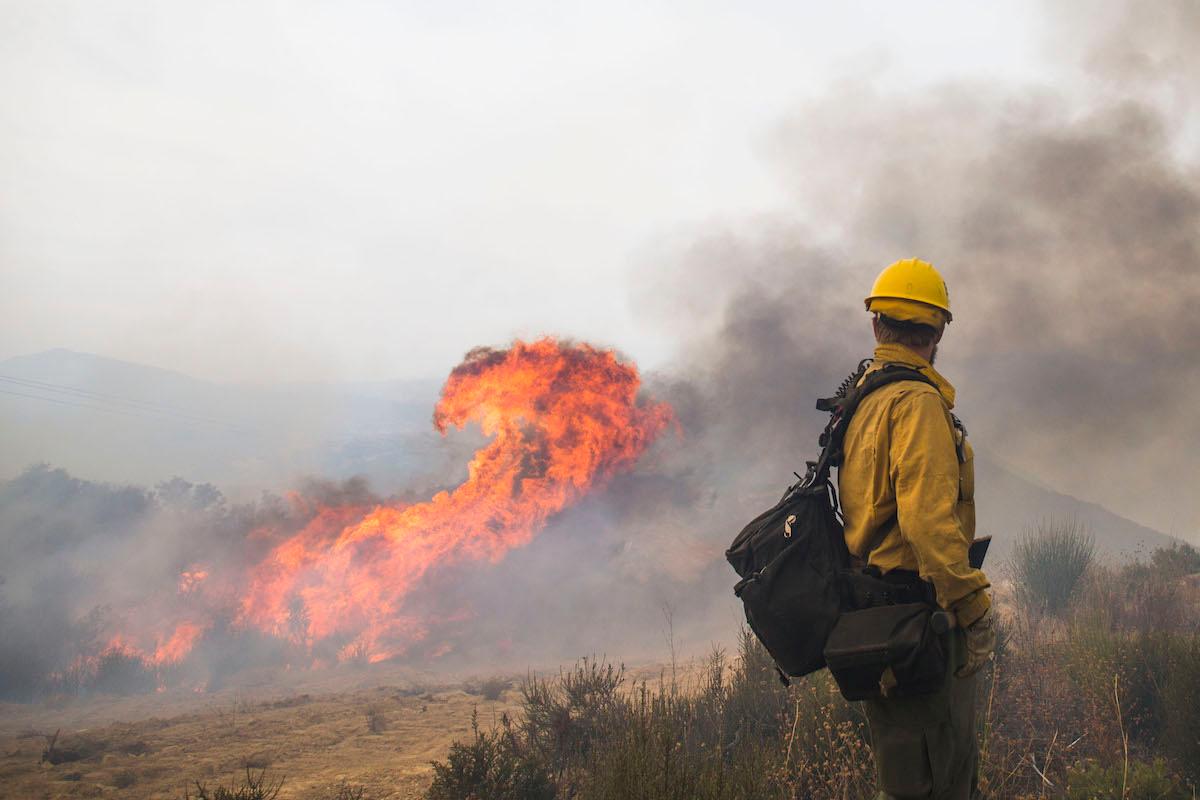 Article continues below advertisement
As reported NPR, by Tuesday afternoon, the fire had burned more than 4,300 acres of land. By Tuesday night, the fire was 10 percent contained, and as of Wednesday morning, it was still only 10 percent contained, according to local news outlet 10News. Officials are hoping that predicted rainfall on Wednesday will help put the fires out.
Article continues below advertisement
Santa Barbara County's Twitter account has kept locals updated on the state of the fire over the past two days. On Tuesday afternoon, the account tweeted that resources involved in responding to the Cave Fire included 600 firefighters, five bulldozers, nine helicopters, and 10 aircraft (which dropped fire retardant onto the fires).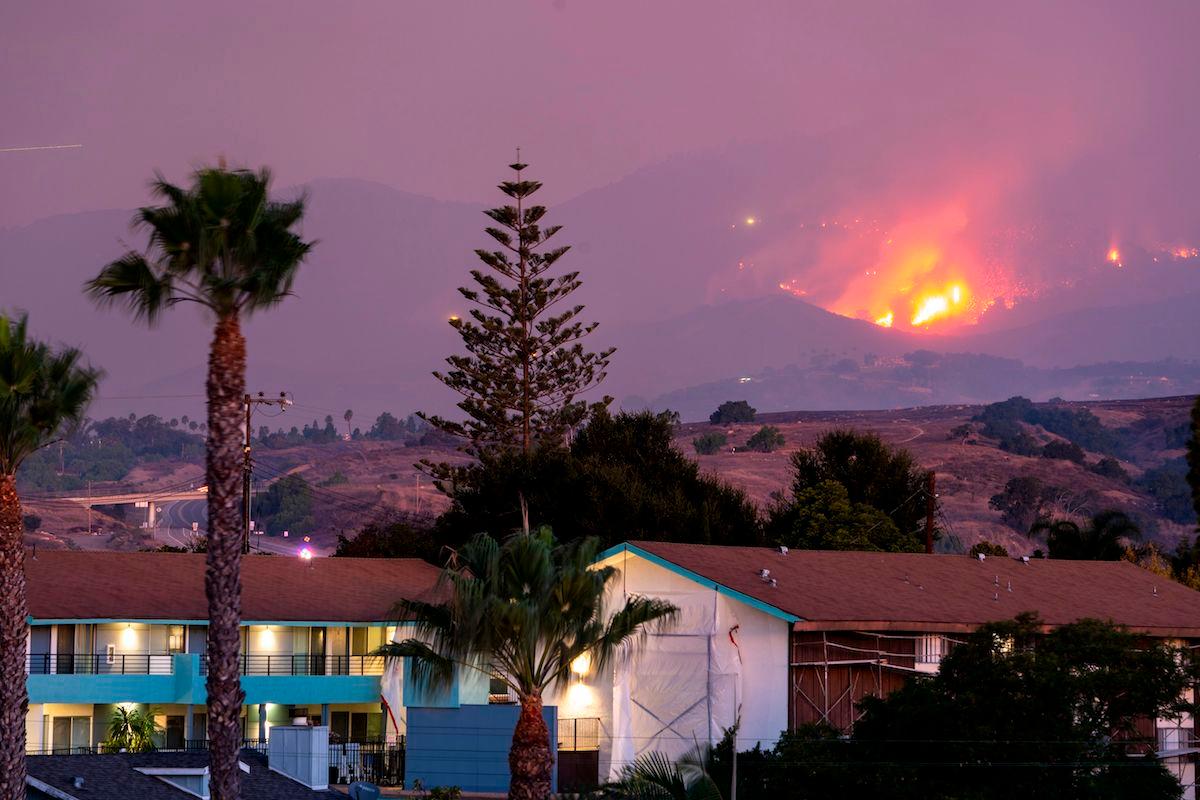 Article continues below advertisement
"The Cave fire is burning under some of the toughest firefighting conditions anywhere in the world," Los Padres National Forest Fire Chief Jim Harris told The Los Angeles Times on Tuesday afternoon. "We've experienced several offshore wind events at this point, and that has just dried the fuel bed out to the point where we're seeing the fire behavior we saw last night."
Harris also explained why the fire was able to thrive in Santa Barbara. As he told CNN, conditions including dry vegetation, low humidity, and powerful winds (reaching 45 mph) all helped the fire spread.
Article continues below advertisement
Those conditions are of course intertwined with the climate crisis. The California Department of Forestry and Fire Protection, aka Cal Fire, believes that the climate crisis is one of the main reasons wildfires have been on the rise along the west coast. "While wildfires are a natural part of California's landscape, the fire season in California and across the West is starting earlier and ending later each year," reads a statement on Cal Fire's website. "Climate change is considered a key driver of this trend."
Cal Fire has observed that drought, dry vegetation buildup, extreme winds, warmer temperatures in the spring and summer, reduced snowpack (snow buildup on mountains), and earlier snowmelt each spring have all worked to "create longer and more intense dry seasons that increase moisture stress on vegetation and make forests more susceptible to severe wildfire."