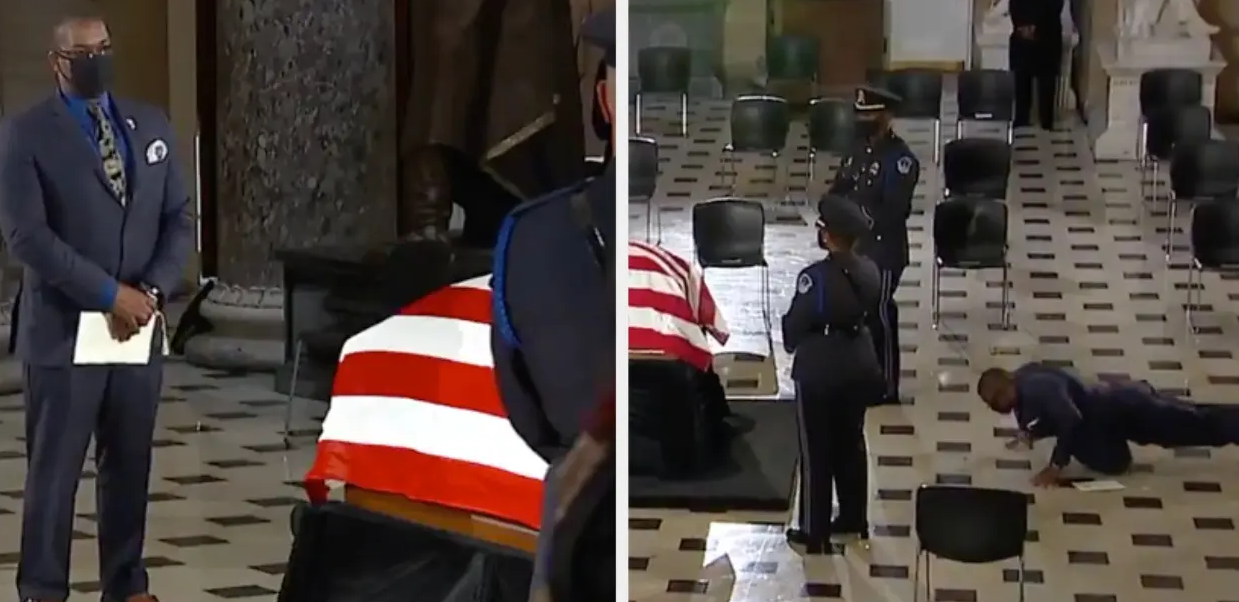 Ruth Bader Ginsburg's personal trainer of 20 years did pushups in front of her casket
By Mark Pygas

Sep. 28 2020, Updated 7:13 a.m. ET
On Friday 18 Sept., Justice Ruth Bader Ginsburg, who had served on the United States Supreme Court since 1993, passed away after a battle with pancreas cancer.
Article continues below advertisement
On Wednesday and Thursday, Ginsburg's body laid in repose at the Supreme Court. Members of the public will be able to pay their respects over the two day period. On Friday, Ginsburg will be moved to the National Statuary Hall.
Lying in state is usually reserved for distinguished government officials and military officers. Ginsburg will be the first woman to receive the honor. As a result of the pandemic, only a few select guests were allowed to attend Friday's event.
One of those in attendance was Bryant Johnson, Justice Ruth Bader Ginsburg's personal trainer for the last 20 years. Johnson honored Ginsburg by doing pushups in front of her casket.
Article continues below advertisement
Johnson and Ginsburg reportedly began working out together over 20 years ago after she survived cancer. On his website, Johnson states: "How does Justice Ruth Bader Ginsburg, one of the Supreme Court's favorite octogenarians, stay so active and energetic? She owes it in part to the twice-weekly workouts she does with her personal trainer, Bryant Johnson, a man she's called 'the most important person' in her life (after her family, of course)."
Article continues below advertisement
Social media users seemed divided over the tribute, with one writing: "If you watched the opening of RBG you would understand this. He's been training her for twenty years and push ups were their thing. If you have something negative to say, how about you just keep it in your head."
Article continues below advertisement
"No one knows their relationship," another wrote. "This may have a special meaning. I did something for my mother that others might have wondered why or found odd, but I was her care giver for 1 1/2yrs and it was special to me."
Article continues below advertisement
And another added: "This isn't weird at all. He's showing his feelings/grief/respect by doing their usual routine one last time."