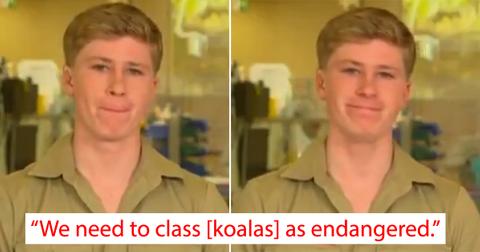 Robert Irwin held back tears while talking about impact of Australia bushfires
By Mark Pygas

Updated
Australia has been devastated by wildfires for months now. At least 25 people have been killed, and more than 12.35 million acres burned nationwide. But those feeling the worse effects of the bushfires are Australia's wildlife.
Article continues below advertisement
According to estimates by ecologist Chris Dickman from the University of Sydney, over 1 billion animals have been killed since fires began. That figure includes 800 million mammals, birds, and reptiles.
Among those killed are at least 8,000 koalas who are believed to have perished in New South Wales, a third of the state's pre-fire population. Nationwide, 25,000 koalas may have perished.
Many people are rightfully emotional over the immense loss of animal life. One of those is Robert Irwin, the son of Steve Irwin. In an interview with Sunrise discussing the damage, the 16-year-old can be seen struggling to hold back tears as his mother Terri discusses why koalas are so hard hit by the fires.
Article continues below advertisement
Robert explained that while many koalas are dying from smoke inhalation and burns, many are also being hit by cars or attacked by dogs as they attempt to flee into populated areas.
"Koala instinct is to go up, as safety is in the top of the tree," Terri explained. "Eucalyptus trees have so much oil that they ignite and actually explode in a fire. That means being able to treat and help koalas is few and far between because they're basically incinerated."
Article continues below advertisement
Terri added that koalas may need to classed as endangered following the fires, explaining: "We're just trying to do our best to help in any way we can, but it's an absolutely horrific situation. We're heartbroken."
Earlier this week Bindi Irwin, Steve's daughter, revealed that the Irwin family's Australia Zoo Wildlife Hospital has been inundated with patients since the wildfires began.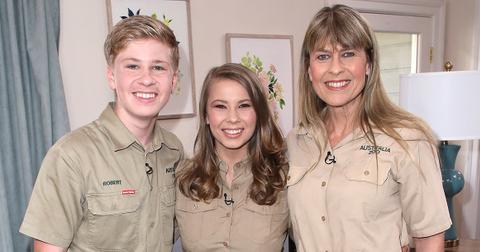 Article continues below advertisement
They've helped so many animals in recent months that the hospital has now treated 90,000 patients since the hospital opened 16 years ago.
In an Instagram post, Bindi revealed: "With so many devastating fires within Australia, my heart breaks for the people and wildlife who have lost so much. I wanted to let you know that we are SAFE. There are no fires near us @AustraliaZoo or our conservation properties."
"Our Wildlife Hospital is busier than ever though, having officially treated over 90,000 patients. My parents dedicated our Australia Zoo Wildlife Hospital to my beautiful grandmother. We will continue to honour her by being Wildlife Warriors and saving as many lives as we can."
Article continues below advertisement
In a separate Instagram post, Bindi explained that the hospital has been in overdrive since drought conditions began in September. Among their patients are hundreds of grey-headed flying foxes, a species listed as vulnerable, who were sent to the hospital after rescue centers they were recovering in were evacuated.
"Some of the orphans are now being cared for by the team at the hospital until they're big enough to go home, and there's no threat of fire," Bindi explained. "In September, flying fox admissions to the hospital skyrocketed by over 750% due to drought conditions and lack of food. Flying foxes are now being drastically affected by wildfires and we're again seeing an influx of these beautiful animals from across the country."
In 2019, the hospital also opened "a sea turtle rehabilitation center, sea snake ward and are about to complete a new bird recovery area."
Bindi went on to implore her followers to donate to Australia Zoo's Wildlife Warriors charity to help their efforts.