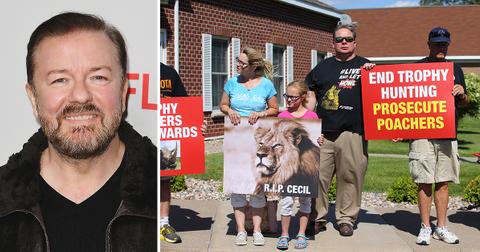 Ricky Gervais slams trophy hunting as 'humanity at its very worst' five years from death of Cecil the lion
By Mark Pygas

Updated
It may not seem like it, but today marks the fifth year since the death of Cecil the lion. Cecil, who roamed Hwange National Park in Zimbabwe, was being studied and tracked as part of a research project by the University of Oxford.
On the night of 1 July 2015, the 13-year-old lion was wounded from an arrow fired by American dentist Walter Palmer. The lion was then tracked and killed the following morning, between 10 and 12 hours later.
Although Palmer had a permit to hunt lions, he faced criticism because the killing took place just outside of the protected area of Hwange National Park and within Cecil's normal roaming area. Palmer's guides were briefly arrested, but charged were dismissed by a court.
Palmer faced international criticism over the killing, which eventually led to the U.S. Fish and Wildlife Service adding the Panthera leo leo subspecies of lions, in India and western and central Africa, to the endangered species list. The listing made it harder for American citizens to legally kill protected lions.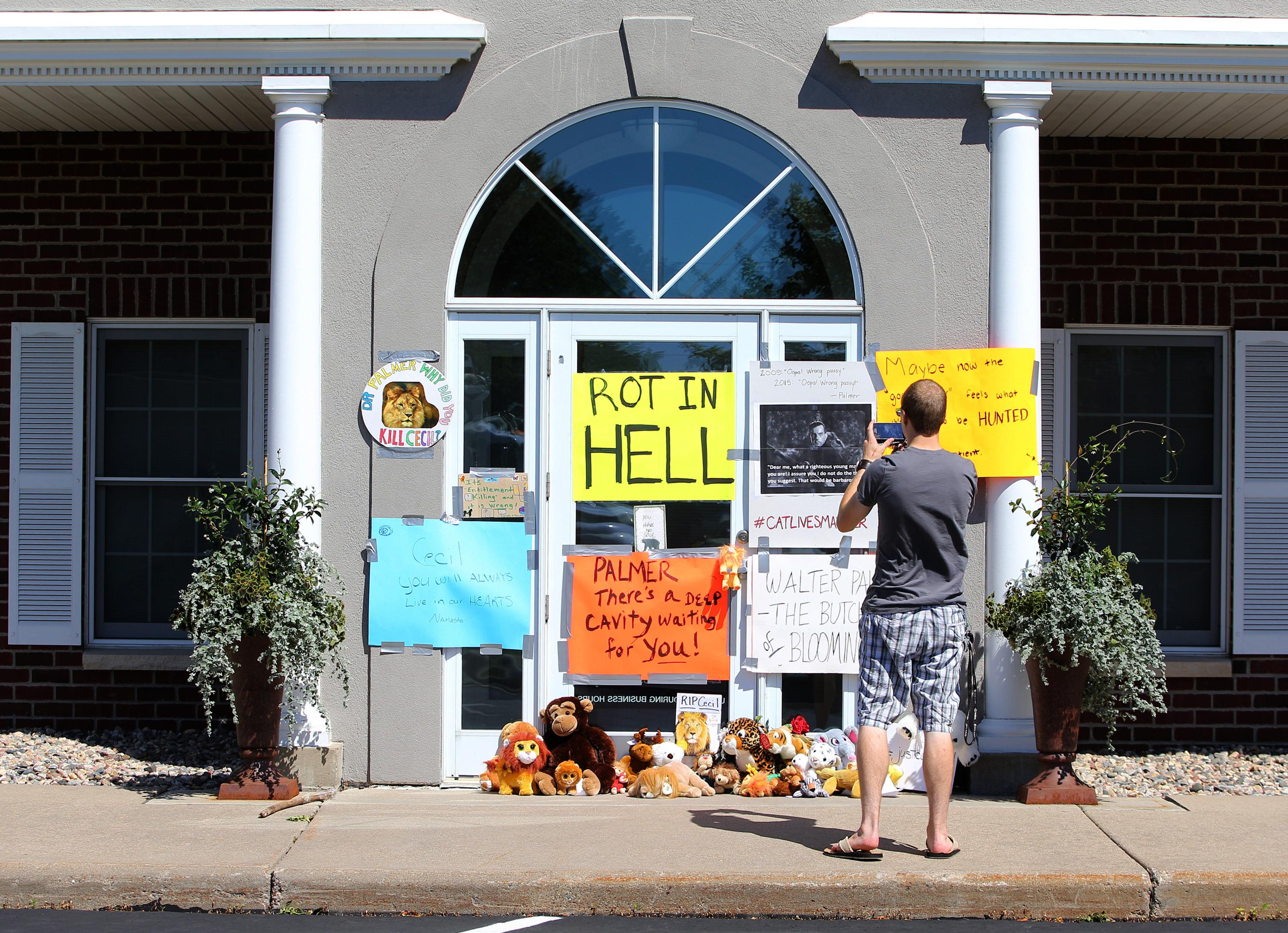 Despite the outrage at the time, The Sun reports that around 6,000 lions have been killed on the African continent by hunters since Cecil's killing. The current wild lion population could be as low as 13,000 by some estimates.
To mark the anniversary of Cecil's death, Ricky Gervais, who is a supporter of the Campaign to Ban Trophy Hunting, slammed the continued killings in an interview with the publication.
He said: "Why are we even having to make the case for banning trophy hunting in the year 2020?"
"It's hard to think of anything more sickening or senseless than killing an animal for entertainment, then hacking it up so you can display its body parts and brag about it."
"Trophy hunting is humanity at its very worst. We've had five years to do something since the killing of Cecil made everyone aware of what is going on."
Eduardo Goncalves, founder of the Campaign to Ban Trophy Hunting, added:
"We cannot have any more dithering or delay. Nine out of 10 voters want this stopped. Wildlife is on the brink. Let's get the ban done."
"There is a roaring trade in lion trophies. The furore around the killing of Cecil has done little to deter lion hunters. There is now a real prospect of lions becoming extinct in the wild."
Rick Gervais has long been an opponent of trophy hunting, writing in 2019: "Trophy Hunting is not conservation. That's a lie to enable rich psychopaths to shoot things and for corrupt officials to make some money."
Trophy Hunting is not conservation. That's a lie to enable rich psychopaths to shoot things and for corrupt officials to make some money. https://t.co/Nl3w27Kz0Z

— Ricky Gervais (@rickygervais) August 9, 2019
And in 2017, Gervais added: "I'm sick of Trophy Hunters trying to excuse their grim sport by saying they provide a service. They exploit the needs of the poor. They pay lots of money to go and shoot a magnificent animal because the authorities need the cash, and then claim they are doing a good deed."
"It's not a good deed. Those authorities would rather have the money AND the animal still alive but they can't afford to. So they're forced to take money from rich psychopaths who get their cheap fucking thrills from shooting a giraffe or elephant in the head. If they were providing a service THEY would be the ones being paid. Imagine a vet paying you to put down your dog and then taking a selfie next to the corpse."
"And as for 'the money goes to saving there remaining animals'..Oh dear. Where will it end? Can you pay more to kill the leopard with a hammer if that's your perversion? They're already killing with bows and arrows for fucks sake. And would we allow some billionaire sicko to shoot one cancer patient if he gave a million dollars to cancer research? No. Of course we fucking wouldn't. If they really wanted to do a good deed they would donate the money, and NOT shoot the animal. They would be heroes then. As opposed to murdering scum."