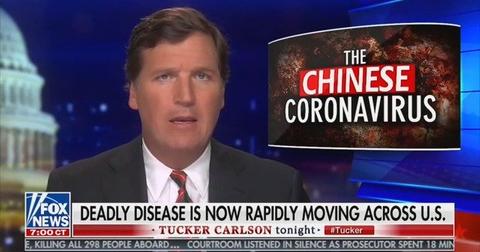 Republicans are calling COVID-19 'Chinese coronavirus' despite racist attacks against Asians
By Mark Pygas
Coronavirus continues to spread across the United States and much of the world. As of Monday, there were 545 confirmed cases and 22 deaths across the country. Those deaths have mostly been among groups most susceptible to the virus, mainly the elderly and those with prior severe health problems.
Also, on Monday, Republicans took the potentially dangerous decision to start referring to the virus as "Chinese coronavirus." The decision comes despite repeated reports of racist attacks against Asians because of the virus' origin in Wuhan, China.
Kevin McCarthy, the Republican House Minority Leader, took to Twitter to share the CDC's website on coronavirus. In the tweet, he referred to the virus as "Chinese coronavirus."
Tucker Carlson of Fox News also referred to the virus as "Chinese coronavirus" in a segment on his show. Carlson said:
"On the left, you've heard them tell you that the real worry if that you might use the wrong word to describe what's happening to the country. It's racist—they're telling you—to blame the most racist nation in the world for the spread of this virus."
Paul Gosar, a staunch Trump ally and Congressman for AZ's 4th District, also referred to the virus as "Wuhan virus" in a tweet on Monday. He was announcing his self-quarantine after coming into contact with the virus.
In 2015, the World Health Organization (WHO) issued new naming protocols for diseases, prohibiting any reference to geographic locations, animals, or groups of people.
"We've seen certain disease names provoke a backlash against members of particular religious or ethnic communities, create unjustified barriers to travel, commerce and trade, and trigger needless slaughtering of food animals," said Keiji Fukuda, then the WHO's assistant director-general for health security. "This can have serious consequences for people's lives and livelihoods."
When the WHO was first naming what we now know as COVID-19, epidemiologist Maria van Kerkhove explained why they were not using a geographic name.
"I'm sure you have seen many media reports that are still calling this, using the name Wuhan or using China. We wanted to ensure that there was no stigma associated with this virus, and so we've put out this interim name."
Despite being careful with the name, people of Asian origin have still faced racism in the face of the outbreak. Last week, Jonathan Mok, a 23-year-old studying in the United Kingdom, took to Facebook to say that a group of men in London has attacked him. Mok says one of the attackers yelled at him, "I don't want your coronavirus in my country." Two teenagers have since been arrested over the incident.
Owners of Asian-style restaurants have also taken to social media, claiming that the outbreak has significantly impacted their sales.
"This is going to sound kinda mad, but this week, pls consider making your weekly takeout a Chinese takeaway," Michelle Chai of Hertfordshire in the United Kingdom wrote. "My family's businesses have all been impacted hugely by coronavirus panic."
Ted Lieu, a Democratic US House of Representatives member for California, slammed Republicans on Twitter over the name.
"Dear [Paul Gosar]: I will pray for you, your staff & the person hospitalized," Lieu wrote. "Also, calling COVID-19 the Wuhan Virus is an example of the myopia that allowed it to spread in the US. The virus is not constrained by country or race. Be just as stupid to call it the Milan Virus."
He later went on to add: "One reason POTUS & his enablers failed to contain COVID-19 is due to the myopic focus on China. The virus was also carried into the US from other countries & US travelers. Calling it Chinese coronavirus is scientifically wrong & as stupid as calling it the Italian coronavirus."
Esther Choo also spoke out against the decision, writing: "Please help combat xenophobia: 1. Don't call COVID-19 "Chinese coronavirus" or the "Wuhan virus." 2. Don't shun Asian people or businesses. 3. Call out racism in the media when you see it (stories on COVID do not need to have a photo of an Asian person, tyvm)"
While CNN legal analyst Shanlon Wu added: "Kevin McCarthy calling corona virus Chinese is a racist ploy to make a public health issue something that can be blamed on 'others' - API kids in schools already being taunted about having the virus - this kind of 'leadership' by Republicans is a real danger to all of us."