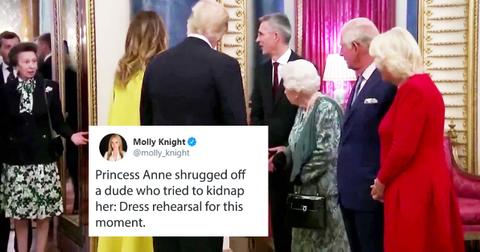 People think Princess Anne shrugged off Trump and they're loving it
By Mark Pygas

Updated
President Donald Trump is in the United Kingdom for a meeting between Nato members to mark the organization's 70th birthday. And on the first day of talks, tensions between world leaders already seemed to be brewing. 
President Trump and French President Macron Emmanuel had a sharp exchange on Tuesday. 
Trump, who once called Nato "obsolete," said that Macron had been "very disrespectful" when he described Nato as "brain dead", calling the comments "nasty." Macron stood by his comments and went on to correct President Trump during their joint press conference. 
But Macron may not be the only important person President Trump is having issues with. At a state dinner for world leaders arranged by Queen Elizabeth II, social media users think that Princess Anne appeared to shrug off a chance to meet President Donald Trump. 
Princess Anne, the second child of Queen Elizabeth II and Prince Philip, was spotted shrugging as the Queen glanced at her and gestured towards her. 
While many Twitter users thought this meant that Princess Anne didn't want to meet President Trump, there's a much simpler explanation. 
Many users on social media seemed to believe that Princess Anne was actively avoiding the President, and have shared memes that implied as much.
"Princess Anne watching the Trump handshake," one user wrote alongside a Baby Yoda meme.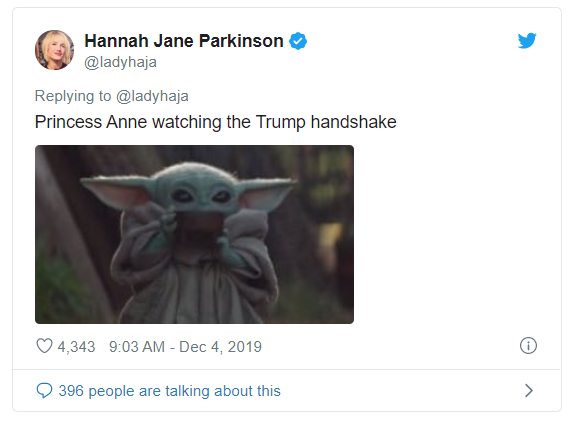 Many others pointed out that Princess Anne has a bit of a record when it comes to skipping the intricacies that come with being a member of the Royal Family. 
"Princess Anne has ALWAYS been an absolute hero in the royal family," one user wrote. "Didn't give her kids titles, first to divorce, working round the clock. The videos of her gossiping with world leaders & shrugging like a teenager at the queen are just the cherry on top."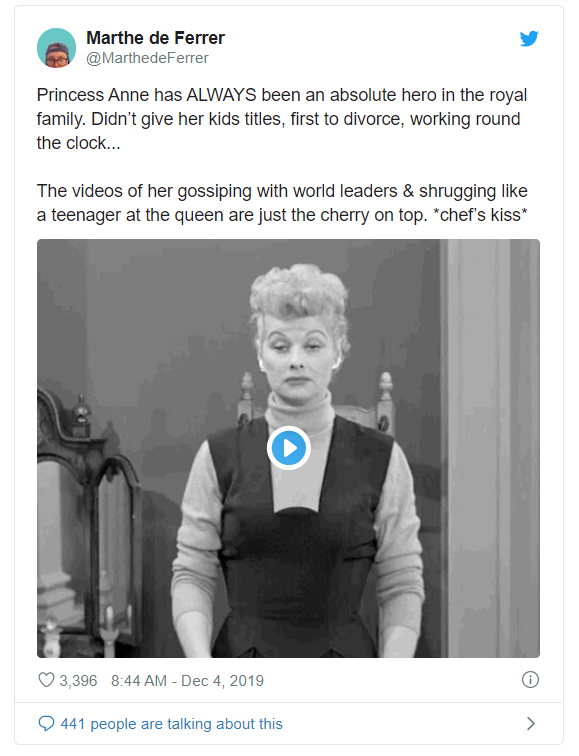 Others shared stories from Princess Anne's life, with one use writing: "People are surprised that Princess Anne can hang? That woman once was the victim of an attempted kidnapping and when she was told to get out of her car at gunpoint she said, 'Not bloody likely.'"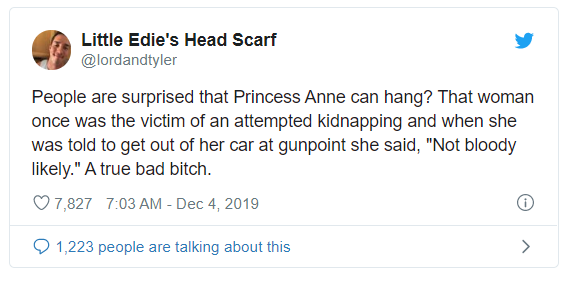 "Shoutout to Princess Anne for flat out refusing to meet Trump," another user wrote.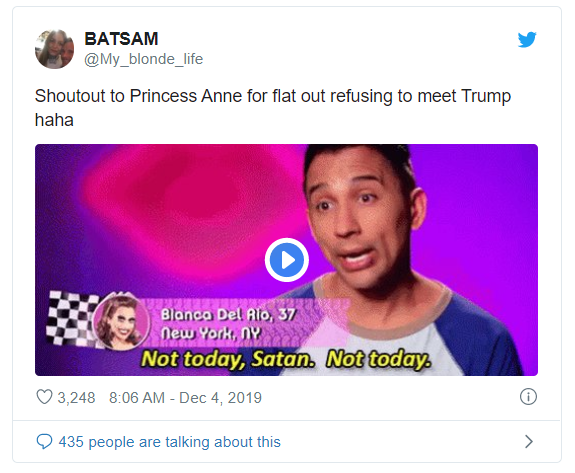 But as Laura Elston of the Press Association explains, people are probably just overthinking the exchange.
Elston explains that Princess Anne was actually next in line to be greeted by the Queen. The Queen did a double-take when she saw her daughter, with Elston going on to explain Princess Anne's reaction:
"The princess, raising both her hands in the air, laughed and remarked 'It's just me,' before adding 'and this lot,' pointing to the members of the household behind her."
"Anne was standing back as she was not part of the official welcoming party, and the monarch was looking to see which politician was next," Elston explains, dismissing the claims of Twitter users that Princess Anne shrugged off Trump.
Canadian Prime Minister Justin Trudeau and other world leaders definitely did shrug off President Trump, though. Reporters overheard an exchange between British Prime Minister Boris Johnson, Macron, and Trudeau.
Trudeau mocked President Trump's hour-long press conference, saying: "You just watched his team's jaws drop to the floor." 
President Trump called Trudeau "two-faced" over the incident. 
"With Trudeau, he's a nice guy. I find him to be a nice guy, but the truth is, I called him out on the fact that he's not paying 2% [of national GDP to defence] and I guess he's not very happy about it," he said according to the BBC. 
"He's not paying 2% and he should be paying 2%. Canada - they have money. Look, I'm representing the US and he should be paying more than he's paying, he understands it... I can imagine he's not that happy but that's the way it is."