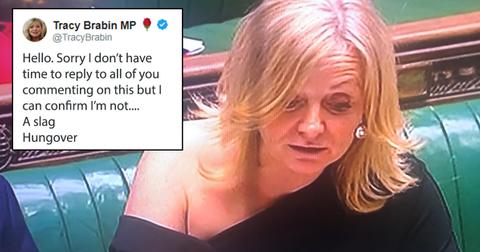 Politician criticized for wearing shoulderless dress responds to haters
By Mark Pygas
British Member of Parliament Tracy Brabin faced backlash on social media after wearing a shoulderless dress during a session of the House of Commons. Brabin says she received messages calling her "a slag" and implying that she had just been "banged over a wheelie bin" after people shared screenshots of her outfit online.
Brabin delivered a rebuke on Twitter last night, stating: "Hello. Sorry, I don't have time to reply to all of you commenting on this but I can confirm I'm not... A slag; Hungover; A tart; About to breastfeed; A slapper; Drunk, or; Just been banged over a wheelie bin."
"Who knew people could get so emotional over a shoulder," she concluded.
Opinions still seemed to be mixed following the tweet, with some users taking to Brabin's defense "If I had a quid for every time someone had commented on what I wore rather than what I said," one user wrote. "This rarely happens to men - calling it out is the only way to educate."
While another added: "There is a time and a place for a shoulder. Maybe the House of Commons isn't the time OR the place."
And one user concluded: "I won't call you any of those names. But in any normal professional setting, you would be regarded as being both inappropriately and unprofessionally attired."
In an interview with BBC Breakfast, Brabin admitted that the dress had slipped a little when she got up to speak but said of the response: "I was startled by the vitriolic nature of (the messages) but it's part of the territory as a politician. I am in a privileged position that I can brush this off but I feel it's my responsibility to call it out for those women that don't have that amplification."
"Because there are women around the world putting up with this day in day out. I try not to take it too seriously and it seemed to hit a nerve. The amount of supportive comments I've had absolutely overwhelm the comments about my judgment and what I am wearing."
"Twas ever thus. Women are judged continually by how they look... it is unacceptable that we are raising our daughters to be looking inwards rather than outwards."
Brabin then went on to blast the people who had left mean comments online, saying: "They are anonymous people often, keyboard warriors sat in their mum's back bedroom eating Pot Noodles and having a pop at people they don't know anything about."