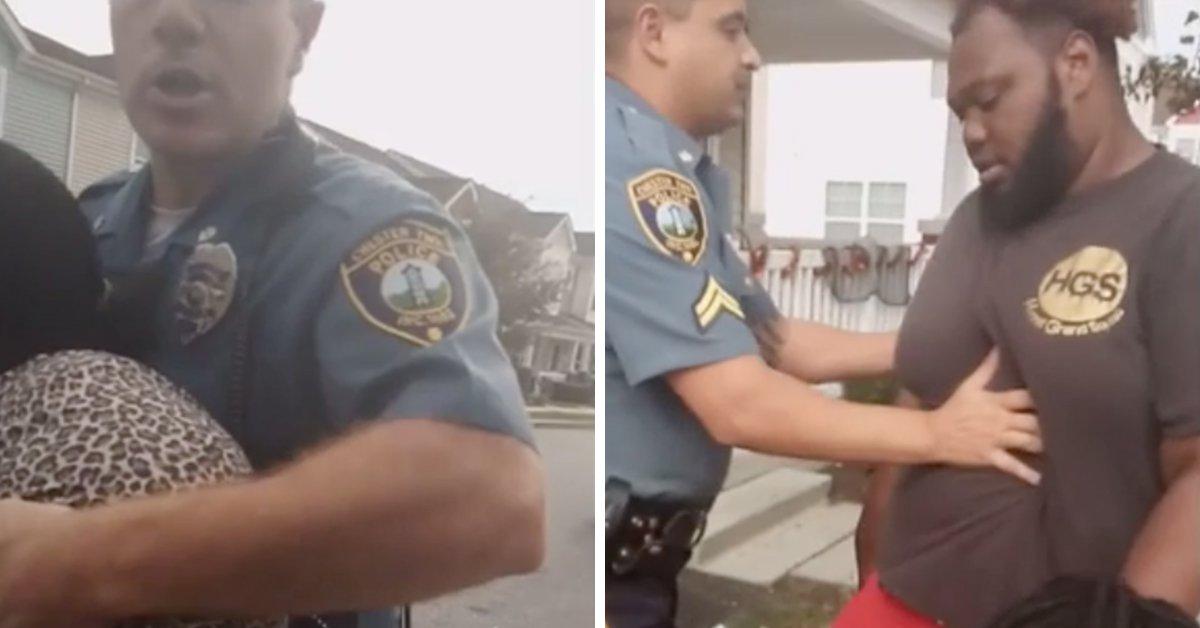 Police arrest black family twice for 'loitering' in their own front yard
By Mark Pygas

Oct. 16 2019, Updated 7:32 a.m. ET
The Chester Township Police Department of Chester, Pennsylvania, is being criticized after video from Delaware County emerged showing officers arresting a black family in front of their home for loitering for the second time in two days.
Article continues below advertisement
Mother Rachel Briggs explained that the initial incident took place on October 1. She alleges that Officer Pasquale Storace III arrested her sons and nephew for loitering while they were playing in her front yard.
Article continues below advertisement
Rachel Briggs went on to explain that the family had to scramble to get enough money together to bail everyone out.
"The gentlemen were taken to jail, they had high bails placed on them. The families scrambled to get their money together, they were able to get them out the next day."
The young men were released on October 2 and returned home where they reunited with family in the front yard.
But Kevin Mincey, the family's lawyer, says officer Storace showed up again and decided to re-arrest them as well as several other members of their family.
Article continues below advertisement
According to arrest records from the second incident, Keith Briggs was tased and put in the back of a cop car. Police said he was loitering, refused to disperse, and was cursing at officers.
Video taken by a family member shows Ramir Briggs pulled over the railing of his family's porch. Rachel Briggs and another family member were also arrested.
"This shouldn't happen to any citizen, and certainly a homeowner or someone who's renting a property," Mincey said.
The township does have some pretty extreme loitering statutes, but Mincey said they were deemed unconstitutional in 2012 and have since been revamped. The family says they were not violating the new rules.
Article continues below advertisement
"It's a terrifying thing. It makes me feel as though the police can knock down your door, and drag you out of your home at any time. This is an incident that made me feel like I'm a prisoner in my own home."
"It essentially says there are to be well-posted areas of no loitering signs up that say 'no loitering.' There are no 'no loitering' signs in this particular neighborhood," Mincey said. Based on these arrests, he believes that police are still enforcing the statues that the court struck down.
The family is charged with loitering, resisting arrest and other offenses.
Article continues below advertisement
Action News reports that the township's loitering statute says there are areas of the township where loitering is prohibited. In those areas, the statute says "officers can question anyone they believe is loitering and ask them to leave."
Mincey says that the family plan on clearing their names and then taking legal action against township police.
Thomas Fitzpatrick, who also represents the family, plans on questioning the actions of the officers when they go to court.
Article continues below advertisement
"Who the hell do they think they are to victimize a family like this and do this to someone in this community," Fitzpatrick said.
The family members who were arrested are due to appear in court on Oct. 17.
Chester Township Police Department did not respond to requests for comment by KYW News Radio or several separate requests from Eyewitness News.
Article continues below advertisement
Unsurprisingly, the social media reaction hasn't been kind to the police department.
"Leave them the heck alone," one user wrote. "ALL citizens have the right to LIFE, liberty & pursuit of happiness!"

Article continues below advertisement
Another added: "Hopefully the family wins big money from the City! This is outrageous!"