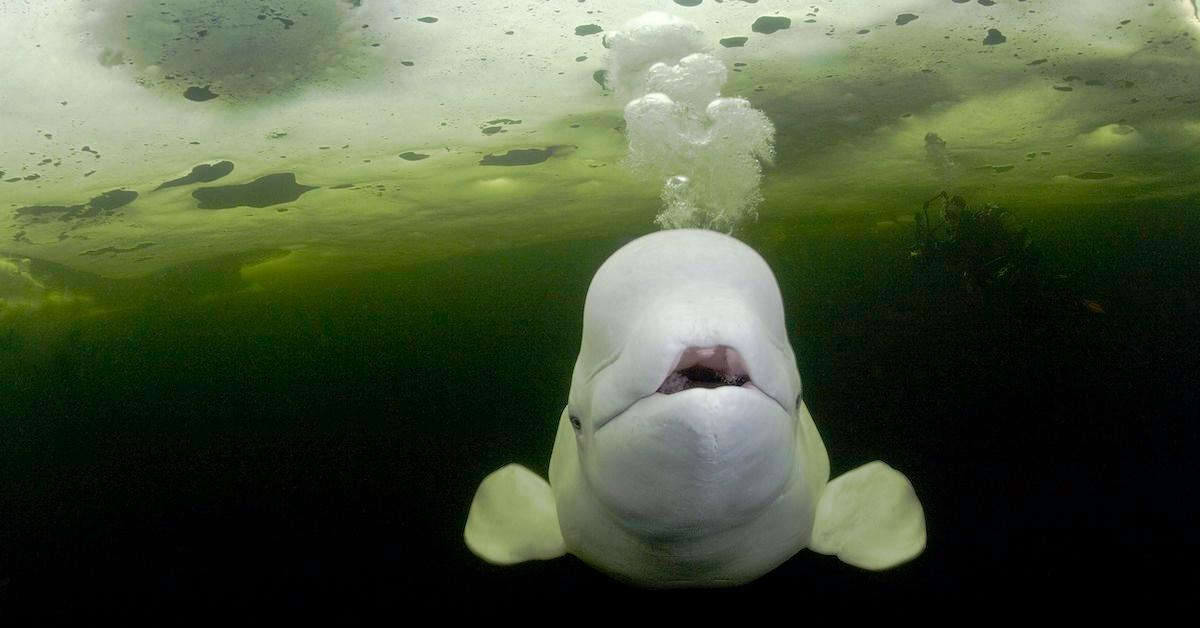 Oil drilling is killing endangered beluga whales in Alaska, lawsuit alleges
By Sophie Hirsh

Updated
Last week, the National Oceanic and Atmospheric Administration (NOAA) revealed that Alaska's beluga whale population is still significantly declining, despite being protected under the Endangered Species Act, as PBS reported. The government agency's report shared a few potential threats to beluga whales, aka white whales — but the most significant threat to the marine mammals is clear: local oil and gas drilling. And luckily for the belugas, two organizations are already working to stop it.
Specifically, the groups are suing NOAA for giving the petroleum company Hilcorp Alaska permission to "take" (harass or harm in any way) marine mammals who were in the way of its oil and gas drilling in Cook Inlet, despite the whales being protected under the Endangered Species Act, according to the AP.
Not only does "taking" the belugas harm them, but the noise from oil and gas operations (namely seismic blasting) can hurt belugas' hearing abilities; this can in turn affect belugas' ability to communicate with each other using echolocation (which is often how they find food).
In the CBD's notice of intent, the group asks the NOAA's National Marine Fisheries Service to revoke its authorization of all oil and gas operations (and "taking" of belugas) in Cook Inlet "until a new legally required consultation is completed."
"Hilcorp should do the right thing and abandon its plans for new drilling in Cook Inlet," said Bob Shavelson, advocacy director for Cook Inletkeeper, in the CBD's press release. Shavelson also noted that Cook Inletkeeper has been advocating for the Cook Inlet Beluga whale to be labeled as endangered (and therefore receive government protection) since 2008.
The NOAA has in fact listed Cook Inlet belugas as endangered under the Endangered Species Act since 2008, and the agency says it is "committed to conserving beluga whales and protecting and rebuilding depleted and endangered populations."
However, the NOAA's latest numbers do not reflect a commitment to protecting endangered beluga whales.
The report that the NOAA's National Marine Fisheries Service released last Tuesday revealed that a median estimate of just 279 beluga whales remain in Cook Inlet, according to the AP. In 1979, Cook Inlet contained about 1,300 belugas, and the population has gone down by about 2.3 percent each year over the past few years, the National Marine Fisheries Service said, as reported by Reuters.
Federal marine mammal authorities say the population of endangered beluga whales in Alaska's Cook Inlet is estimated to be smaller and declining more quickly than previously thought. https://t.co/6xpPycbjiJ

— AP West Region (@APWestRegion) January 29, 2020
"The tragic decline of these lovely little whales spotlights the risk of allowing oil exploration in their habitat," Julie Teel Simmonds, an attorney at the Center for Biological Diversity, said in a statement. "If we're going to save these belugas, the Trump administration must cancel permission for the oil industry to use seismic blasting and pile driving in Cook Inlet. These animals are hanging on by a thread, and we can't let them be hurt even more."
It's clear that not enough is being done to protect Cook Inlet's beluga whales. If the CBD and Cook Inletkeeper win their upcoming lawsuit and drilling in Cook Inlet gets banned, it will be interesting to see if it helps improve the area's beluga populations.