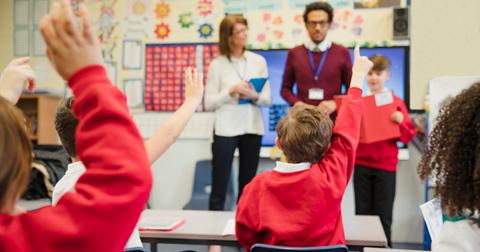 Ohio bill could allow student answers to be scientifically wrong if they're religious
By Mark Pygas

Updated
The Republican-controlled House in Ohio has passed a bill that could prohibit public schools from penalizing students for providing scientifically inaccurate answers to questions if that answer contains religious beliefs according to opponents. Critics believe that this could allow students to turn in homework stating that the earth is 10,000 years old and prohibit teachers from taking marks away. 
According to Cleveland.com, the Ohio Student Religious Liberties Act of 2019 would: 
"Require public schools to give students the same access to facilities if they want to meet for religious expression as they'd give secular groups."
"Remove a provision that allows school districts to limit religious expression to lunch periods or other non-instructional times."
"Allows students to engage in religious expression before, during and after school hours to the same extent as a student in secular activities or expression."
And the part of the bill that's drawn criticism would "prohibit schools from restricting a student from engaging in religious expression in completion of homework, artwork and other assignments."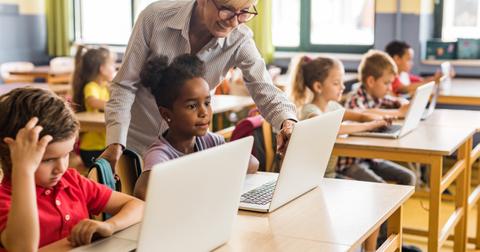 Bill sponsor Rep. Timothy Ginter, a Republican, says the bill is needed in an age where children face pressures from violence and drugs.  
"We live in a day when our young people are experiencing stress and danger and challenges we never experienced growing up," he said. Ginter explained that allowing religious self-expression would help these issues. 
American Civil Liberties Union of Ohio Chief Lobbyist Gary Daniels told Cleveland.com that while removing restrictions on religious rights is a positive move, religious expression in homework and assignments could lead to a situation where teachers are afraid to dock points from religious answers to scientific questions. 
Daniels used the example of a biology student stating that the world is 10,000 years old, as many creationists believe. The vast majority of scientists believe that the world is over 4.5 billion years old, but teachers may be afraid to mark that answer as incorrect if the bill passes. 
"Under HB 164, the answer is 'no,' as this legislation clearly states the instructor 'shall not penalize or reward a student based on the religious content of a student's work," he said. 
Amber Epling, a spokeswoman for Ohio House Democrats, is also worried that teachers may be forced to accept answers that are not scientifically correct.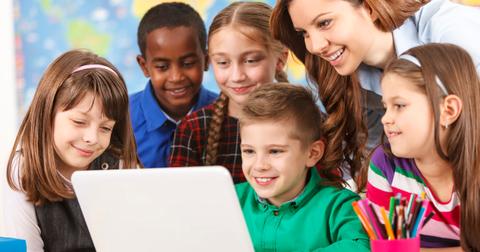 Ginter insists that students will have to turn in work that reflects what is being taught in class. "It will be graded using ordinary academic standards of using substance and relevance," he said. Ginter instead sees a situation where a student's report on a historic figure could be about Moses or Mohammed. 
"This doesn't give student a get-out-of-jail free card," he added. 
Rep. Phillip Robinson, a Democrat, said many pieces of the bill are redundant: "We already have religious freedom protected at the federal and state level," he said. 
Rep. Catherine Ingram, also a Democrat, believes that the bill simply repeats religious liberties already in the Constitution. She also believes that the bill might violate the Establishment Clause, which separates church and state. 
"Schools may teach about religion, explain the tenets about various faiths, discuss the role of religion in history, literature, science -- and not for the purpose of anti-science – but in science, and other endeavors and the like," she said. "As long as it has a secular purpose to promote educational goals, and there is no effort to promote or inhibit any religious beliefs." 
The bill now passes to the Republican-controlled Senate for final approval. 
But even before becoming law, the bill has led to some mixed reactions on social media, with one user writing: "Yesterday, the Ohio State House passed a bill — HB 164, the "Ohio Student Religious Liberties Act of 2019" — that could allow high school students to get credit for saying something as untrue and idiotic as "The Earth is 6,000 years old" on their homework assignments. #Ashamed."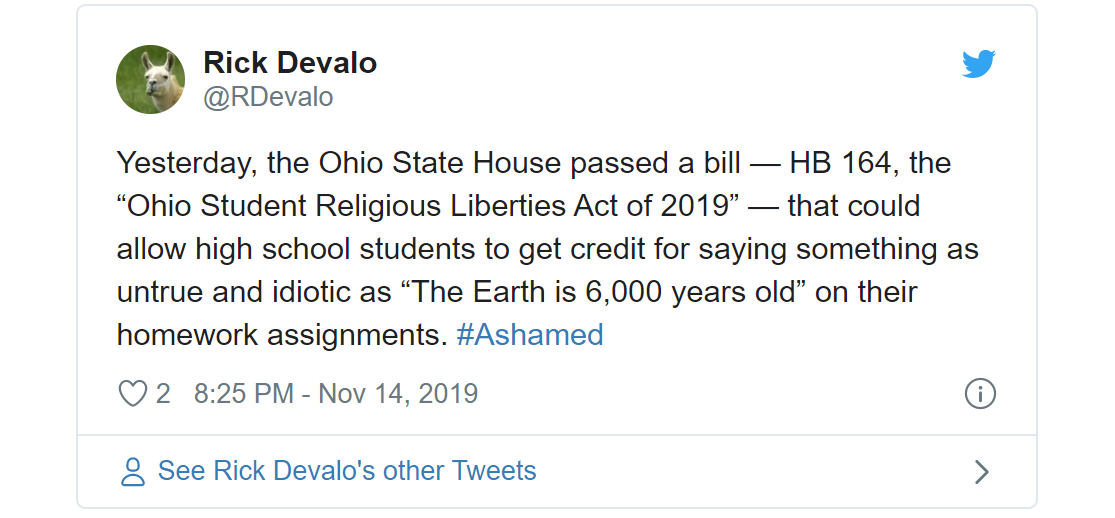 While another was more positive about the bill, writing: "Ohio media should be ashamed of themselves for their coverage of HB 164. For ANYONE to suggest this bill will allow students to turn in inaccurate information in the name of religion is an outright lie. The bill says nothing like that. But it makes a better headline than facts."