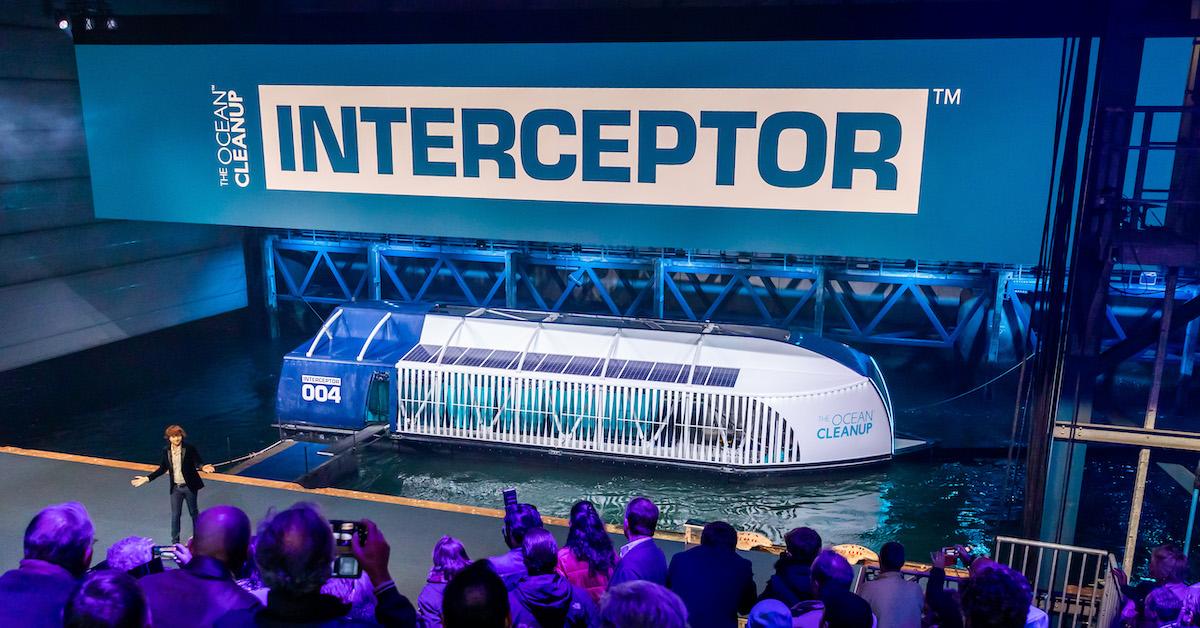 The Ocean Cleanup's "Interceptor" prevents river trash from becoming ocean trash
By Sophie Hirsh
Over the weekend Slat, 25, uncovered the "Interceptor" at an unveil event in Rotterdam, the Netherlands, the AP reported. The company built a stage on a river, so that the audience could witness the Intercepter in action on the water.
As explained on The Ocean Cleanup's website, rivers are the primary source of ocean pollution — based on the company's research, the organization estimates that about 1,000 rivers are responsible for 80 percent of global ocean plastic pollution. For that reason, the Interceptor was created to divert plastic from rivers, which will prevent it from getting into oceans.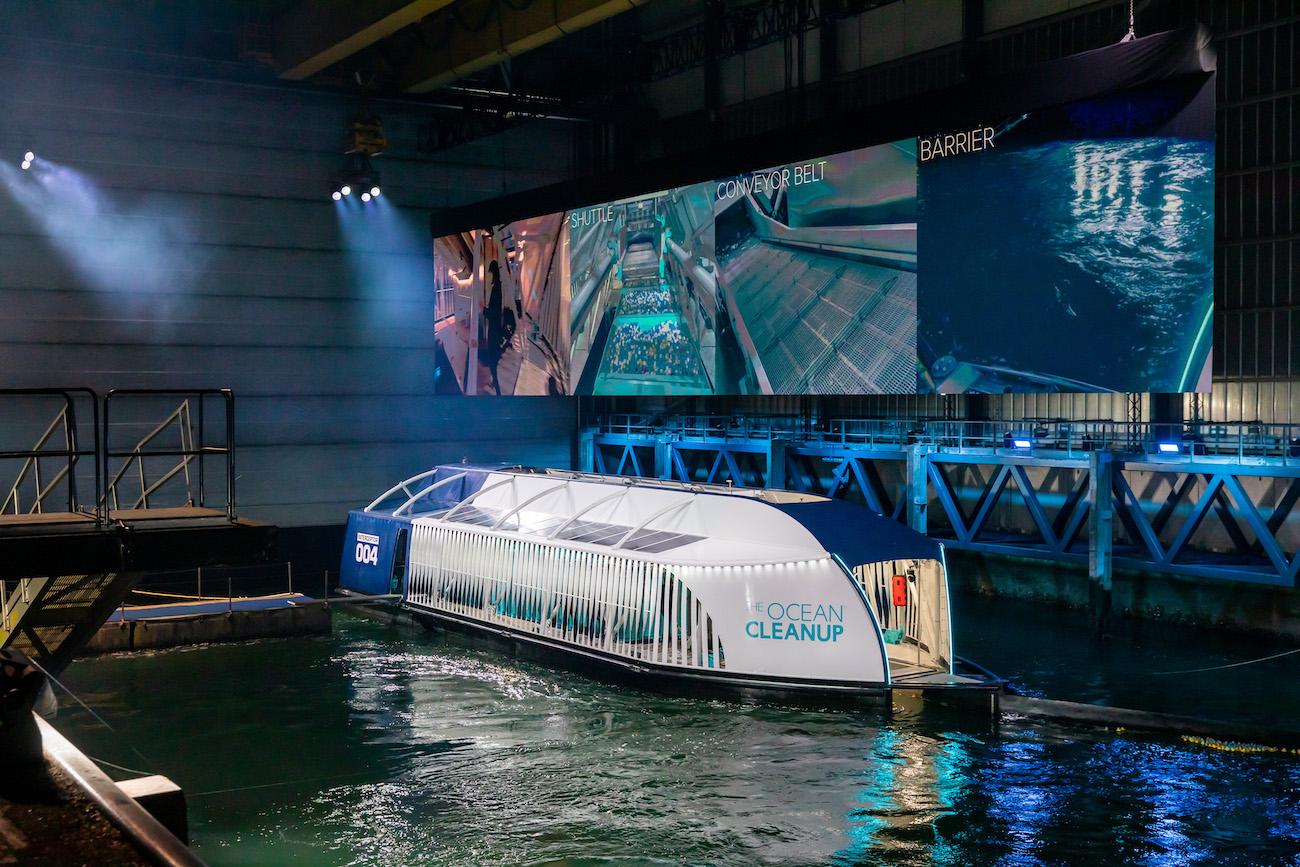 Here's how the Interceptor works, as explained on the company's website. The Interceptor, which The Ocean Cleanup believes is the first "scalable solution" to this issue, is designed like a catamaran, meaning water passes through the center. The current of the water moves plastic onto a netted conveyer belt, which water filters through and back into the river, and plastic goes from the conveyer belt and into the shuttle. The shuttle then pours the waste into six on-board dumpsters, which have a capacity of 50 cubic meters of trash, with the ability to eventually collect between 50,000 kg and 100,000 kg of trash per day.
The Interceptor runs automatically, without needing any operators on the barge itself. But once the dumpsters are nearly at capacity, an automated text message is sent to the operators, who then collect the barge, empty the dumpsters, and then return the barge back to the Interceptor to continue picking up debris. In a video, The Ocean Cleanup says that waste collected will be recycled.
The Interceptor is solar-powered, equipped with lithium-ion batteries, free of exhaust fumes, quiet, and it can run autonomously 24/7, according to The Ocean Cleanup. Additionally, the Interceptor does not impede other boats, and it does not harm or disrupt wildlife, the organization claims.
Four Interceptors have already been built — two of them are already up and running in Jakarta, Indonesia and Klang, Malaysia; and the other two will be installed in the Mekong Delta, Vietnam, and Santo Domingo, Dominican Republic. Plus, two are in the works to be installed in rivers in Bangkok, Thailand, and Los Angeles.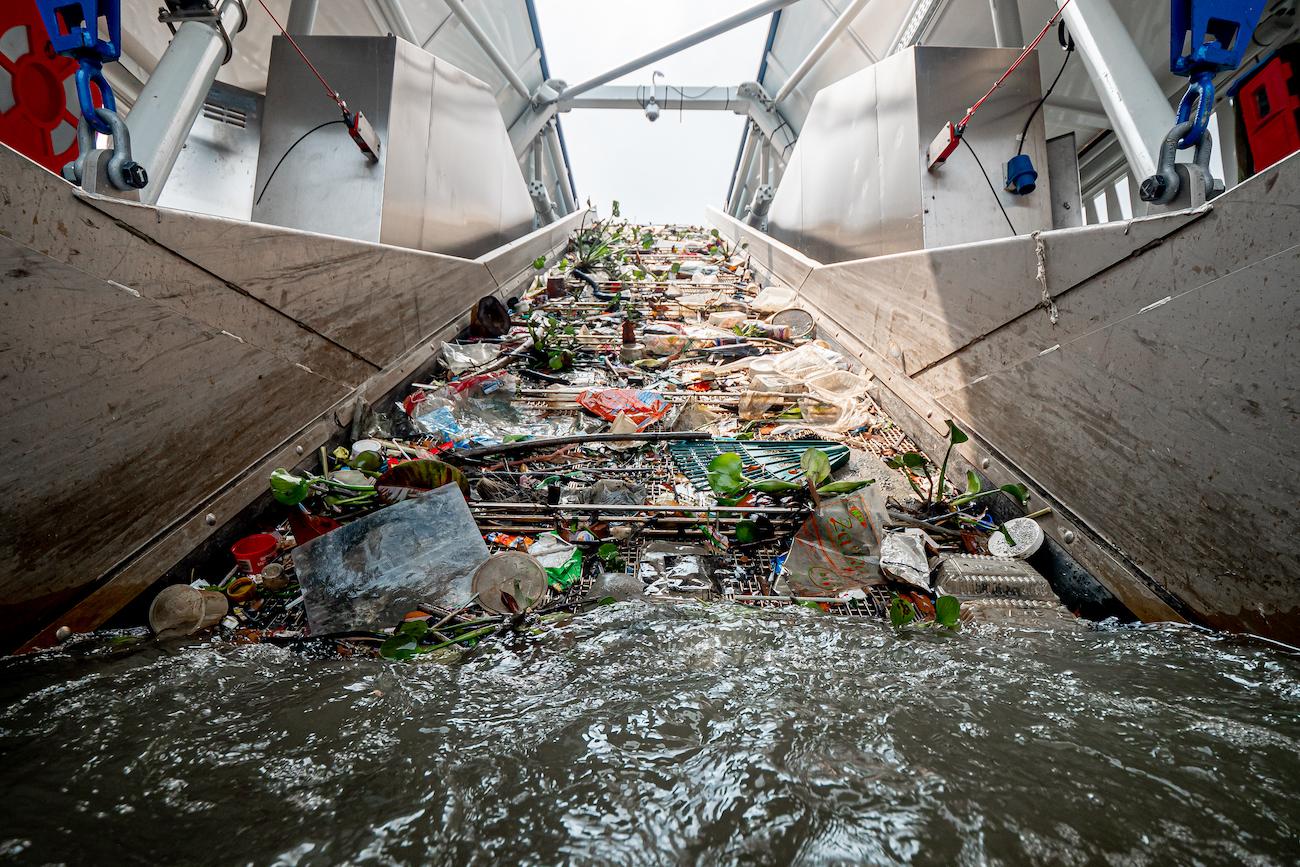 "To truly rid the oceans of plastic, we need to both clean up the legacy and close the tap, preventing more plastic from reaching the oceans in the first place," Slat said in a statement. "Combining our ocean cleanup technology with the Interceptor, the solutions now exist to address both sides of the equation." The organization has a goal of working with various governments and corporations to get an Interceptor in 1,000 of the world's most polluting rivers by 2025.
More From Megaphone
.

News

Hungarian Prime Minister Viktor Orbán announced that 10 trees will be planted for every baby born.

.

News

Baby boomers tend to be more environmentally friendly than Millennials and those in Generation Z, according to a new survey.