Obama highlights connection between West Coast fires and climate crisis
By Sophie Hirsh

Sep. 11 2020, Updated 8:52 a.m. ET
Photos of bright orange skies overtaking the Bay Area have people all around the world in shock, as many are now discovering that devastating fires have been spreading across the west coast of the U.S. throughout the summer of 2020. And on Wednesday, Sept. 9, former President Barack Obama shared haunting photos taken of San Francisco this week, along with a caption noting the connection between the wildfires and the climate crisis, and encouraging followers to vote.
Article continues below advertisement
Obama posted about the west coast wildfires and orange skies.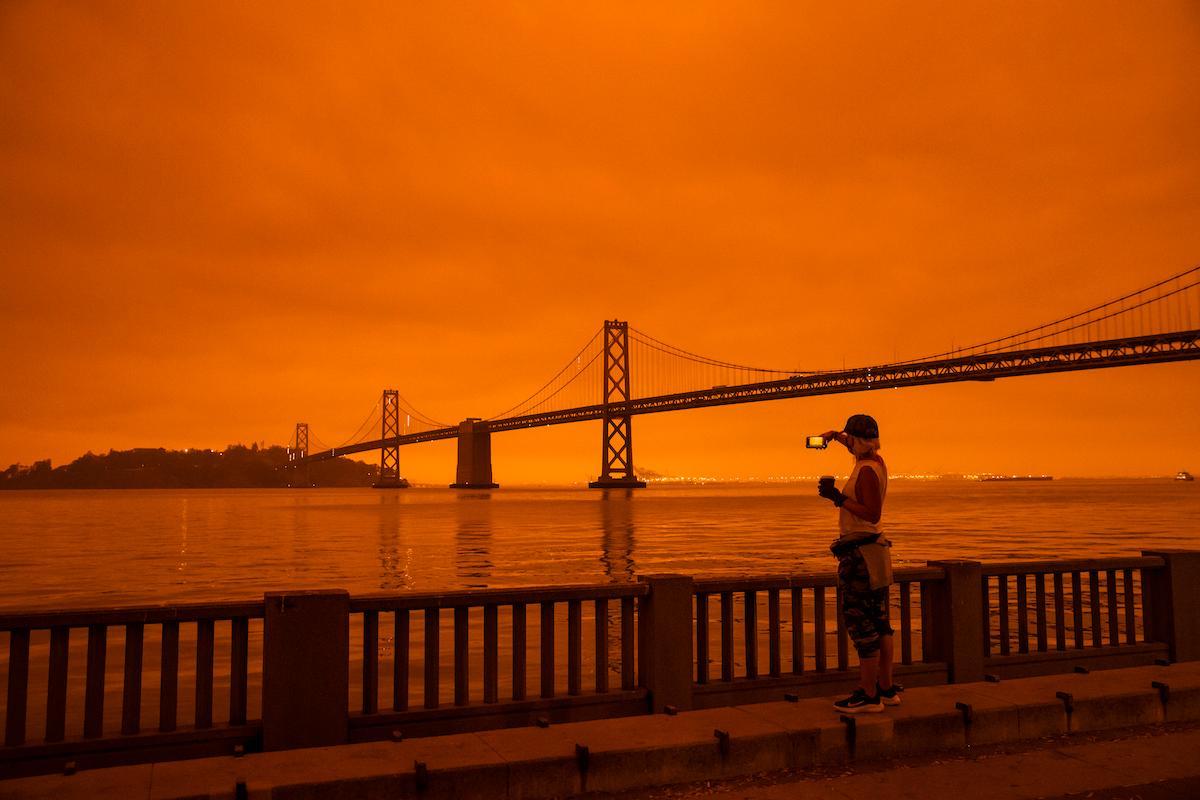 "The fires across the West Coast are just the latest examples of the very real ways our changing climate is changing our communities," Obama captioned a collection of four photos on Instagram, Twitter, and Facebook. "Protecting our planet is on the ballot. Vote like your life depends on it — because it does."
Article continues below advertisement
The photos shared by Obama, taken for the San Francisco Chronicle, look as if an orange filter was added to images of picturesque images of San Francisco. But unfortunately, these images were taken with #nofilter.
Article continues below advertisement
Why are the Bay Area skies orange?
Bay Area Air Quality, a regional air pollution control agency representing California's Bay Area, explained why the fires turned the skies orange on Sept. 9 on Twitter. According to the agency, wildfire smoke lingering in the air caused the skies to turn orange.
"Strong winds over the past few days transported ash from fires in northern California and the Sierra Nevada into the region," the agency tweeted. "These smoke particles scatter blue light [and] only allow yellow-orange-red light to reach the surface, causing skies to look orange. If smoke becomes too thick in a certain area, most of the light will be scattered & absorbed before reaching the surface, which may cause dark skies."
Article continues below advertisement
How did climate change cause the California wildfires?
"If you are in denial about climate change, come to California," California Gov. Gavin Newsom said at the DNC in August, as per ABC7, referring to the wildfires and heat waves affecting the state.
And as Obama put it, the horrifying scene on the west coast is just another piece of proof that "the changing climate is changing our communities." But how exactly did the climate crisis play into these west coast fires?
Article continues below advertisement
Ever-increasing greenhouse gases in the atmosphere are responsible for rising temperatures, more droughts, reduced rainfall, melting snowpack, dry soil, thirsty vegetation, especially in places like California, according to Scientific American. Daniel Swain, a UCLA climate scientist, told the magazine that these conditions have made California a "tinderbox," ready to spread any fire that starts.
How did the California wildfires start?
Article continues below advertisement
The massive SCU Lightning Complex fire (Cal Fire's Santa Clara Unit) began when lightning strikes went off in northern California. Combined with the heat waves plaguing the state, these lightning strikes led to a series of fires.
The El Dorado Fire, which has burned more than 10,000 acres of land, started with an infamous explosive device at a gender reveal party, as reported by The New York Times.
Wildfires often start for more everyday reasons — fireworks, discarded cigarette butts, gas and electric machinery, and cars can all ignite a fire that blooms into a wildfire. Alternatively, humans sometimes purposely set land on fire (a common practice in the Amazon rainforest) to clear it for development.
But what all these causes have in common is that they come back to human activity. Even when something like lightning strikes causes a wildfire, it's usually the hot, dry, thirsty conditions in certain regions — aka the climate crisis — that exacerbates the wildfires.
Article continues below advertisement
Obama is encouraging people to vote.
As Obama wrote on social media, Americans have the power to preserve the planet by voting in the November 2020 election — and both Joe Biden and Donald Trump have made their climate plans very clear.
Election Day is Nov. 3. Register to vote at vote.gov and head to your state's board of elections for details on requesting a mail-in or absentee ballot.