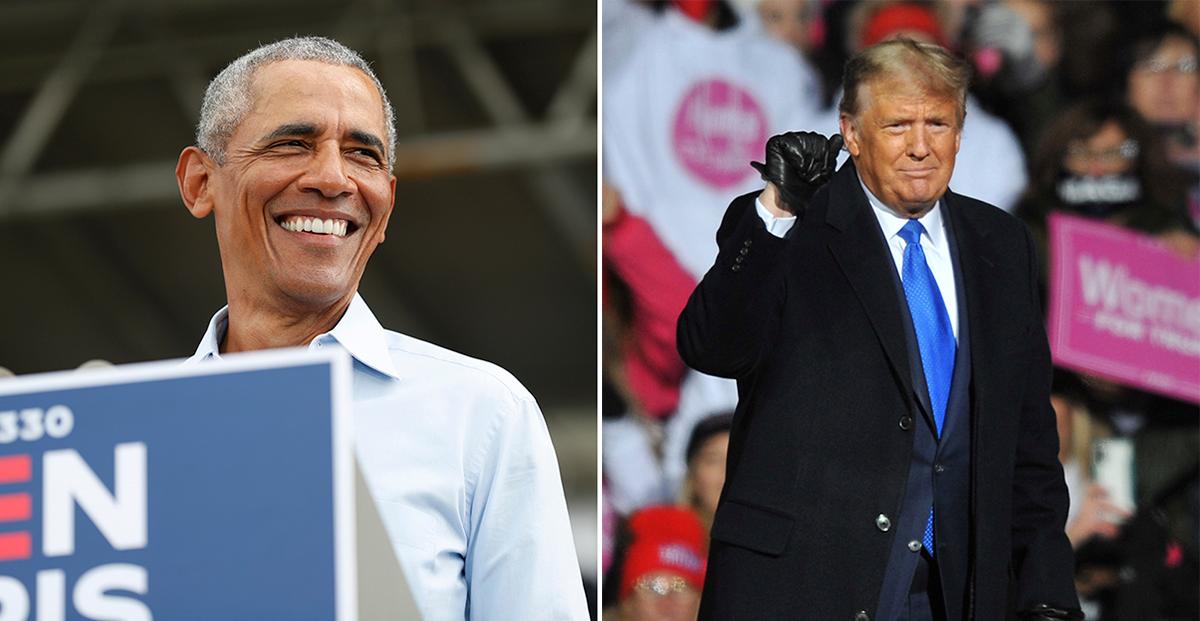 Obama says Trump is 'jealous of COVID's media coverage'
By Mark Pygas

Oct. 28 2020, Updated 10:18 a.m. ET
Former President Barack Obama is out on campaign in support of his former Vice President, Joe Biden. Speaking at an event in Orland on Monday, Obama slammed Trump's response to the coronavirus pandemic, saying that he had turned the White House into a "hot zone" and that Trump was "jealous" of the media coverage around COVID-19.
Article continues below advertisement
"More than 225,000 people in this country are dead. More than 100,000 small businesses have closed. Half a million jobs are gone in Florida alone. Think about that," Obama said. "And what's his closing argument? That people are too focused on Covid. He said this at one of his rallies. Covid, Covid, Covid, he's complaining. He's jealous of Covid's media coverage. If he had been focused on Covid from the beginning, cases wouldn't be reaching new record highs across the country this week."
Article continues below advertisement
Obama also highlighted a recent outbreak among several aides of Vice President Mike Pence.
"Let me say this: I lived in the White House for a while," Obama said. "You know, it's a controlled environment. You can take some preventive measures in the White House to avoid getting sick. Except, this guy can't seem to do it. He's turned the White House into a hot zone."
In response to White House chief of staff Mark Meadows' statement that "we are not going to control the pandemic," Obama added:
"Listen, winter is coming. They're waving the white flag of surrender. Florida, we can't afford four more years of this." He added, "We cannot afford this kind of incompetence and disinterest."
Article continues below advertisement
Obama also hit out at comments made by Jared Kushner on Monday. In an interview with Fox News, Kushner said: "One thing we've seen in a lot of the Black community, which is mostly Democrat, is that President Trump's policies are the policies that can help people break out of the problems that they're complaining about. But he can't want them to be successful more than they want to be successful."
Obama responded: "(Trump's) son-in-law says Black folks have to want to be successful. That's the problem." After a short pause, an incredulous-sounding Obama continued, "Who are these folks? What history books do they read? Who do they talk to?"
Article continues below advertisement
"Listen, you've got a President right now, he wants full credit for an economy that he inherited, he wants zero blame for the pandemic he ignored. But you know what, the job doesn't work that way. You've got to be responsible 24/7. You've got to pay attention 24/7. Tweeting at the TV doesn't fix things. Watching TV all day doesn't fix things. Making stuff up doesn't fix things," Obama added.
Obama went on to encourage audience members: "Don't wait. Put it in the mail or drop it off at a dropbox location today. Don't take any chances, just get it done. We have to turn out like never before, Orlando. We have to leave no doubt. We can't be complacent. We were complacent last time. Folks got a little lazy. Folks took things for granted. And look what happened. Not this time."
The former president concluded his speech by praising Biden, saying: "He made me a better president, and he's got the character and the experience to make us a better country. He's going to make sure that small businesses that hold our communities together and employ millions of Americans can reopen safely, and he understands that we're not going to rebuild the economy and put people back to work until we get this pandemic under control."