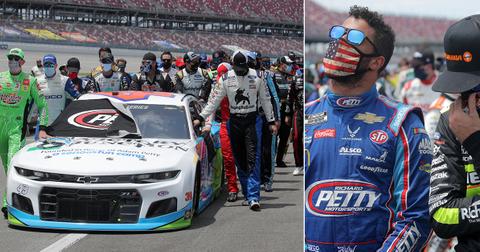 NASCAR drivers stage display of support for Bubba Wallace after a noose was found in his garage
By Mark Pygas

Updated
On Sunday, NASCAR revealed that a noose was found in the garage stall of Bubba Wallace just two weeks after the sports only full-time black driver successfully pushed for a ban on Confederate flags at races. The noose was spotted by a member of Wallace's crew and reported to NASCAR.
"Today's despicable act of racism and hatred leaves me incredibly saddened and serves as a painful reminder of how much further we have to go as a society and how persistent we must be in the fight against racism," Wallace wrote in a statement following the incident.
"Over the last several weeks, I have been overwhelmed by the support from people across the NASCAR industry, including other drivers and team members in the garage. Together, our sport has made a commitment to driving real change and championing a community that is accepting and welcoming of everyone."
And on Monday, that support was clear to see. Before the GEICO 500 race at the Talladega Superspeedway in Alabama, dozens of drivers and crew members pushed the 43 car belonging to Wallace to its starting spot before standing alongside him for the national anthem.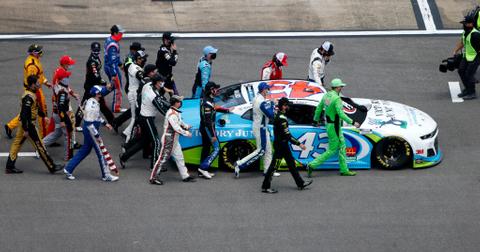 Wallace was extremely vocal in the debate that proceeded NASCAR's decision.
"No one should feel uncomfortable when they come to a NASCAR race. It starts with Confederate flags," Wallace told CNN's Don Lemon. "Get them out of here. They have no place for them."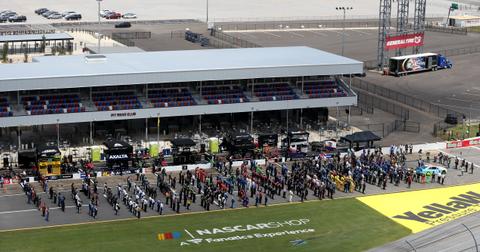 Less than two weeks ago, NASCAR announced that it would ban the Confederate flag at its tracks and facilities.
"Bravo," Wallace said after the ban. "Props to NASCAR and everybody involved. ... There's a lot of emotions on the racetrack and off the racetrack that are riding with us. Tonight is something special. Today has been special. Hats off to NASCAR."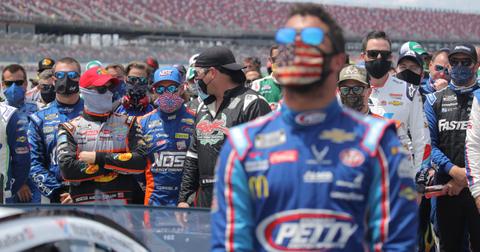 The 26-year-old also took to Twitter to share a photograph from the powerful moment, writing: "Together."
Social media users were largely moved by the gesture, with one writing: "What NASCAR loses in the way of racist fans, will easily be replaced with fans that previously steered clear because of that apparent racism."
While another added: "I am almost 50 and a lifelong NASCAR fan. This was my proudest moment as a fan. A beautiful display of solidarity! Way to be an ally, boys!"
Some fans, however, seem to believe that Wallace planted the noose. On Twitter, many compared to the situation to that of Jussie Smollett, who alleged that he was the victim of a racist and homophobic attack in Chicago last year.
Smollett was later indicted by a special prosecutor in Illinois on six counts of lying to police. Police allege that the actor paid two people to carry out the attack "to promote his career" because he was "dissatisfied with his salary."
Despite there being no evidence of Wallace planting the noose, one Twitter user wrote: "I've got $10 we have another Jussie Smolett case going on with NASCAR drive Wallace."
I've got $10 we have another Jussie Smolett case going on with nascar drive Wallace

— ThunderBoss (@bignut25) June 22, 2020