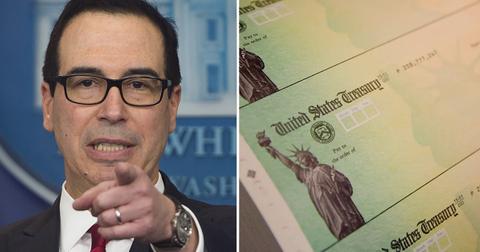 Mnuchin says anyone who received $1,200 stimulus check the first time will likely get another one
By Mark Pygas

Updated
Treasury Secretary Steven Mnuchin appears to have confirmed that a forthcoming individual stimulus bill will mirror the stimulus payments made in March.
In April, millions of Americans received stimulus payments of up to $1,200 per adult and $500 per child. Individuals who earned between $75,000 and $99,000 a year received a reduced amount. For couples, the payments tapered off at earnings of $150,000 a year.
However, that money didn't last long for those who had lost their jobs as a result of the coronavirus pandemic, and it quickly became apparent that further stimulus would be needed.
Mnuchin told reporters on Thursday that the proposal would mirror payments made earlier this year amid the coronavirus pandemic.
"We're talking about the same provision as last time, so our proposal is the exact same proposal as last time," he said.
Many people were concerned about whether they would receive a second stimulus after Senate Majority Leader Mitch McConnell suggested that a second round of stimulus would be targeted at lower income people, who are by the far the most impacted as a result of the economic downturn.
"I think the people who have been hit the hardest are people who make about $40,000 a year or less," McConnell said. "And many of them work in the hospitality industry."
Washington Post reporter Jeff Stein also reported that many Republican lawmakers want to begin targeting lower-income Americans.
Big news on stimulus checks today that GOP eyeing much lower phase-out for next round of payments

Multiple sources say McConnell didn't just throw out $40,000 as a cut-off haphazardly -- consensus within GOP is moving that direction, which would sharply limit eligibility

— Jeff Stein (@JStein_WaPo) July 6, 2020
Marc Short, Vice President Mike Pence's chief of staff, also suggested that the White House wants to keep the cost of a second stimulus package down to below $1 trillion.
"I think we want to make sure that people that are still unemployed or hurting are protected but at the same time, we want to take into consideration the fact the economy is bouncing back and want to try to contain the amount of spending," Short told Bloomberg.
"There's obviously been a lot of stimulus put in the system over the last couple bills, and so the price tag for us would be that."
President Donald Trump has long promised another round of stimulus, though never went into detail on whether the payments should be more targeted.
"We are working on another stimulus package, and that will take place … very soon," Trump told journalist Jessi Turnure.
President Trump added that his administration is negotiating with Congress as to the exact amount that would be sent out to Americans.
In a one-on-one interview, President Trump tells me Americans can expect another round of stimulus checks soon, but his administration and Congress are still negotiating the exact amount included in the next and likely final round of coronavirus relief. #NexstarDC pic.twitter.com/hKjqakSaYX

— Jessi Turnure (@JessiTurnure) July 7, 2020
Last month, Trump announced that the long-awaited second wave of stimulus payments are on the way, suggesting that they would be "very generous" and announced in a "couple of weeks."
At the time, Trump stated: "Yeah, we are. We are. Look we had this ... We had this going better than anybody's ever seen before. We had the best job numbers, the best economics, the best economy we've ever had, and then we had the virus come in from China. Now we're rebuilding it again. We will be doing another stimulus package. It'll be very good, it'll be very generous."