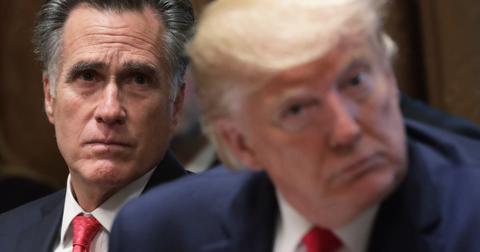 Mitt Romney and other lawmakers want to give $1,000 to every American adult during the coronavirus pandemic
By Mark Pygas
As coronavirus spreads throughout the United States, states and cities are closing down restaurants, bars, and other businesses to halt the spread of the virus. For many people who live paycheck to paycheck, that could have a devastating effect.
But now, Senator Mitt Romney of Utah has come out in support of a plan to give every adult in the United States $1,000 during the pandemic. The idea being that the money could be used to help people cope with the disruption of wage loss and self-isolating.
"Every American adult should immediately receive $1,000 to help ensure families and workers can meet their short-term obligations and increase spending in the economy," Romney said in a press release on Monday. "Congress took similar action during the 2001 and 2008 recessions. While expansions of paid leave, unemployment insurance, and SNAP benefits are crucial, the check will help fill the gaps for Americans that may not quickly navigate different government options."
Rep. Tulsi Gabbard, who is running for president as a Democrat, has also supported the idea and proposed the legislation. Romney's support shows that the idea could have bipartisan support in Congress and the Senate.
Representative Katie Porter also got behind the idea on Twitter. She wrote: "I worked on the foreclosure crisis and saw firsthand the need for a stimulus that helps working Americans. We need immediate relief, and that starts with sending all Americans $1,000. [Senator Romney], let's come together, across the aisle, and get this done."
Senator Sherrod Brown of Ohio also backs the idea. "The pressure on family budgets is only going to get worse as we deal with coronavirus," he wrote on Twitter. "Congress should pass a bill sending every middle class and low-income adult an initial check for at least $1,000 ASAP. We can't leave the hardest-hit Americans behind."
Last week, the House passed an emergency coronavirus funding bill to help individuals and businesses deal with the impact of coronavirus. The package is supported by the White House but still needs to pass the Senate.
Romney said of the bill: "We also urgently need to build on this legislation with additional action to help families and small businesses meet their short-term financial obligations, ease the financial burden on students entering the workforce, and protect health workers on the front lines and their patients by improving telehealth services. I will be pushing these measures as Senate discussions continue about an additional relief package."
Along with the $1,000 checks, Romney is also proposing grants for small businesses, increasing the amount of money that students can receive from government grants, deferring private student loan debt, and pushing for insurers to cover telehealth visits.
The best way to prevent contracting or spreading coronavirus is with thorough hand washing and social distancing. If you feel you may be experiencing symptoms of coronavirus, which include persistent cough (usually dry), fever, shortness of breath, and fatigue, please call your doctor before going to get tested. For comprehensive resources and updates, visit the CDC website. If you are experiencing anxiety about the virus, seek out mental health support from your provider or visit NAMI.org.