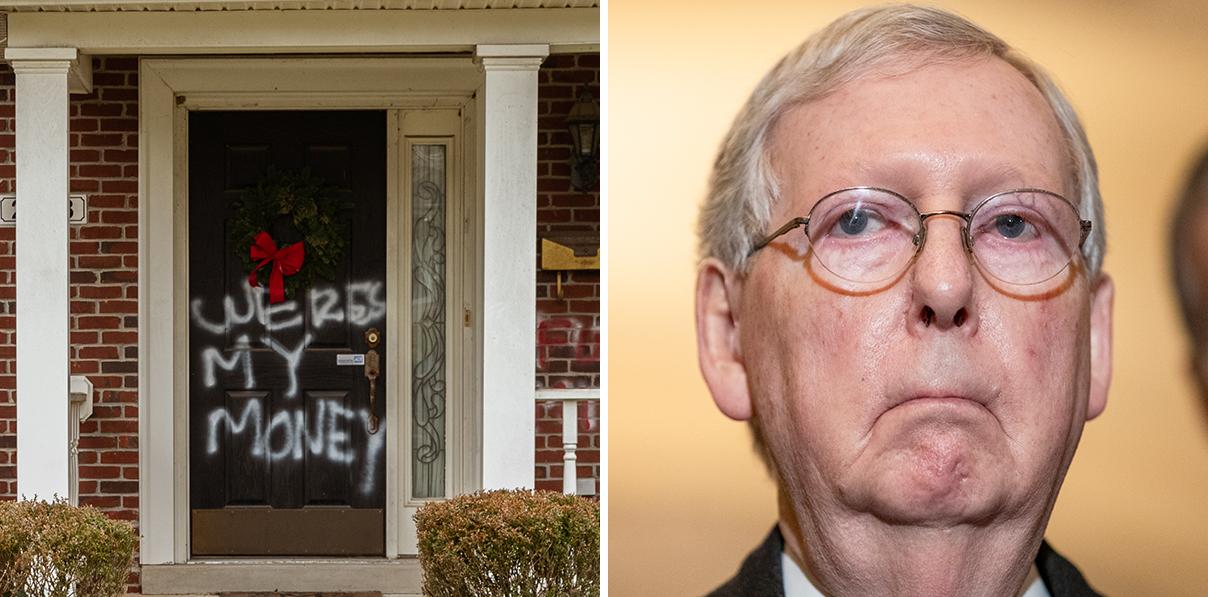 Mitch McConnell's home was vandalized over $2,000 stimulus bill
By Mark Pygas

Jan. 4 2021, Updated 8:41 a.m. ET
Senator Mitch McConnel's home has been vandalized over his opposition to increasing coronavirus relief checks to Americans from $600 to $2,000. One message reads "weres (sic) my money," another, "Mitch kills the poor," according to local media.
Article continues below advertisement
McConnel has opposed calls by both President Trump and Democrats to increase the stimulus checks sent to Americans. McConnell blocked a vote on the issue in the Senate for three days in a row last week, calling the proposal "socialism for rich people." Under current proposals, only those earning under $75,000 a year would receive the full amount.
McConnell has since introduced a bill that linked the increased payments to two separate issues that Trump has supported: dropping Section 230, which provides a legal shield for internet companies, and creating a commission to examine election integrity.
Article continues below advertisement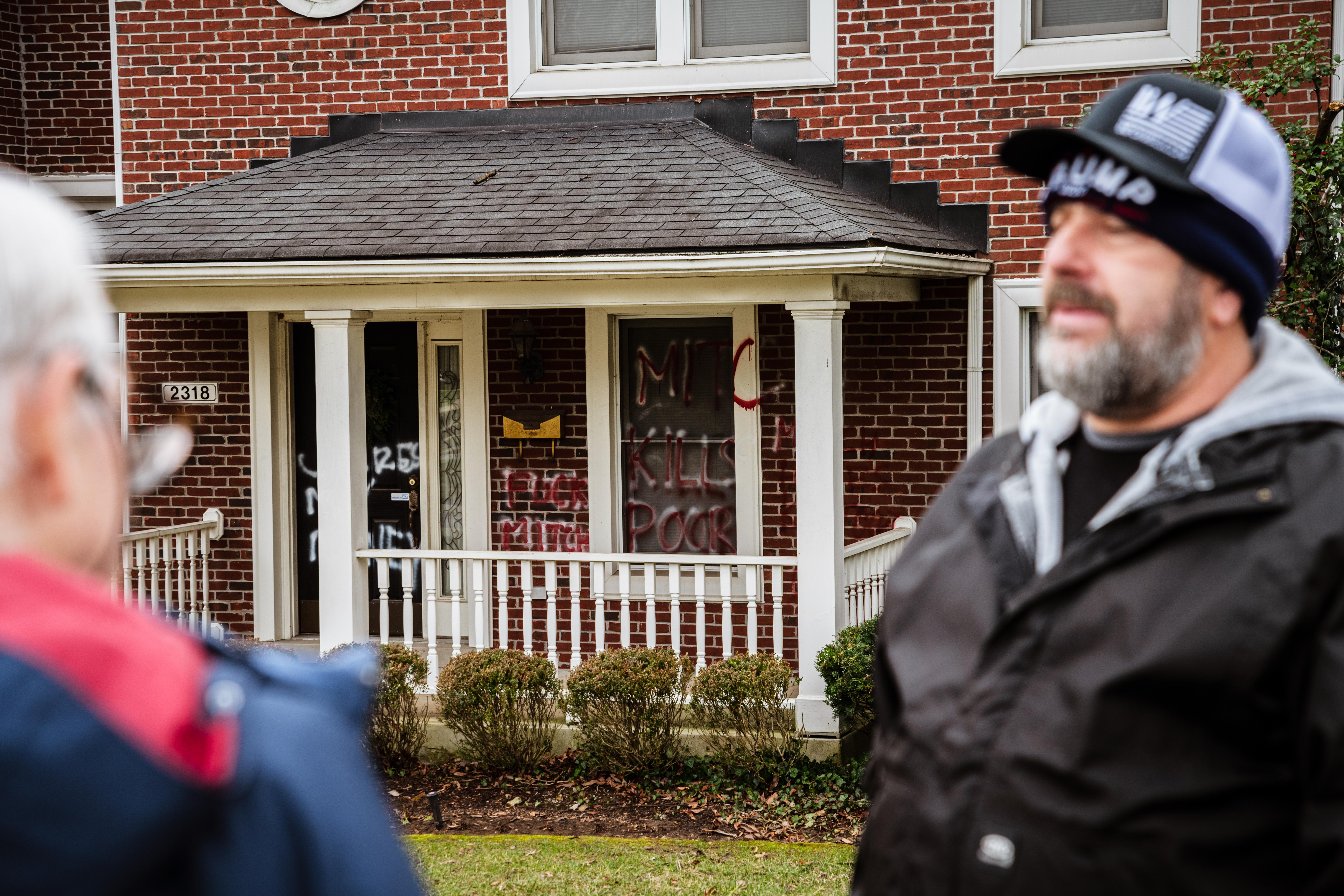 "Here is the deal," McConnell said last week. "The Senate is not going to split apart the three issues that President Trump linked together just because Democrats are afraid to address two of them."
Article continues below advertisement
In a statement addressing the vandalism of his home, McConnel stated that "vandalism and the politics of fear have no place in our society."
"I've spent my career fighting for the First Amendment and defending peaceful protest. I appreciate every Kentuckian who has engaged in the democratic process whether they agree with me or not," reads his statement. "My wife and I have never been intimidated by this toxic playbook. We just hope our neighbors in Louisville aren't too inconvenienced by this radical tantrum."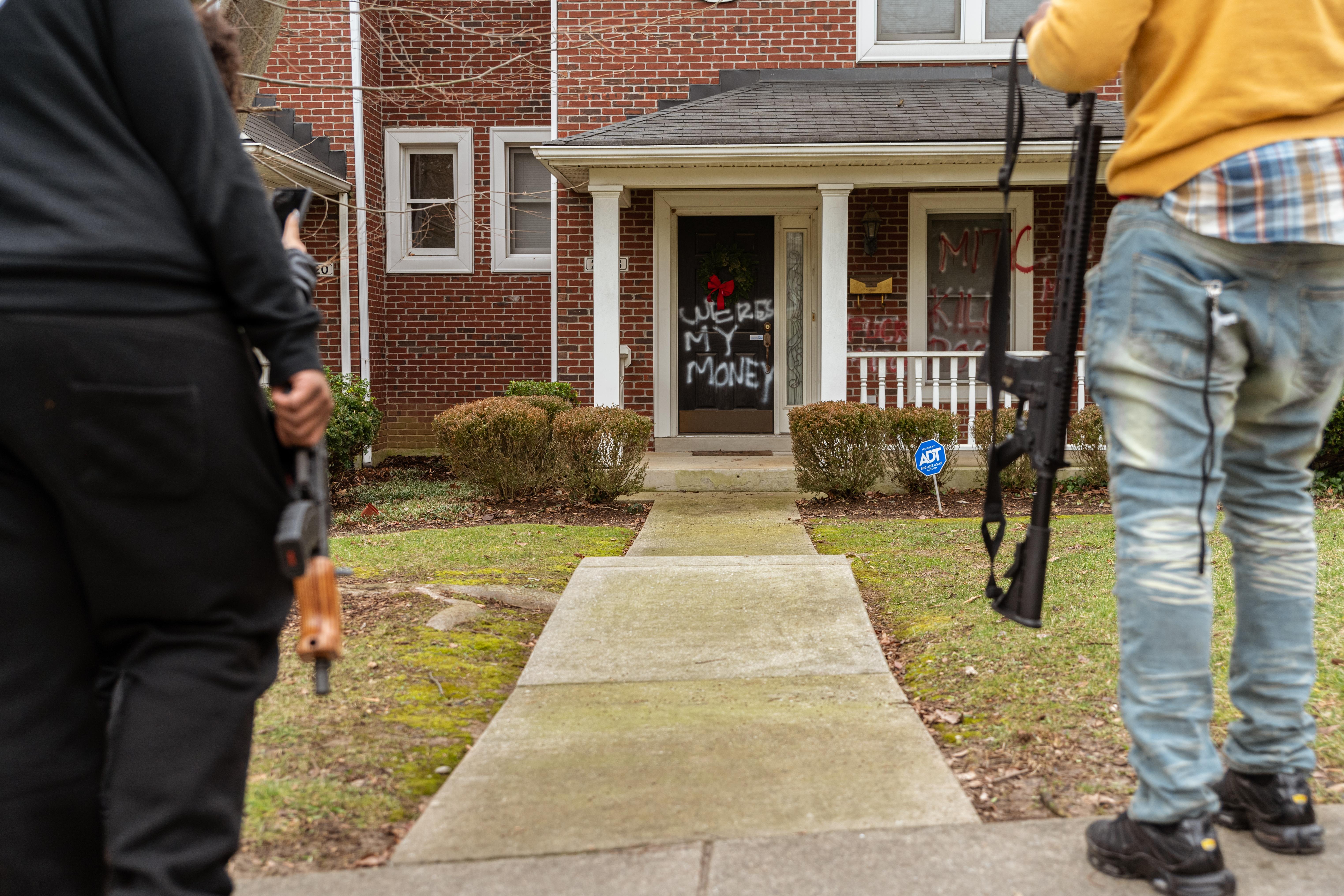 Article continues below advertisement
Kentucky Governor Andy Beshear, a Democrat, also condemned the vandalism. "The vandalism to Mitch McConnell's home is unacceptable," Beshear wrote. "While the First Amendment protects our freedom of speech, vandalism is reprehensible and never acceptable for any reason."
House Speaker Nancy Pelosi's home in San Francisco has also been vandalized, with the garage door spray painted and a pig's head left on the sidewalk. The graffiti on Pelosi's home read "cancel rent" and "we want everything."