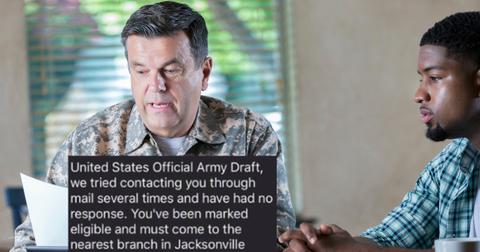 People Are Getting Fake Texts About a Military Draft
By Amber Garrett

Updated
The escalating tensions between the U.S. and Iran have had citizens of both countries on high alert, worried we are on the brink of another war in the region. And one thing that hasn't helped ease anyone's minds is a spate of texts purporting to be informing recipients they are being drafted into the military.
Article continues below advertisement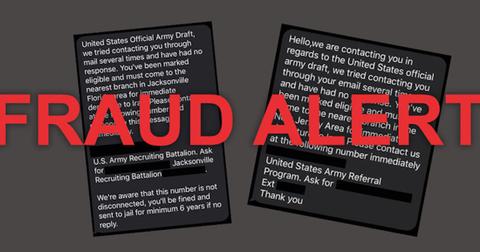 Thankfully, it seems the texts are fraudulent, and the U.S. Army Recruiting Command has released a statement reassuring people that the messages "were not initiated by this command or the U.S. Army."
Article continues below advertisement
The last time the military has used a draft was during the Vietnam conflict. However, the Selective Service System has continued to maintain recruitment lists for eligible personnel should the need for a draft ever again arise. Anxiety over a possible draft, likely amplified by the fraudulent texts, has overwhelmed the Selective Service System agency and its website over the past several days, leading the agency's site to crash in addition to higher than normal call volumes.
Article continues below advertisement
It's unclear what the intent is behind the texts, whether they are meant simply as a prank or if they are the latest phishing attempt. However, even if there were to be a military draft it's highly unlikely the first time you'd hear of it is from a text message.
Article continues below advertisement
The Selective Service System's statement reminded concerned citizens that there is an official procedure in place to initiate a draft. "In the event that a national emergency necessitates a draft, Congress and the President would need to pass official legislation to authorize a draft," the agency said.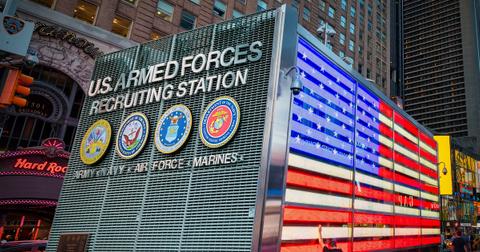 Article continues below advertisement
Were this to happen, the Selective Service System would then initiate a lottery based on birthdays, which would determine the order in which registered men are called to duty. "The first to be called, in a sequence determined by the lottery, will be men whose 20th birthday falls furing that year, followed, if needed, by those aged 21, 22, 23, 24 and 25," according to the SSS website.
They also reassure that 18- and 19-year-olds "would probably not be drafted." For now, all this procedure is moot, as the U.S. military has remained an all-volunteer force since 1973.