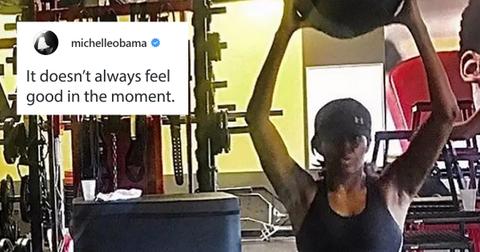 Michelle Obama, 55, shares gym photo showing off her abs and we're convinced she doesn't age
By Mark Pygas
Michelle Obama is well known for promoting a healthy lifestyle, both in and out of office. In 2010, she was the driving force behind the Healthy, Hunger-Free Kids Act which encouraged schools to provide healthier food options as part of the National School Lunch Program and School Breakfast Program, which subsidizes meals for 32 million students a day.
As First Lady, she also planted a vegetable garden at the White House and launched the Let's Move! campaign, which aimed to lower childhood obesity by 5% by 2030 while encouraging kids to move and play.
And leaving the White House hasn't changed her goals to live a healthier lifestyle and encourage others to do the same. On Sunday, Michelle Obama took to Instagram to share a photo from one of her latest workouts, and yes, she is 55, believe it or not.
"It doesn't always feel good in the moment," the former First Lady wrote. "But after the fact, I'm always glad I hit the gym."
She went on to ask her followers: "How did you all take care of yourself on this self-care Sunday?"
It's no secret that obesity is a huge problem in the United States. According to the Center for Disease Control and Prevention, 39.8% of adults were classed as obese from 2015 to 2016. Obesity comes with a number of related health issues, including heart disease, stroke, type 2 diabetes and certain types of cancer.
While Michelle Obama made some strides to combat the problem as First Lady, much of it has been undone by President Donald Trump. New rules mean that schools no longer have to worry about the level of sodium or whole grains in school lunches.
They can now also offer 1% chocolate and strawberry milk, which were only available in non-fat variants under Obama.
Followers were quick to praise Michelle Obama for her candid gym photo, with one user writing: "OMG!! I've always known you're a strong woman but THIS is just showin' off!!! LOL"

Other users shared how they keep fit, with one user adding: "I walk about 3 miles per day and do yoga and light weights. I have chronic pain from several disorders."

Another user demanded that Michelle Obama start a workout series with her husband, which we now also want.
The user wrote: "YES MA'AM!!!! When are you and President Obama gonna start your workout series?"

One user added: "Is that really you, you are my role model I look up to thanks for being you and a queen."

Others were inspired to get up and about: "About to try and get into shape after my latest baby and I keep channeling those Michelle Obama arms," one user wrote.

More From Megaphone
.

News

Hungarian Prime Minister Viktor Orbán announced that 10 trees will be planted for every baby born.

.

News

Baby boomers tend to be more environmentally friendly than Millennials and those in Generation Z, according to a new survey.